Our new President in Profile
John Manning speaks to Mark Keohane about his hopes for the role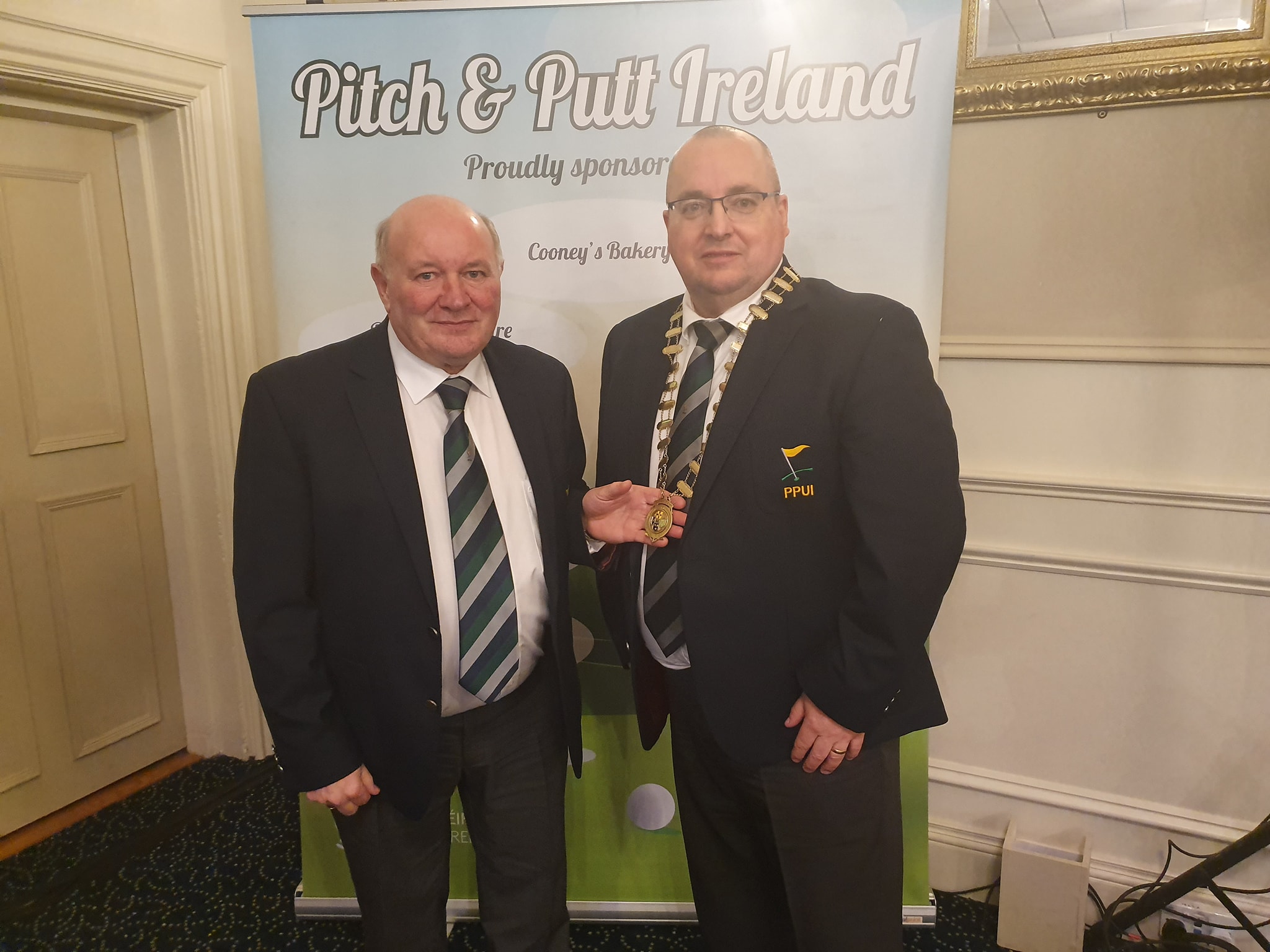 John Manning speaks to new Pitch & Putt Ireland President Mark Keohane about his life and times in the sport as well as his hopes for his Presidential term.
Mark Keohane became President of Pitch and Putt Ireland in February 2022.
He is the first President to represent a Cork club for over 30 years has lost no time in putting his own stamp on the key role.
Mark joined the ranks of the Cork County Board in 2007 and diligently learned the ropes under inspiring Chairmen such as Denis Cullinane, Dan Cronin, Junior Ryan and Margaret O'Riordan. Mark was an industrious and innovative Competitions Secretary for eight seasons (2007-2014) and also saw Cork Board service as Juvenile Officer.
Mark Keohane was first elected Chairman of Cork County Board at St. Anne's in January 2015. His consecutive five-year term (2015-2019) was characterised by such ground-breaking initiatives as the Rebel Pitch & Putt Facebook page, which is avidly followed by Pitch & Putt aficionados far and wide. He relinquished the Cork County Board Chairmanship in January 2020.
Committed to youth development, Mark was instrumental in the introduction of weekly juvenile coaching and practice sessions being held around the county. Juveniles of all ages and abilities were encouraged to participate.Mark was joined in that exercise by the likes of Weeshie Murphy, Morty Ahern, Liam O'Mahony, Stephen Enneguess and Frank Dineen.
Mark also embraced and maintained Cork County Board's ongoing altruistic approach, which saw many thousands of euro raised for charity over the years through Cork County Board events.
Mark was elected to the National Executive of Pitch and Putt Ireland at the February 2016 Convention in Abbeyleix. He filled the role of Munster/Connacht Competitions Coordinator before graduating to the Vice Presidency. He has experimented with new ideas and formats such as shotgunstarts and pro-rata qualifying. His motto is 'Players first and last' and he strove hard to increase entry levels for all competitions.
Bandon
A proud son of West Cork, Mark Keohane joined his local club Bandon in 1993. He was later a member of Ballineen. He has seen some self-confessed "modest success" in club and open competitions.
"I played my very first round of Pitch & Putt in a place called Castlelack. I had friend who had a huge garden and we used to hit balls around that into makeshift holes. We heard about Castlelack (which is about four miles from Bandon). It was a nine-hole course. So we cycled out and we played and started to learn the game."
"A course started in Bandon in 1991 and I first registered in 1993 in Bandon. I really got into the sport in Bandon (it was close to my house) and I eventually went on to the Committee and served as Captain and Secretary. I felt that the way that some of the competitions were run, formats etc. didn't seem right to me. I was into my golf, watching on TV, seeing how events were run."
"The Outgoing Captain said would you be interested in taking over as Captain the following year (1999). That's where I got the bug for administration. I was organised. I felt I had something to offer and became Secretary of the Club after.
Unfortunately, the club in Bandon was overseen by the soccer club. We wanted to move the Pitch & Putt club on. They wanted to develop the soccer club. They were charge of the finances. It wasn't working out for us and we came to a parting of the ways. Bandon folded and most of us that were very active went to Ballineen."
Mark, who nowadays commutes regularly from his Bandon home to play at Rocklodge, was elected onto Club Committee there in 2012. Club Juvenile Officer from 2014, Mark also acted as logistics guru for the very successful Irish international Open, which was held at Rocklodge in 2016. "I loved it," is Mark's recollection of that successful stint six years ago.
Mark is deeply conscious of the national administrative legacy left by Rocklodge legends Paddy O'Riordan and Paddy Harkins. "I never met either man but you'd see the pictures around the clubhouse and TJ O'Riordan is a link to that era. It was the first time in a very long time that Rocklodge provided a NEC Officer. I made no secret of my ambition in that regard. I'm still on the Committee but I've stepped back from any executive position. I am proud (to follow the two Paddys) and I think the people at Rocklodge are very proud."
With his playing opportunities somewhat restricted due to some knee problems and by the breadth of his administrative portfolios, Keohane found an outlet for his fiercely competitive nature in his passionate coordination of Pitch & Putt squads.
Mark and his NEC colleague Michael Murphy were nominated as joint managers of Ireland's World Cup 2016 team in Andorra. Mark and Michael experienced the full gamut of emotions on the Xixerella course as the heroic Irish team of John Walsh (Cork), Eamon Gibney (Meath) and John Ross Crangle (Dublin) defeated Catalonia in the final to retain the World Cup trophy. The Dublin/Cork managerial duo repeated the feat at Urduna as Ireland bagged the 2018 European Team championship crown.
Mark played very respectably at the recent Catalan Open. He is an avid supporter of the international aspect of our sport. "I love international Pitch & Putt. It's absolutely brilliant. We see ourselves as the founders. It's our game. Many of our players have been world champions and European champions. I'll be very much at the forefront of us continuing to win these championships and hosting the major international events as well. I've already indicated that we're interested in hosting the next European championship. However, my No 1 focus is the success of the game here in Ireland."
Keohane was also relentless in his support of Cork teams. During his tenure on the CountyBoard, Cork won the National Gents' Inter-County championship 10 times, clinched the Ladies event on three occasions and lifted seven Tommy Murphy Cups (National Juvenile Inter-County).Quite a few Munster Inter-County titles also resided in the Cork trophy cabinet.
Shane Murphy RIP
Pitch & Putt was rocked by a senseless tragedy early in Mark's Presidency. Understandably, he finds it difficult to ruminate on that. "It's very hard to reflect on it. It's just over a month later. I knew Shane as a juvenile when I was Competition Secretary in Cork. I can't believe he's gone. Everyone is still in shock. It's a senseless waste of a human life most importantly but we've lost one of the brightest Pitch and Putt talents of our generation. Weeshie and I have been friends since Shane's juvenile days. We've had a few rows too! We've travelled abroad. We've shared rooms. We've travelled all over the country together. It was a very sad moment when we met at the Raffeen Creek Scratch Cup. Tears were shed on both sides. There are going to be constant reminders this year and I just hope that we can support the family and honour Shane's memory."
Having pursued a Coaching Tutor qualification and embraced the Online Referees Course, it's no coincidence that Mark is placing significant emphasis on referees and Coaching early in his tenure.
"Coaching is nothing new for me to emphasise. I've done a lot of coaching. I've always had a keen interest in Coaching – pass the knowledge on. Its very important.There's a dearth of coaches to help Stephen Enneguess and ultimately replace him. I must complete a final assessment in my Tutor's course but we'll get to that. We must augment the existing Coaching Panel."
"The refereeing is something that Mervyn drove. It will take the pressure off some of the Officers. They are very good at their jobs over the years but they're nervous about giving rulings.The 95% pass rate on the online course is tough but that's what it has to be. We have a great batch of referees after the Practical Course at Ryston last weekend and hopefully we'll get the same in Munster in a few weeks. National Executive Officers should at least pass the online course. What I want is consistency and that's what Mervyn wanted as well."
What are Mark's other hopes and aspirations for his term of office?
"We've advertised for a new Coaching and Development Officer. Hopefully that will be somebody from within our game."
"We've a lot of major challenges. The gender quota is coming down the line. We brought in measures last February at Convention. I know a lot of people are not happy with them but we have no option. I would hope we can find some way to ensure our officers are still elected in a democratic way."
"The online handicap system is a major ongoing piece of work. We've introduced measures to address the Non Return of Cards and to ensure that clubs put a minimum number of competitions into the system. We will be monitoring those in the coming weeks."
"The new fixtures process where we've split up the Scratch Cups to enable every club to have a free day is working well. There's a lot happening in May competition-wise. Our plan next year is streamline that and spread things out more. We've identified five or six weekends where you could spread it out some more."
"For the first time ever the governing body had control of the whole fixture list. It was a massive piece of work and I'm very much indebted to Michael Murphy and Myles McMorrow who worked on it with me."
"We out put two drafts and comments were slow coming in but we know there are some issues and we'll consult with County Boards. Meetings weren't easy to organize due to Covid but we will remedy that this year. I don't see it going back to anything other than a unified fixture list."
"A key overall objective for us is to have Championships and competitions running smoothly."
Strategic Plan
A valued member of 2017 Strategic Planning Group, Mark played no small part in delivering the fourth PPUI Strategic Plan, which steered the Union through its 60th anniversary in 2020.
"That Strategic Plan asked us to look at how we govern and whether we need to amalgamate counties and form more Regional Boards. We will have to look at it."
"The Dress Code that we brought in as part of the marketing effort has gone down a storm - great to see all the club jerseys and polo shirts."
"The Inter-Club needs a complete overhaul – I know there were those who were disappointed that we pulled it this year. The consensus appears to be that people want a mixture of seniors, intermediates and juniors on a single team. Some favour a handicap based event. Hopefully, we'll put together a Committee to examine the Inter-Club, which is an event that could be so much more significant."
Mark spoke to us having just returned home from participating in Lakeside Scratch Cup so clearly he also intends to play during his Presidency. That will help keep him in touch with what's happening at all levels of Pitch & Putt.
Mark's beloved Liverpool FC are motoring very well this season. Will they win the four trophies? "Wouldn't that be a dream?" says Mark, "but I'd trade the FA Cup and the Champions League for the Premiership. Two trophies would be a very successful season. You'd be disappointed but as Bill Shankly said the domestic league is the bread and butter."
A devoted family man, Mark runs a business (property maintenance and handyman) and he's also completely engrossed in the administration of another sport - darts. How does he fit it all in? "Siobhan (Mark's wife) says I don't!" jokes Mark. Siobhan and his family are a tremendous support to all Mark's endeavours. They're also deeply immersed in sport, which helps.
"I'm Chairman of Mid-West Cork Darts League and I'm also involved in the County Darts League organization. Darts is more of a winter game – we play on a Friday night here at home. I have an absolutely brilliant Secretary and he does all the hard graft. I'm still playing to quite a good standard and I love it. Siobhan plays darts to a high level – she's represented Cork. My younger son Evan was on a Cork underage Inter-County team and my youngest daughter Cliodhna has just taken up darts.We're all involved in darts. We're all involved in Pitch & Putt. We tie family holidays into it but I'm away a lot of weekends and I have to work a few days a week as well to keep the wolf from the door! I wouldn't be where I am without my family."
How is Mark settling into his new position? "Mervyn showed me how to do the job but the reality is still a bit of a shock! But, I'm enjoying it so far. I have a style of management that is not everybody's cup of tea. I can be outspoken (I've changed a bit in that regard) and I will let people know what I think. I do my very best to get the job done. I give honest feedback but I also help people to seek solutions."
"Every decision must have the game of Pitch & Putt and driving the sport forward at its core.That was the key aspect of my campaign and I intend to stick to that.We have to try stuff, mindful of history, but always driving our sport forward."
We wish Mark well.
Latest National News
Latest Regional News