2022 National Inter-County Build-Up: Day 4
A look at the Mens event this weekend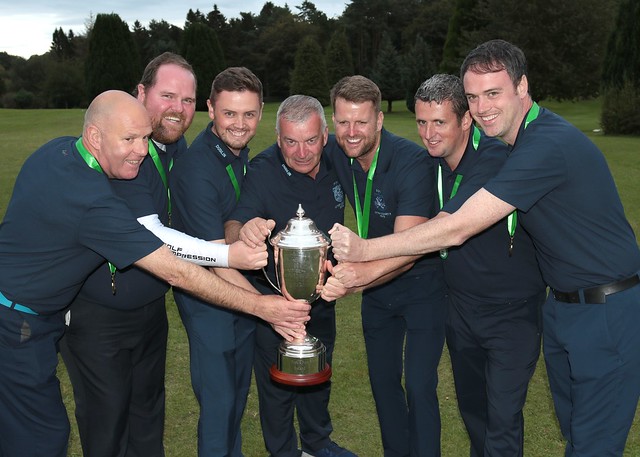 15 counties bid for the Anchor and Eamon Birchall Cups in its first renewal since 2019 in Rocklodge this weekend. Communications & Press Officer Jason O'Connor looks ahead to the return of something we have all missed over the past two years.
Two years later than originally intended we go to Cork once more for the Anchor Cup battle. The course we are going to is different than the one we thought we would be going to back then but Rocklodge is likely to provide an interesting test as the wet weather of this past week may make the course slightly softer than the recent dry spell threatened.
It's was interesting to note that when we were last here in 2001 Cork were about to end a four year wait for the Anchor Cup. It is the same gap this time but of course there has been only one staging of the competition since their 2018 win in Deerpark. The team charged with bringing the coveted title back to the Rebel County are John Walsh, John Cahill, John O'Leary, Ray Murphy, Eoin Walsh and Rob O'Donoghue as there is a strong sense of experience about their ranks. They just missed out on winning the Munster title in Cunnigar last month as Galway will be unique playing partners for them in the Scotch Foursomes.
The Tribesmen will find themselves having a lot more spectators than they might be used to in playing with the host county as David O'Connell, Donal Tarpey, Frank Naughton, Tony O'Connor, Kevin Walsh and James Fleming make up their side. Tipperary will join both counties for Saturday's Singles buoyed on by winning out in Munster for the second successive staging last month. Mick Fennell, Paul Sweeney, Kyle Kennedy, James Cleary, Joseph Danagher and Stephen Shoer make up the Premier County side as they will want to convert their provincial success into something at national level this year.
Dublin head to Cork with three of the side that won in McDonagh in 2019 namely George McGreal, Chris Gallagher and Jason Larkin as Gary Healy plays this year as National Senior Strokeplay runner-up with Stephen Murray and Colin Byrne making up the Dublin side this year. John Ross Crangle will be their team manager in what is likely to be a formidable challenge by them. They enter as Leinster champions after getting a two shot victory over Louth as Westmeath will be their Scotch Foursomes playing partners while they will play alongside both Clare and Westmeath in the Singles for Saturday.
Louth has always been consistently around the medals in this event and they will hope Sean Goggin joining Mark Millar and Ian Donnelly as a National Senior Singles champion can inspire them this year with Jim Judge Jnr, George Beardsley and Darren Fagan making up their side 20 years on from their win in Seapoint. They play with the Wexford side who finished third in the Leinsters in the Scotch Foursomes as they will have both Carlow and Waterford for company in Saturday's Singles.
Wexford are represented by Dean and Richard Grannell this year with Wayne Allen, Martin O'Neill, Paul Tobin and a debuting Dylan Hudson making up the Model County side this year. Wexford's playing partners for the Singles are Limerick and Meath as the Mens grade officially gets underway with both Offaly and Kerry. The Kingdom were third in the Munsters as Damien Fleming finds himself back at his adopted course. Jason O'Regan, Alan Hobbart, Michael Conway, John McGrath and Chris Gibney make up the Kerry side this year as Kildare will join them in Saturday's Singles with Offaly.
Offaly's team this year is made up of Darren O'Connell, Aonghus Coughlan, Dinny Hill, Paul Carey, Jamie Hogan and David Cassidy. Kildare are made up of Ian Dillon, Frank Ryan, Justin McKeon, John and Martin Delaney as well as Anthony Mahoney. Limerick are a county that will be seeking a strong showing this year as they are represented by Liam O'Donovan, Kieran Earls, Thomas Hanley, Martin Keohane, James Ryan and Patsy Farrell. The Meath side meanwhile has Paul Nolan who featured for Dublin in their win back in McDonagh three years ago as Evan Carry, Evan Ganly, Ian Farrelly, Paul O'Rourke and Cliff O'Brien make up their team this year.
Westmeath's team this year meanwhile is Pat Malone, Dessie Baker, John Browne, Gerry Coyne, Sean Dinnegan and Mark Newman as we are guaranteed a different Eamon Birchall Cup winner this year with Kilkenny opting out for this year. Carlow are represented by Darren McNally, Martin Baird, David McGrath, Darren Cleere, Patrick Deane and MJ Egan as Clare are also back at National Inter-County level. Declan Sheedy, Ger Hanrahan, Martin Walsh, Dermot and Kieran Tuohy along with James Raleigh make up the Banner County side as Waterford are also amongst the Mens entries this year.
They were the dominant force in the Eamon Birchall Cup between the years of 2015 and 2017 as it will be interesting to see how they perform this year. A reminder again that this prize is awarded to the county with the best nett score outside of the official Top Three for the competition as it gives everyone something to play for. We must also remind everyone of the format too especially for those who are new to our game.
Overall the competition is 72 holes split at 36 each day with a form of doubles play and singles on both days. Its Scotch Foursomes and Singles Saturday followed by straight Foursomes and Singles Sunday. That Sunday Foursomes is one of the most punishing (and potentially rewarding) 18 holes that the players will play and could go a long way towards determining who will come out on top.
It's always hard to bet against Cork on their own turf but whether the absence of this event for the last three years makes this a more level playing field only the two days of play will determine. The vast majority of those playing have been here before but the new faces are about to experience a special weekend that gets everyone going by the events very nature.
We say a big welcome back this weekend and hope you can all join us in some form.
There will be updates on our website as well as social media throughout the weekend as we thank Balon Sports once more for their sponsorship of this year's event. Best Wishes and a safe journey to all those travelling to Cork this weekend.
Latest National News
Latest Regional News