2021 National Intermediate & Junior Gents Strokeplay Preview
John Manning looks at the two grades in Navan and Stackallen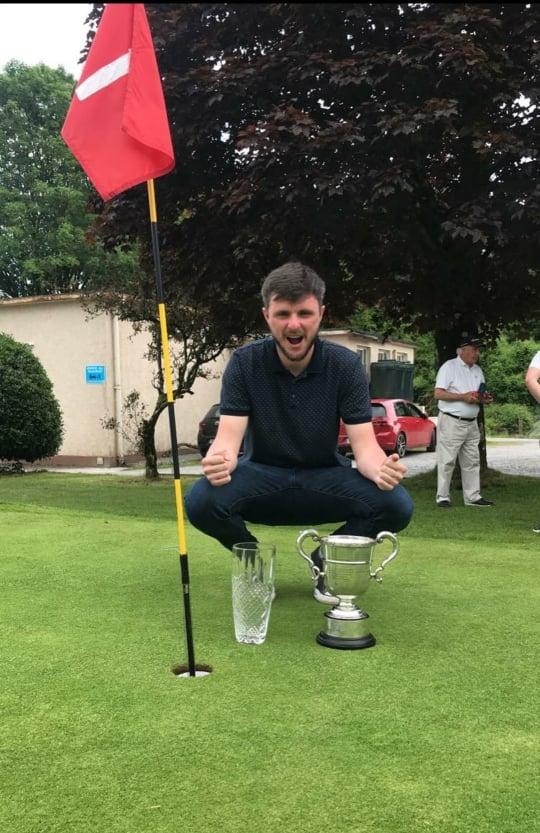 Intermediate
Reigning champion Michael Conway (Tralee) will bid to make history on Saturday by becoming the first player ever to retain the National Gents' Intermediate Strokeplay championship.
Michael Conway denied 1995 Champion Michael Herlihy (ESB) on the countback in the 2020 Championship at St. Stephen's and Herlihy will be back, attempting to land a second Intermediate crown, at Navan on Saturday. 2017 runner-up Jimmy Quinn (Fermoy) is in a high-quality field as is Frank O'Brien (Collins) who took the bronze medal nationally at Glenville in 2018. Jimmy is also a former National Junior Strokeplay runner-up.
Iain Aherne (Ballinlough) and David Murray (Bishopstown) have both worn silver at National U16 events – Iain in the 2017 National Boys' Matchplay Championship at St. Stephen's and David in the 2019 National Matchplay Plate.
2017 National Junior Strokeplay gold medallist Keith Power (Fermoy) has a chance to emulate Stephen O'Leary (Douglas) and Daniel Clinton (Cement, now Killineer) by adding the Intermediate Cup to the Junior trophy. That feat is also in the sights of Listowel's Jake Shine, who won the 2020 National Junior Strokeplay Championship so impressively at St Annes.
Evan Ganly (Trim) finished fourth at St. Stephens behind Michael Conway in the 2020 Championship and headed the 2021 Meath qualifying round. Home players must always be respected and Cliff O'Brien (Navan) won the recent Navan Intermediate Scratch Cup having been Meath County Board Intermediate Masters winner in 2019.
2018 Leinster Junior Matchplay champion Darren Forde (Navan) is a grandson of legendary Navan President Pearl Forde (RIP), who oversaw many successful event hostings by the progressive Co. Meath outfit.
Saturday's final will feature a number of players who have represented their counties with distinction in Inter-County combat.
Lucan club-mates Barry Gorey and Tom McMorrow helped Dublin to Leinster Intermediate Inter-County glory at Royal Meath in 2019. McMorrow finished tied second in the 2012 National Intermediate Strokeplay championship at RGSC, losing the runners-up and third slots on the tiebreaker.
Charlie Compton (Tipperary Hills) was a Munster Intermediate Inter-County Runner-Up with Tipperary in 2019.
Michael Darcy (Ardnacrusha), who finished third in the 2008 National Juvenile Strokeplay Championship, played on the Limerick runner-up team at the 2018 Munster Intermediate Inter-County. Michael's club-mate Brian Dillon recorded a third place finish in the 2019 junior championship at Ryston.
Killian O'Gorman (Listowel) was a Munster Intermediate Inter-County winner with Kerry in 2018. Jack Buckley (Collinstown) was National Boys Matchplay Plate winner in 2018. Mark Hogan (Tullamore) scored 145 to finish third in the 2008 National Intermediate Strokeplay Championship at Tullamore.
The ultra-experienced Robbie Donovan (Fermoy) has helped his north Cork club to National Inter-Club success and was County Intermediate Strokeplay champion a year ago. Robbie made the final round of the 54-hole 2017 and 2018 championships.
Another player brim-full of knowhow is Irish international John Carton (Kilbeggan). 2013 National Seniors Champion at Intermediate level in 2013, John was 2019 Leinster Intermediate Strokeplay runner-up at Collinstown.
Kevin Lambe (Athgarvan) finished fourth in the 2019 Junior Championship, a single stroke behind Brian Dillon.
Junior
Ireland's successful European Team championship manager, in 2005 and 2007, Paddy Browne (Collinstown) will strike the first tee-shot of the 2021 National Junior Strokeplay Championship at Stackallen. Paddy has made the finals again, having played in the 2020 Championship at St. Annes.
Dominic Scully (Erry) was runner-up to Evan Carry in the 2017 National U16 Strokeplay Championship at Erry, having helped Offaly to 2016 Leinster U16 Inter-County success at The Acres. Colin Hammond (Ballinlough) was an impressive winner of the St. Annes Junior Scratch Cup with a 36-hole tally of 104 last Sunday.
Aaron Kilpatrick (Glenville) reached the Leinster Juvenile Matchplay Plate semi-finals in 2019. Leading Meath qualifier with an excellent 101 was Navan's Ben Forde. Ben is another grandson of Pearl Forde RIP, the former inspirational Navan Club President.
Richard Walsh (Trim) was Leinster Junior Matchplay Runner-Up at Inniskeen in 2018. Declan Sheehan (St. Anne's) placed third in 2021 Cork Strokeplay Championship at Bishopstown while Declan's club-mate Pat Sheehan topped the Cork qualifying round by six strokes with an impressive 103 at Collins.
Joseph O'Connor (Glenville) was crowned 2019 Dublin Junior Strokeplay champion at Ierne. Anthony Lee was a member of the Stackallen trio that captured Best Gross in the 2019 Meath County Board Team Event at Stackallen.
Riverdale's Jake McMahon headed the Tipperary qualifier by five strokes with 106 at Lakeside. Jake's club-mate, Robert Ryan was Tipperary County Strokeplay runner-up at Larkspur Park.
Bookmaker Derek Baker (Fermoy) will get a taste of National championship action again as will 2020 Tipperary Matchplay championship runner-up Michael O'Donoghue (Tipperary Hills).
Listowel's John Carey will hope to build on experience he has gained by qualifying on a number of occasions in the past.
This will of course be the third time Stackallen has hosted a National Junior Gents Strokeplay finals this Millennium.
Dominant force in the 2001 Junior Championship at Stackallen on a difficult day scoring-wise was Cork Strokeplay runner-up Stephen O'Leary. The Douglas man carded an opening round of five under par 49 to lead the field a merry dance and added a 56 second eighteen to head the ten qualifiers for the last round.
At that point, O'Leary was four ahead of Pat Murtagh (McBride). By the sixth hole of the play-off, Murtagh had closed to within one shot but there was to be no denying Stephen O'Leary who pitched to two feet on the home green and made the putt for an even-par aggregate of 162 and a five shot victory. Another Corkman, Crosshaven's Conor Aherne, also birdied the last to finish third (169).
There are no Douglas players in the 2021 championship but other Cork players (in addition to those already mentioned) seeking to match Stephen's win two decades on will be St Annes trio Alan Keating, Michael Sheehan and Alan Duggan, Collins pair James O'Sullivan and Paul Walsh, Ballinlough club-mates Darren O'Leary and Paul Higgins, Cian O'Callaghan and Alan Gillick (both of Bishopstown) and Michael Breen (Rocklodge).
Alan Bennis (Parteen) was the most recent winner of the National Junior Strokeplay championship at Stackallen. That was in 2014. 2021 Limerick contenders will be Bruff duo Kieran Donegan and Peadar McCarthy along with John Kavanagh (Ardnacrusha).
Tomorrow: Declan Sheedy looks ahead to the Ladies events in Tullamore
Latest National News
Latest Regional News