Shane Murphy: A tribute
Our late National Matchplay and Strokeplay Champion remembered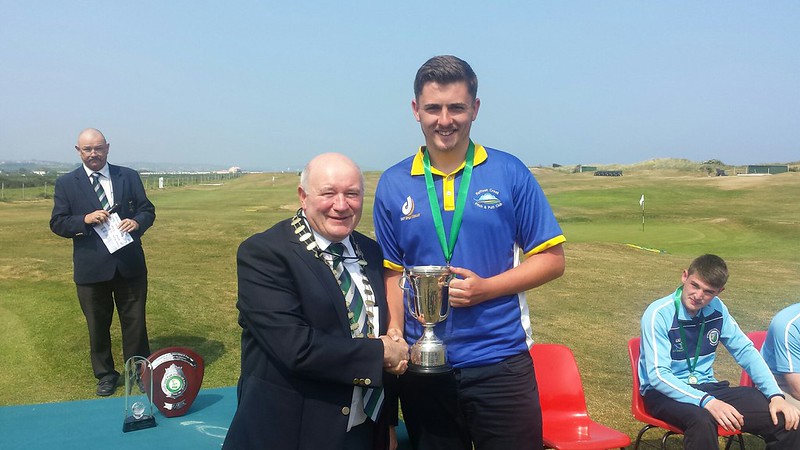 As we as a Pitch & Putt community will gather both physically and virtually to remember our Irish Mens ranked No 3 player Shane Murphy from today, Communications & Press Officer Jason O'Connor remembers Shane's achievements at provincial and national level in this piece that we post on the day of his removal.
It felt only right to leave the days pass by a bit and leave the shock at the horrifying news we all got last Saturday morning subside only slightly. Now with matters clearer about his father Weeshie's condition, we can now put some thoughts up remembering Shane for his achievements in our beloved game.
These are only provincial and national memories as it was in those theatres that I encountered him. Someone from either of the clubs he was associated with or the game itself in Cork will do far better justice than me to what he did there but here are some memories of Shane Murphy's achievements in Pitch & Putt at provincial and national level.
It feels wrong to start with warm sunny weather in these circumstances but when attention was being given to my conversation with him after his 2020 National Strokeplay success last year in St Annes, a terrible coincidence came into my mind. That interview took place only a day after Kerry hammered Tyrone in the 2021 National Football League semi-final in Killarney. Now a day before Tyrone were due to return to Killarney for another League match between the counties (in similar warm conditions) Shane was no longer with us.
Shane's win last June was unique of course in that it was over 36 holes and he did so on countback with his score of 15 under par. He posted it early that day as he waited and waited until it became obvious just before 6pm that evening that he would become the
16th player in history to win both the National Gents Strokeplay and National Gents Matchplay Championships. Any other year he would have been heading out for a playoff of some description but is a great sign of sportsmanship the man who finished second, Frank Dineen, held the camera phone in streaming my conversation with Shane.
I also want to talk about warm sunny weather in remembering Shane's National Matchplay success in Seapoint back in 2016. It is the event I chose to select a photo to accompany this article with. Shane shone in similar weather over three days to that which he prospered in St Annes. Something special felt in the air that weekend as both Shane and Dayle Donohoe of St Patricks (who he beat in the final) appeared to be charting a new course for the sport in coming through the field like they did.
Shane certainly was far from an unknown heading up to Termonfeckin that year. A product of a very good underage policy by the Raffeen Creek (then Pfizer) club, he won Munster U16 Inter-County medals with Cork in 2009 and 2010 before adding a National U16 Inter-County medal to his collection in Kilbeggan in 2010 as well. Then in his first full year as an adult player in the game he won the 2011 National Intermediate Strokeplay in Douglas to mark himself out as the next hot prospect from Cork.
It took him five years to reach the pinnacle at senior level but he did so with gusto and great presence in Seapoint that June Bank Holiday weekend as the TV cameras arrived on Monday to see him triumph in Co Louth. A National Inter-County medal with Cork would elude him, he did gain provincial adult inter-county honours in 2016 in Tramore but it would be the individual honours that Shane would set his sights on in later years.
His Munster Matchplay success in 2019 came after losing out to Declan Freeman at the 38th hole in Fermoy the previous year. Shane came from three down with four to play to defeat Bryan Delaney 1up in Larkspur Park and he earned a great spur for the National Matchplay finals themselves in Rocklodge two weeks later. He pushed eventual winner Damien Fleming of Deerpark all the way until the final hole in their hard fought semi-final that Monday morning. He did claim the Cork Strokeplay title in 2019 as he was preparing to represent Rocklodge in the Cork Senior Leagues final until last weekend's tragedy.
That would have given him the chance to add to the Intermediate and Senior competitions he won with Raffeen Creek in that sphere in the last decade but he proved capable around his new track of Rocklodge in winning their Club Matchplay and Strokeplay competitions as a member there. He followed his father Weeshie onto the continent to play the game we all love. A third place finish at the 2016 Catalan Open was maybe the height of his achievements there but his name was certainly known amongst the Pitch & Putt fraternity on the continent.
Shane should of course have been lining for the aforementioned Cork Senior League Final with Rocklodge against Fermoy this weekend. Instead we will all gather to remember him in Carrigaline still trying to make sense of everything that happened one week ago. There was no guarantee that Shane was going to play our game forever but he was always going to be brought up in terms of players who achieved success in our game. Our thoughts turn to Weeshie and the extended Murphy family now over the coming days.
We will all be there for them as best we can to help them deal with this horror but it will be a difficult journey for them now in the short-term. In time a suitable way of honoring Shane's memory will be found but we mourn a sad loss collectively this weekend.
To see so many of the Pitch & Putt Community pay tribute to Shane on social media and contribute to the GoFundMe page set up to help with the funeral costs has been incredible to see and tells of the impression he left on all those involved in the game.
Ar dheis Dé go raibh a anam
RIP Shane
Latest National News
Latest Regional News