Seapoint U16's and 2007 Lookback
John Manning looks at some prominent U16 performances from the club as well as only time they host National U16 Strokeplay and IC previously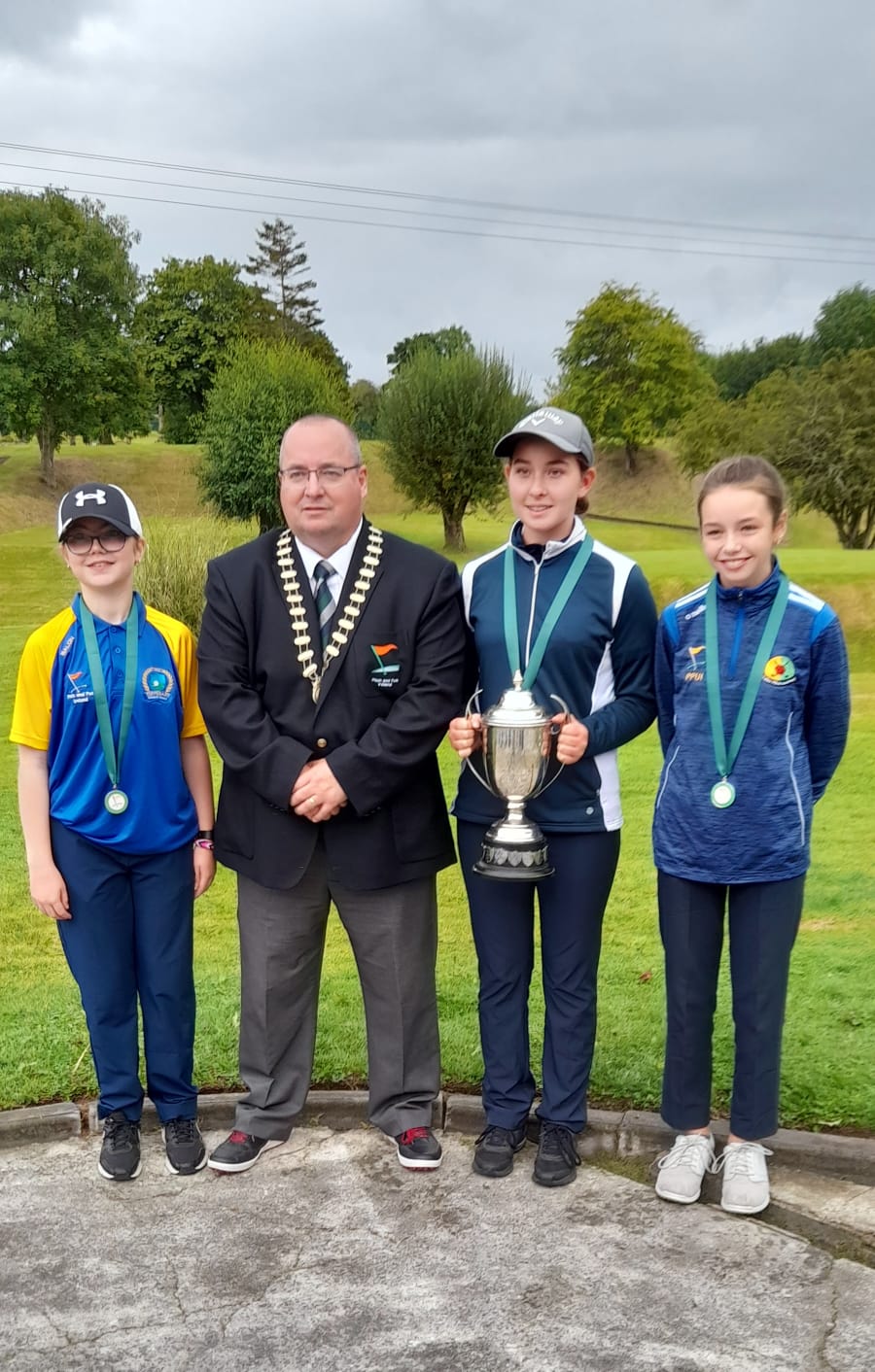 Ahead of this Saturday's National U16 Strokeplay and Inter-County Championships in Seapoint, John Manning looks at some prominent U16 members from the club as well as its previous hosting of this event back in 2007.
Seapoint has produced some top-class juveniles over the years, no more so than Damien Rafferty, Paul McGuinness and Sarah Cooney
At the end of a very warm 1995 weekend at Cement, Drogheda, the Wee County enjoyed a double celebration. Damien Rafferty, who played a starring role in Louth's Juvenile Inter-County win the previous day, carded two brilliant matching rounds of 48 for a 12 under par total of 96 to win the Boys' Championship of Ireland.
Damien was chased all the way by Gerry O'Connor of Portmarnock and Bissell's Paddy O'Brien, who finished tied on 99. Gerard O'Connor's 49 second 18 gave the Dublin boy second spot on the tiebreaker. Best age 10-13 performer was another of Louth's victorious team Craig O'Brien (Bissell) on 101. Paul Mehigan (Waterford Crystal) scooped 14-15 honours, also with 101.
Leading the field of 57 boys at the half way stage was William Hudson (St. Patrick's). William was on 47, one clear of Damien Rafferty. Rafferty was in the first group out. He started slowly in the second round but a run of six twos in a row either side of the turn ensured that he posted what was always going to be an intimidating target as conditions got more difficult.
In 1979, the then Vice President (soon to be National President) Tommy Murphy from Drogheda donated a cup to be played for annually in the National Juvenile Inter-County championship. Up to 1995 no team from the donor's native Louth had come close to winning the Tommy Murphy Cup.
That all changed on a sultry August day. It soon became clear that the 1995 Louth side were something special as they dominated the other 13 counties participating. After 18 holes, the leaderboard showed Louth on 15 under, one ahead of Dublin.
Francis Hoey shot 48, Damien Rafferty 49, Cormac Lynch 49 and Patrick O'Brien 55.
Aside from John Dennis, all of Dublin's scoring players disimproved in Round 2 but the Dubs still posted a challenging target 22 under par 410.
The home youngsters were not found wanting, however. Roar after roar rang out around the Cement course as Louth set about overhauling Dublin with a vengeance.
Captain Paddy O'Brien led the way with a solid 51. Damien Rafferty struggled to a 29 on the outward nine but birdies at 10, three-in-a-row from the 12th and at the 17th saw him home in a brilliant 22 for 51 and 100 overall. Francis Hoey dropped a couple of shots late on but six earlier birdies saw Hoey round in 50 to be the team's top scorer on 98. Craig O'Brien didn't find his best form (he did the following day!) but he broke par second time with a birdie on 15.
Anchorman Cormac Lynch birdied 16 and parred the last two to see Louth home by two shots.
Paul McGuinness meanwhile scored rounds of 50 and 48 for 98 to finish second (on the second eighteen tie-breaker in the 1984 National Juvenile Strokeplay championship at Athlone GAA Pitch & Putt club, which also hosted the 1980 National Ladies Strokeplay championship.
McGuinness' tally fell just a single stroke shy of impressive winner Roy Seery of the CPM club in Dublin. Roy's eighteen splits were 49 and 48. McGuinness and Seery both overhauled halfway leader Garrett Fitzsimons (Ashbourne) as Fitzsimons signed for 46+52= 98.
Sarah Cooney meanwhile will seek a record third National Girls' Strokeplay title in a row this weekend, having triumphed at Lakeside in 2021 and at Deerpark 12 months ago. She also won the 2022 National Matchplay Championship at Ryston –and is the second player in history (after Lucan's Eimear Ahern) to win the National Girls' Strokeplay Championship and the National Girls' Matchplay Championship in the same year.
Daughter of Louth Intermediate Inter-County player Paul and granddaughter of the legendary foursomes partnership Oliver and Jean, Sarah is also a former Leinster Strokeplay champion (2022) and provincial Matchplay finalist (2019).
Daughter of Joanne, Leinster Intermediate Matchplay winner in 2019, Sarah scored 115 at Seapoint to win the Leinster Strokeplay Championship in August 2022.
2007 National U16 Championships in Seapoint
The National Strokeplay and Inter-County championships have been played in Seapoint just once before – all of sixteen years ago in 2007.
Meath captured the Inter-County championship for the third time while Darragh Rogers (Portmarnock) and Michelle McCarthy (Hillview) claimed individual success.
Darragh Rogers (Portmarnock scored a brilliant first round of 47 to hold a two stroke halfway lead over Darren Finney (Castletown). Darragh added a 51 second round to ultimately tie with Craig Hickey (Deerpark).
Darragh, whose father Seamus was crowned National Matchplay champion at Ierne in 1966, having also reached the final two years earlier at the same venue, was simply unstoppable in the play-off, scoring six birdies to clinch a four stroke victory.
Castletown's Paul Cribbin closed with a brilliant 48 to grab third spot on 100 while Paul Tobin (St Patrick's) returned 50+54=104 for the Best 10-13 award.
Michelle McCarthy, also a leading golfer at Clonmel GC, carded an opening 60 at Seapoint to share the halfway lead with Kilbeggan's Mary Coffey.
A second round of 58 saw Michelle McCarthy safely over the line by a brace from Aoife Carton (Kilbeggan), who herself signed for a 58 second time to progress from the previous year's third placing. Aoife would finish runner-up again a year later.
Michelle's Hillview club-mate Ailish Kenrick (the 2004 runner-up) fashioned the best individual 18-hole round of the Championship, a second eighteen 57, to fill third place, a couple of shots ahead of Mary Coffey, who had grabbed two bronze medals herself, in 2004 and 2005.
Meath and Cork jointly topped the eighteen-hole leaderboard in the Inter-County Championship. Darren Finney top-scored on 47, as the Royals posted their 204 tally. Cork's Chris O'Sullivan went one better on 46 as Cork also sat on 12 under par. Just two shots back came Westmeath for whom Shane Coffey fired 48.
Crucially, three of Meath's scoring players improved in the second round with Paul Cribbin firing 47 and Andrew Collins 48 as the Royal County jumped to 407 (-25). Chris O'Sullivan again impressed for Cork with a 49 but his side ended-up four behind in runners-up spot, narrowly edging-out Westmeath, on the fifth card.
Limerick finished eighth, but a young man named Kieran Earls demonstrated much promise with a best of the championship 94 (51+43).
NATIONAL JUVENILE STROKEPLAY CHAMPIONSHIPS, at Seapoint, Sunday August 19th 2007, sponsored by Lindner Coin and Stamp Accessories
Boys
98 Darragh Rogers (Portmarnock) 47, 51; Craig Hickey (Deerpark) 50, 48. Darragh Rogers won play-off (21 to 25)
100 Paul Cribben (Castletown) 52, 48
103 Darren Finney (Castletown) 49, 54
104 Stephen Shoer (Riverdale) 55, 49; Colin Sheils (Portmarnock) 53, 51; Mark Hogan (Tullamore) 52, 52; Paul Tobin (St. Patrick's) 50, 54
105 Graham Newman (Erry) 55, 50; Conor Murphy (St. Patrick's) 54, 51; Johan Brosnan (Claycasrle) 53, 52; Chris O'Sullivan (Pfizer) 52, 53
107 Shane Coffey (KIlbeggan) 54, 53.
Girls
118 Michelle McCarthy (Hillview) 60, 58
119 Aoife Carton (Kilbeggan) 61, 58
121 Ailish Kenrick (Hillview) 64, 57
123 Mary Coffey (Kilbeggan) 60, 63
131 Siobhan McDonnell (Lucan) 65, 66
132 Sonia Quirke (Fermoy) 70, 62.

NATIONAL JUVENILE INTER-COUNTY CHAMPIONSHIP, at Seapoint Saturday 18th August 2007 (sponsored by Lindner Coin and Stamp Accessories)
407 - Meath (Paul Cribbin 99, Andrew Collins 100, Darren Finney 100, Patrick Conneely 108, Andy Browne 108).
411 - Cork (Chris O'Sullivan 95, Frank Bruen 104, Declan Sheehan 106, Colin Sheehan 106, Johan Brosnan 109).
411 - Westmeath (Shane Coffey 100, Conor Slevin 103, Ciaran Daly 104, David Gaye 104, Niall O'Connor 121)
420 - Dublin, 424 - Kerry, 426 -Wexford, 427 -Tipperary, 430 - Limerick, 435 - Louth, 442 - Down, 447 - Offaly.
Tomorrow: We will have a preview of the three events taking place this weekend.