Provincial Inter-County Weekend Report
John Manning looks back at proceedings in Louth and Waterford last Friday-Sunday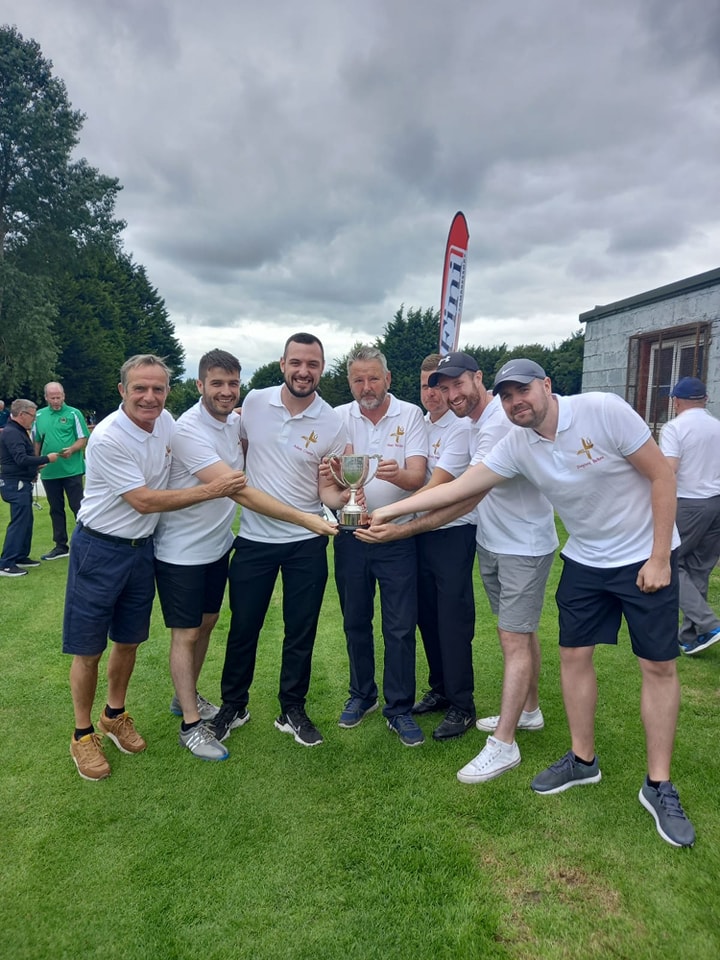 2021 National U16 Strokeplay Champion Mark Cadden (Oldcastle) delivered a performance par excellence in the Leinster U16 Strokeplay championship (14-15 age bracket) at Seapoint. Mark's two-round 99 proved five better than runner-up Shane O'Relly (Killineer). Leinster Matchplay finalist Michael Holland (Gowran) took third place with 110.
Gowran's Jack McShane, who won that Leinster Boys' Matchplay final, added the younger age provincial title (13 and under) with an excellent 104 at Seapoint. Jack enjoyed a nine stroke victory margin over Peadar O'Toole (Athgarvan) with Jack Courtney (Ryston) third on 118.
Sarah Cooney continued the family tradition of proud grandparents Oliver and Jean Cooney with a 36-hole aggregate of 115 at Seapoint to claim the Leinster Girls' Strokeplay championship. Gemma Cuffe (Kilbeggan) took second slot on 128 with Molly O'Toole (Ryston) third on 130.
Kildare sides completely dominated the new multiple team format. Leinster Juvenile Inter-County Championship at Seapoint. Kildare A (Peadar O'Toole, Dylan Kavanagh, Rian O'Flaherty, James Keogh) signed for a team total of 364 to prevail by sixteen strokes from runners-up Kildare B (Jack Courtney, Adam Byrne, Molly O'Toole, Aobha O'Flaherty).
Dublin achieved the provincial senior championship double for the first time since 2018 and for the eighth time in all with a couple of impressive displays at Seapoint.
Dublin ladies found themselves three behind Kildare after the Foursomes, -8 to -5. Superb singles performances by two of the Metropolitans' longer established players Ger Ward (who posted a stunning 47) and Sheelagh Elmes (50) saw Dublin win by four. Helen Greagsby and Maree O'Toole supported well in a Dublin team of total of 315 as long-time rivals Kildare (Chrissie Byrne, Marian Courtney, Tara Dillon, Mary Donnelly) settled for second place. Meath (Yvonne Quinn, Paula Lynch, Ursula Dowd and Margaret Reilly) took third slot on 329.
Dublin led Louth by one stroke after Foursomes play in the Gents Championship, 44 by Gary Healy and Chris Gallagher, trumping the 45 of Sean Goggin and George Beardsley as the other four pairs (two per side) signed for 46 apiece.
Stephen Murray delivered a Dublin tour-de-force with 46 in singles, strongly supported by a 47 from National Strokeplay runner-up Gary Healy. With Chris Gallagher, Jason Larkin, George McGreal and Colin Byrne also displaying excellent form, Dublin packed well for an overall team total of 428 (-58), which narrowly edged out Louth on 430 (recent National Strokeplay champions Ian Donnelly and Mark Miller joining incumbent Sean Goggin alongside Darren Fagan, Jim Judge and George Beardsley). Richard Grannell fired an outstanding singles salvo of 44 as he stirred brother Dean, Paul Tobin, Martin O'Neill, Wayne Allen and Dylan Hudson to a Wexford total of 438, which secured third spot, ahead of an Evan Carry-inspired Meath sextet.
The Gents Intermediate championship at Killineer provided plenty of drama on Saturday. Down swept into an early lead with an imperious eighteen under par performance in the foursomes. The Northerners led by four from Meath at that point with Kilkenny on -13. Westmeath and Wexford were tied in fourth spot on twelve under. The Lake County and the Model County were still deadlocked at the conclusion of the singles but had jumped to the top of the overall leaderboard on 472. Play-off! However, the Westmeath men had made their way off the course for their post-tournament meal. Back they came but victory went to Wexford over the extra holes. Diarmuid Cullen scored 48 for Wexford in singles and the Leinster Strokeplay champion was ably backed-up by
Ruairi Fortune, Dan Power, Peter O'Sullivan, Sean Cullen and Mark Kirwan Jun. Mark Newman matched Diarmuid Cullen's 48 to be Westmeath's top scorer as he was joined by Anthony Browne, Dean Dinnegan, Shane Kinahan, David Kiernan and Mick Dinnegan. Down (Denny McGuinness, Conor McAteer, Shane Barr, Ronan Hollywood, Pat McDonald and Fran O'Rourke) faltered somewhat in the singles but held on for third place with 476.
Irish Junior Strokeplay champion Glen Martin was the standout performer as Louth led the field a merry dance in the singles to claim the Junior Inter-County championship at Killineer on Saturday. Five behind Wexford at the halfway stage (-12 to -7), the host county were boosted by Martin's fine 50 in singles. Anthony Butler contributed 52, Michael Leech 53, Adam Crosby and Stephen Behan were both round in 54 and John Conaghan shot 56. That added-up to a five under par haul of 319 for the individual round, which gave the Wee County 25 strokes to spare over Wexford (Thomas O'Brien, Glen Buckley, John Peare, David Franklin, Dale Kirwan, Lee Murphy) who scored 349 in singles. Carlow (Micko Salter, Sean Kelly, Keith McDonald, Padraic Nally, Ken Hickey and Martin Whelan) lifted bronze, just another stroke behind.
Due to a modest entry, the Intermediate and Junior ladies teams were combined for a single tournament, played under the Stableford format at Seapoint. A strong Meath quartet (Paula Lynch, Ursula Dowd, Margaret Conneely, Margaret Reilly) led by four after the first round and with every player accumulating at least 40 points on their own ball, the Royal County team tally of 260 points was good enough for a nineteen point winning margin over runners-up Louth (Marlo Everitt, Ann Ward, Mary Coyle, Bridie Hanratty). The Kildare Junior Foursomes (Catherine Dillon, Ann Sweeney, Ann Williams and Marie Kett) scooped third place with 239.
Last Friday in Munster at Cunnigar produced drama as there was not just one but two playoffs for the Boys titles! The 14-15 category produced play of the highest quality. There was a two shot swing at the first extra hole as Adam O'Brien (Lakeside) birdied while his Deerpark opponent Nathan Cronin bogeyed. The pair were level at the second which Nathan aced while Adam parred. The Tipperary and Kerry players matched each other shot for shot from there to both stand on the ninth tee at three under par. Adam birdied the final hole to add the provincial title to his National Boys Matchplay Plate success last year. Adam produced 108 over the regulation 36-holes to finish level with Nathan who is the current National Boys Matchplay Plate champion. Nathan's club-mate Noah Sexton scored 111 in third place.
The 8-13 at Cunnigar was also decided by the play-off route. All Ireland Boys' Matchplay champion Joe Franklin (Hillview) defeated Jay Barrett (Listowel) in extra holes after they both returned 106 for two rounds. Jay shot a 50, the best eighteen of the championship, to force the play-off having trailed Joe by one stroke at halfway. Third was 2021 National Boys' Matchplay semi-finalist Brian McCarthy (Deerpark) with 108.
Building on their Strokeplay performances, Jay Barrett, Brian McCarthy, Nathan Cronin and Noah Sexton helped Kerry to a fourth successive Munster Juvenile Inter-County title at Cunnigar on August 5th. 32 strokes clear after the singles, Kerry's seven under par foursomes tally saw the Kingdom lads total 312 to 352 for second-placed Tipperary (Joe Franklin, Adam O'Brien, Jack Duggan, Pauric Bergin). A second Kerry side (Jayden Chute, Dylan Sweeney, Benjamin Kelleher and Daniel Leahy) were just another two shots back in third.
Just as they did on home soil at Hillview three years ago, Tipperary ladies and senior gents supplied a provincial Inter-County double at Cunnigar.
The ladies (Mary Quinn proving an able replacement for Martha O'Brien and joining Breda White, Shula McCarthy and Gemma McCarthy) racked-up 214 Stableford Points Gross to take the main award.
Only a single shot separated Tipperary and Cork after foursomes play in the Senior Gents' championship, Joseph Danagher and Stephen Shoer tipping the balance marginally in Tipperary's favour with a 45 to 46 by Eoin Walsh and Ray Murphy. Shoer, Michael Fennell and Paul Sweeney all shot 48's in singles, strongly supported by Kyle Kennedy (49), Joseph Danagher (50) and James Cleary (51). That ensured a 55 under par 431 tally, which edged out runners-up Cork (Eoin Walsh, John Cahill, John O'Leary, Rob O'Donoghue, Ray Murphy and John Walsh) by three. Kerry (for whom Damien Fleming and Jason O'Regan produced a magical 40 in foursomes) took third on 441 (2020 National Intermediate Strokeplay champion Michael Conway, former Meath star Chris Gibney, Eamon Sheehy and John McGrath also featuring for the Kingdom).
Tipperary Intermediates (Frances Ryan, Margaret Courtney, Elaine Quinn, Bridget Shelley) made it a great day for the Premier County when their 254 point haul saw them top the ladies nett leaderboard, just a single stroke ahead of an impressive Waterford line-up (Lorraine Troy, Corinne McGee, Jacinta O'Mahony, Evelyn Torrens). Cork ladies Intermediate squad (comprising Mairead Manning, Mary Anne Byrne, Vera McCarthy and Patsy O'Donovan) captured 3rd Nett.
A St. Anne's/Fermoy powered Cork Intermediate team romped to an impressive victory in last weekend's Munster Inter-County championship at Cunnigar.
Fermoy duo Robbie Donovan and Jimmy Quinn posted a brilliant 45 in the foursomes, which was superbly backed-up by JJ Quirke (Fermoy) and Cian Murphy (St. Annes) with 47 along with a 48 mustered by St. Anne's pair Donal Duggan and Darren O'Leary. That left the Leesiders on 22 under par and one shy at that stage of host county Waterford (for whom Owen Turbert and John O'Shea fired a scintillating 44).
Inspired by Jimmy Quinn who conjured up an excellent 48, Cork cut loose in the singles to tally 16 under par overall for a final aggregate of 448, which saw them run out winners by 14 strokes over runners-up Waterford (John O'Shea, Stephen Donovan, Aidan O'Rourke, Keith Power, Ronan Hogan, Owen Turbert).
Tipperary (long-serving Sean Minogue linking-up with his son John, Marco Comerford, Jake McMahon, Michael Comerford and Joe Brennan) scored 468 en route to the bronze medal position.
Limerick won the Munster Junior Inter-County title for the second time in three stagings. Ralph Fitzgerald, Rick Harty, Mick O'Donnell, Peadar McCarthy, Shaun Donegan and Kieran Donegan dominated the championship from the off with a -13 total for the foursomes, a 47 by Ralph Fitzgerald and Shaun Donegan being particularly impressive. Six clear of Kerry at halfway, the Treaty men eased to a twelve stroke win over Tipperary. Ralph Fitzgerald and Rick Harty dipping under the card with matching 53's as Limerick posted a cumulative 490. Ger Tuite and Michael O'Donoghue shot 49 in foursomes for Tipperary while Francis Sage, Tommy Kiely, John Hogan and Sean O'Connor scored solidly in singles.
Mark Gosling, Paul Walsh, Dean Lonergan, John Clifford, Tim O'Connor and Eddie Delaney teamed-up for 503 to take third place for Cork.
Latest National News
Latest Regional News