Previous National Ladies Strokeplays at Fermoy
John Manning looks back at the three previous events held at the Cork course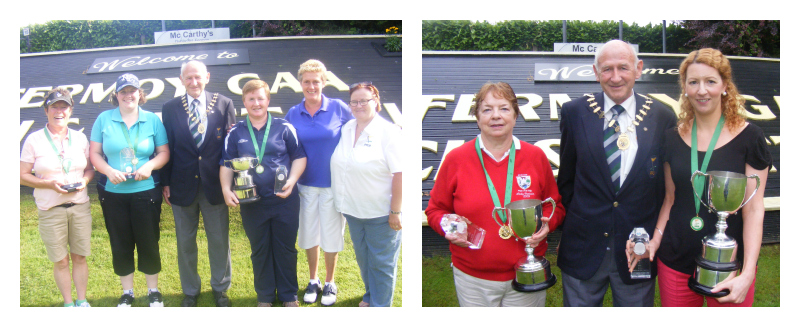 This Saturday, Fermoy will host the National Ladies Strokeplay Championships for the fourth time and join Tullamore and Douglas as the venue most often used.
The Senior Championship has been decided by the play-off route on two of the three occasions the event has been staged at Fermoy while Cork players have claimed five of the nine graded titles previously contested at the superb north Cork course.
Cork achieved a grandslam of wins in the Ladies' Irish Senior, Intermediate and Junior Championships played before a huge gallery at Fermoy in September 1981.
19-year old Ann Ginnane (St. Annes) gave a tremendous display, retaining her Senior Championship title with a tremendous 94, 14 under par.
Ann's winning score set the 36-hole winning aggregate record for the Ladies Senior Final (later equalled by Marie Mallin). Indicative of the standard set by the young St. Annes star was that she finished five strokes ahead of the favourite and runner-up Margaret Hogan of Tullamore.
Ann racked-up four birdies in a row from the ninth and a hole-in-one on 17 in her second round 45.
Secretary of the Cork County Pitch and Putt Board, Maura McNally (Dunlops), proved her capability by winning the Intermediate Championship with a fine 103, five under par. The runner-up was Geraldine McLernon of Portmarnock with 107 – the first showing on the national stage by a lady who was to become an all-time great.
Joint leader after a first round 52, Maura posted a 51 second eighteen to clinch her impressive four stroke victory. Maura would later become an excellent Chairperson of Cork County Board.
Elaine Desmond of Douglas won the Junior Championship, carding a steady 108 gross, level par. Elaine's club colleague Lil Daly, finished runner-up with a score of 114.
The last county to win all three titles previously was also Cork, that feat accomplished at Douglas in 1971 when Kit O'Donovan took the senior title. St. Anne's now boasted the distinction of holding both National Strokeplay Championships as some weeks before John O'Neill won the Gents' National Strokeplay title at Collinstown, Westmeath. St. Anne's would repeat that feat two years later when Ann Ginnane won again while Donal Long captured the Gents title.
Prizes were presented by Pat Rossi Promotions Manager of sponsors, P.J. Carroll & Co.
Cork Matchplay and Strokeplay Champion Marie Allen (St. Annes) defeated Margaret Hogan (Tullamore) after a thrilling nine hole play-off to win the Carrolls Irish Ladies Strokeplay Championship before a huge gathering at Fermoy in June 1985. The new champion returned 23, four under par to Margaret's 26 in the play-off. After eighteen holes (the halfway stage) the former National Matchplay champion Sheelagh Elmes (Portmarnock) was the leader on 47, seven under par. Marie Allen and her club colleague Ann Ginnane were both on 49. Margaret Hogan of Tullamore, a former winner of the event, lurked menacingly on 50. With Marie Allen in the clubhouse on 99, having birdied the last two holes, the stage was set for a thrilling finish. With nine holes to play, Margaret Hogan stood six under and Ginnane (a former three-time winner) was eight under.
Playing the last hole, the 36th Hogan had progressed to nine under and, faced with a tricky four footer to win, she missed to finish on 99, tied with Marie Allen.
Playing the last hole at eight under, Ann Ginnane was most unlucky to see a chip from the edge of the green finish inches from the hole to give her a score of 100. Sheelagh Elmes faltered on the last nine to finish on 103. So the stage was set for that nine-hole play-off between Allen and Hogan which Marie won by three strokes.
Margaret Leech, (Seapoint) won the Intermediate Championship with 110. Norma O'Brien, Douglas was Runner-Up on 112.
Betty Nolan (Shandon) became the new Irish Junior Strokeplay Champion. Betty signed for 114 to take the title, Millie Slaughter (Glenville) finished runner-up on 120.
Ger Ward (Portmarnock) survived a titanic struggle with Tara Dillon (St. Bridget's) to win the National Ladies Strokeplay Championship at Fermoy on July 20th 2014. Ger and Tara tied on 18 under par 144 after the regulation 54 holes, Tara firing a 48 final eighteen to make up a two stroke deficit after 36 holes to force the play-off.
The Dublin and Kildare stars remained deadlocked after the nine extra holes, shooting 24 apiece, before Ger Ward birdied the first sudden death hole to clinch her 16th (at that stage) national individual title. Ger also moved ahead of Clare Keating on the all-time Strokeplay Roll of Honour.
The previous day at Fermoy ended with victory for Ryston's Mary Donnelly in the Intermediate Championship thanks to a two under par final round for a tournament total of 160, just one better than 36 hole leader Una Brosnan from Claycastle who shot level par in the playoff. A final round of three under par helped Glenda Hoey (R.G.S.C.) to third overall in this grade on 163.
The Junior resulted in a comprehensive victory for Collins' Sarah O'Neill with a total score of 169 after 54 holes, 15 shots clear of Lakeside's Lily O'Brien in second on 184 with Karen Aherne from Ballinlough third on 188.
SENIOR
144 Geraldine Ward (Portmarnock) 48, 46, 50 (24, won 1st hole sudden death); Tara Dillon (St. Bridget's) 51, 45, 48 (24)
145 Breda Lonergan (Tipperary Hills) 48, 48, 49
148 Maree O'Toole (Shandon) 49, 47, 52
151 Tracey McGrath (Erry) 50, 53, 48
152 Eleanor Walsh (Fermoy) 51, 48, 53
154 Chrissie Byrne (St. Bridget's) 49, 55, 50; Martha O'Brien (Lakeside) 50, 53, 51
159 Margaret Hogan (Tullamore) 54, 50, 55
162 Sarah Byrne (Fermoy) 55, 49, 58
INTERMEDIATE
160 Mary Donnelly (Ryston) 57, 51, 52
161 Una Brosnan (Claycastle) 53, 54, 54
163 Glenda Hoey (R.G.S.C.) 56, 56, 51
165 Catherine Waters (Fermoy) 57, 58, 50.
171 Frances Ryan (Lakeside) 62, 55, 54;
172 Ailish Sexton (Fermoy) 56, 60, 56
174 Nicole Burke (Fermoy) 57, 59, 58
175 Lorraine Troy (Cunnigar) 58, 57, 60
176 Aoife Carton (Kilbeggan) 53, 63, 60.h
NR Linda O'Donovan (Ballinlough) 58, 54, NR.

JUNIOR
169 Sarah O'Neill (Collins) 57, 56, 56
184 Lily O'Brien (Lakeside) 65, 63, 56
188 Karen Aherne (Ballinlough) 59, 65, 64
190 Jacinta Nugent (Tipperary Hills) 63, 57, 70
192 Noreen Ryan (Fermoy) 58, 63, 71
194 Stella Kinsella (Cunnigar) 64, 69, 61
196 Maria Kerr (Rosscarbery) 63, 59, 76
201 Josie McCormack (Lakeside) 64, 68, 69