2023 National Inter-County Build-Up: Article 1
John Manning looks back at previous events held at the 12th Lock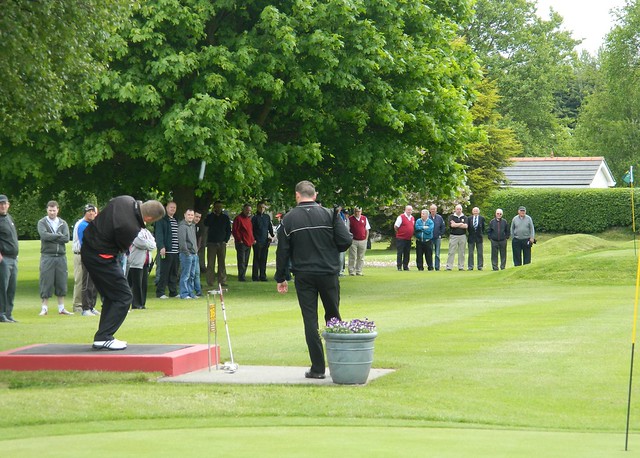 Lucan Pitch and Putt club has 12 times before been host to a national event or championship. Here is a brief reminder of 11 of those events:
1976
Lucan's first championship was on September 12th 1976. Shandon's Teresa McGuigan won the National Ladies Strokeplay Championship for the fourth time. Her score of 105 was two clear of Mrs Mary Trundle (Poulaphouca). Chris Cunneen (Rocklodge) shot 117 to clinch the Inter Championship by one from Shandon's Ursula O'Brien. Pauline Whelan (Royal Meath) ran away with the junior championship. Her 112 was 13 clear of runner-up Freda Kidd (Campions).
1978
Two years later on October 8th, 1978, the Players No. 6 Mixed Foursomes were played at Lucan. It was the eighth year of the event and for the first time ever, a Cork pair failed to win. Harold & Marie Daly from neighbouring RGSC carded 7up to win by one hole from the Shandon combination of Liam O'Brien & R. Smyth. Sean Breen and Rose Rafferty (Seapoint) won the gross on 1down while Damian and Lily McGowan (Old County) were the Best Locals with 3 up.
1983
July 10th 1983 was a momentous day for Lucan and for Corkman Donal Long (St. Annes) who won the National Gents' Strokeplay Championship with a brilliant 88 around the 12th Lock track. Donal finished six clear of fellow Corkman Michael Forrest (Carrigaline). Ger Brady (Athgarvan) shot 95 in Intermediate to pip Collins' John Costello by a single stroke. Joe Connolly (CPM) shot 102 to win the Junior from Stephen Conroy (Guinness), who carded 104.
1988
Lucan's own John Smith was PPUI President for the next event at Lucan – the National Gents' Matchplay championship on June 4th-6th 1988. Lucan's new clubhouse had just been opened on their 25th anniversary. Fred Cogley and an RTE camera crew arrived to cover Monday's play. David Hayden (Old County) won the Championship, beating James Angland (Crosshaven) in the final by 5&4. Defeated semi-finalists were Barry Morrissey (Carrigaline) and Paddy Kelly (Loughlinstown).
1991
That year's Inter-County Championship will be covered in a more in-depth piece on the website tomorrow.
1994
The first-ever Skoda National Mixed Team Event final was played in Lucan on 22nd May 1994. Templebreedy (Ray Murphy, Linda White, Richard O'Flaherty and Lynda Venner) shot 160 points to win by one from Lucan C (Paul Hill, Marie O'Toole, Pat Blake, Noreen Harrington). St Bridget's B (Mary Sherry, Christy Hannon, Paddy Dunne, Breda Coffey) were third on 157.
1998
Frank O'Donoghue (Templebreedy) won the National Gents Strokeplay championship for the second time with 142 around Lucan on 5th July. Derry McCarthy (Deerpark) took second place on 143 with 144 securing third on final 18 for Liam O'Donovan (Bruff), just ahead of Brendan O'Shea (Shandon).153 guaranteed the Intermediate crown for the Pitch & Putt playing dentist, Willie Stanley (Stackallen). Three players finished on 155. Gary Healy (Loughlinstown), claiming second place with 47 in play-off while Eoin Phillips (Clare Road) was awarded third with a 53 in the final round. Denis Dennehy (Douglas) lost out on the tiebreaker. Mark Cogan (Old County) secured Junior laurels with 161, one clear of Parteen's Joe Duggan with Willie O'Callaghan (Pfizer) third on 166.
2003
CPM's Darren O'Reilly aced the 44 metre 14th at Lucan on his way to a 3&2 National Matchplay final victory over John Walsh (Collins) on June 2nd. John Walsh was 10 under par in defeating reigning National Strokeplay champion Liam O'Donovan (Bruff) by 4&3 in the semi-final. A first nine of six under par 21 laid the foundation for Darren O'Reilly's 4&3 last four win over Alan Hanlon (Collinstown).
20-year-old Chrissie Byrne (St. Bridgets) won a first National Matchplay title with a 3&2 final verdict over Portmarnock's Sheelagh Elmes. Both Ladies semi-finals were heart-stopping affairs, which needed extra-time. Chrissie Byrne beat holder Peggy Campbell (Glenville) on the first tie hole while Sheelagh Elmes just made it over the line against Tracey McGrath (Erry).on the 38th.
2005
Bernie Barton & David Hayden (Lucan) scored +15 at Lucan on 25th September to win the National Mixed Foursomes. That proved four strokes better than Siobhan Scannell & Chris Scannell (Collins). Lucan pairs grabbed the remaining categories. Best Gross was the +4 returned by Marie O'Toole & Tony Bolger (Lucan) while Marie Cunningham & Thomas Cunningham (Lucan) scored +7 to be the Best O55 couple.
2008
Lucan co-hosted the National Scramble Final with neighbours RGSC on May10/11.Woodlands (Martin Power, Des Quinlan, Noel McCormack) scored 172⅓ to earn a comprehensive win over runners-up Douglas (Patrick Noonan, Stephen Noonan, Rory O'Neill) with Glenville (Christopher Byrne, Jerry Ryan, Colm Howlett) third. Final 18 winners were Riverdale (PJ Ryan, Hannah Ryan, Billy Boyle).
2013
Ray Murphy (St. Anne's) won his sixth National Matchplay title when he beat Sean Goggin (Cement) 1up in the final at Lucan on June 3. In the last four, Ray Murphy beat Derek Courtney (Glenville) by 3&2 as Sean Goggin overcame Joe Ronan (McDonagh) by 5&4.
Geraldine Ward (Portmarnock) overtook Clare Keating's eight National Matchplay championships record by beating Marian Byrne (St. Bridget's) by 2&1 in the Ladies decider. Earlier, in the semi-finals, Geraldine beat Chrissie Byrne (St. Bridget's) by 3&1 while Marian Byrne was a one hole winner over Sheelagh Elmes (Portmarnock).
2017
Lucan claimed practically all the prizes in the National Mixed Foursomes at Lucan on August 26. Marie O'Toole & Ted Flynn clinched overall honours on +13, one ahead of club-mates Tracey Smith & Anthony Malone. Brenda Purcell & Terry McMorrow took the Gross for the host club with +4. Catherine & Ian Dillon (St. Bridgets) broke the monopoly with +11 for the 1st Session but Lucan claimed the 2nd Session through Sandra & Peter Keogh's +11.
Tomorrow Morning: We look at the 1991 Inter-County Championship at this weekend's venue in more detail.