Playing after a sad loss
Maryanne Byrne reflects on her 2022 National Junior Ladies Strokeplay win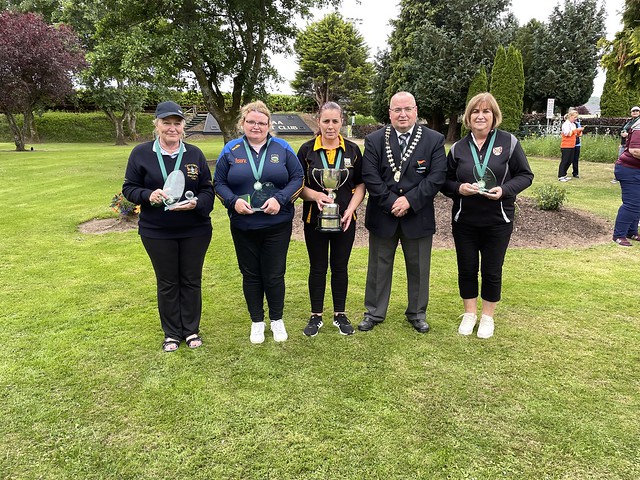 In one final piece on the 2022 season, John Manning speaks to Maryann Byrne of Fermoy about her emotional win in last year's National Junior Ladies Strokeplay.
Competing through the pain of mental anguish, having just lost a loved one, is a most acute sensation. "Playing the day after (father-in-law) Mick Cahill's funeral was one of the hardest things I ever did," recalls champion Maryann Byrne (Fermoy) of the 2022 National Ladies Junior Strokeplay Championship.
That day last June, Maryann Byrne bared her heartache in the most public of settings – an All-Ireland final. "If I was being honest, I didn't want to play, but as John said, Mick would have wanted me to play as he loved the national events."
In a way, Maryann was no longer playing for herself, or even for the club, but for a greater purpose, for the loss of Mick. "I didn't play well that day in Fermoy as my emotions were all over the place but I think Mick was with me in spirit over the last few holes – the same way Mick definitely helped John, over the final nine holes of the singles in the Inter-County at Rocklodge, when John needed big help."
Insisting she couldn't have done it without a little help, Maryann clearly felt the presence of former Cork and Munster champion Mick (RIP) as she scored a second round 60 to post the winning 2022 National Junior Strokeplay Championship aggregate of 123, one clear of Corinne McGee (Cunnigar) and five ahead of Grainne Shelley (Larkspur Park).
"John would help me with my game if I asked him," avers Maryann who doesn't seek the counsel of her life partner in so far as the swing is concerned. "John always says to me, 'Every player has their own style and you need to learn by your mistakes.'"
"The 2019 National Strokeplay was my first big event," recalls Maryann. She scored 59 to lead that championship after the opening round.The Fermoy lady was still just a stroke off the lead after 36 but eventually finished third, four back. "I made a few mistakes on the back nine in St. Bridget's but Adeline Revins was a worthy and deserving winner on that day."
However, the 2001 National Strokeplay champion and twelve-time Inter-County winner offers sage advice to Maryann on the mental side of the sport. "John always tells me if you go out with a tense approach you will not play your best."
Another impressive performance followed in the 2021 National Ladies' Junior Strokeplay Championship at Tullamore when Maryann fired a 59 Final 18 to secure third place on the tiebreaker behind Margaret Hennessy (Riverdale) and fellow Cork player
Ann O'Herlihy (Lakewood).
2020 Cork Ladies' Strokeplay Champion at Fermoy, with 121to 130 for Nuala McNamara (Collins), Maryann prefers the card and pencil format to the one-on-one structure. "I always liked playing Strokeplay. I think I learned after 2019 to relax more while playing."Her most notable Matchplay performance to date came at Bishopstown in September when Maryann reached the Munster Intermediate semi-finals where she lost to former All Ireland Nett Cup victor Elaine Quinn (Lakeside).
A second place in the May 2022 Munster Ladies Junior Strokeplay Championship at Bruff (134 to 133for Hillview's Gemma Martin) was the ideal loosener for her Fermoy tour de force a month later.
"I like playing in the big events," confirms Maryann whose striking National Strokeplay record now features a win and two bronze medals.
She has achieved second and third place in Munster Inter-County Championship combat with Cork. Could this record be improved upon? Maryann's approach to that and all other Pitch & Putt challenges is to "Go out and enjoy it."
What simpler or more effective formula could there be?
Latest National News
Latest Regional News