Past Events
Relevant National O55 Strokeplay and Provincial U16 Matchplay events relevant to this weekend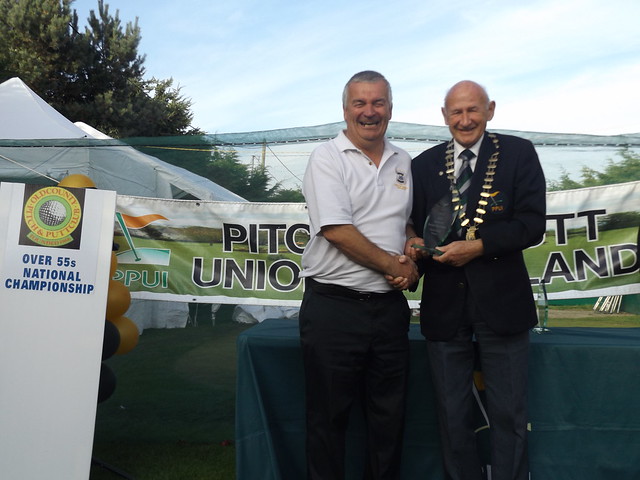 Ahead of this weekend's National O55 Strokeplay Championships and tomorrow's Provincial U16 Matchplay Championships John Manning takes a look at previous stagings of these events geographically relevant to our host courses over the coming days.
Munster pickings have been slim during Dublin stagings of the National O55's Strokeplay Championships. Of the 36 medals in total awarded at Shandon in 2005 and at Old County eight years ago, only six were claimed by representatives of the southern province.
The late Mary Looney (RIP) was Munster's only winner – in the 2005 Intermediate Championship at Shandon.
Mary's Collins club-mate Patsy O'Donovan scooped second place on the 2015 Intermediate Championship – the only podium out of the twelve that featured two Munster players. Margaret Forde (Riverdale) tied Patsy on 120 and was awarded third place on the second eighteen.
Bruff's Joseph O'Riordan achieved the highest Munster placing across the Gents events- second position in Junior in Crumlin eight years ago.
Eddie O'Mahony RIP (Riverside) and Seamus Gleeson (Riverdale) both annexed bronze medals, in Intermediate and Junior respectively, at Shandon in 2005.
The late Ann Maloney RIP of Shandon dominated the All National Ladies O55 Senior Strokeplay Championship at Shandon on October 9th 2005, posting rounds of 49 and 54 for a four stroke winning margin over Kay Mooney (Glenville). Mary Donnelly (Ryston) took third on 109.
Mary Looney (Collins) won a nine-hole play-off with Mary Casey Shandon for the Intermediate title after the pair had tied on 115. Third was Mary Sherry (St. Bridgets) on 119.
Monica McGrath (Prosperous) was round in 64 and 62 for a winning junior aggregate of 126, which proved two better than Shandon's Pauline Plunkett and Marie Mills. Pauline's 62 second 18 trumped Marie's 65 in the tiebreaker for runners-up spot.
The Gents Senior Grade Strokeplay Championship at Shandon was a triumph for the much-missed Ierne player Paddy Rowe (RIP). Paddy's 47+46 salvo gave him a record ten stroke cushion over Old County's Mick Byrne. Sean Breen (Seapoint) captured bronze on 104.
Albert Mithen (Loughlinstown) was another impressive winner in the Intermediate Grade. The South County Dublin man mustered eighteens of 51 and 49 for 100 to have seven strokes to spare over Frank Penders (Seapoint). Eddie O'Mahony of Cork's Riverside came third on 108, just edging-out Brendan Mullally of CYMC/LC, 51 to 54 on the countback.
The host club were celebrating a home victory when Gordon Nolan posted 55+60 to earn junior laurels by just a shot from John Clarke of Kilbeggan (who was awarded second on the back eighteen, 56 to 58) and RiverdaleSeamus Gleeson.
With an excellent second round of 52, Ger Holland (RGSC) made up a two stroke halfway deficit to win the National O55 Senior Grade Strokeplay Championship at Old County on September 26th 2015. Ger signed for 109 which proved two better than first round leader Margaret Hogan (Tullamore) with Geraldine Edwards (CYMC/LC) third on 113.
Home club heroine Agnes Redmond (Old County) trailed by no fewer than eight strokes after 18 holes but rallied with 55 to win an ultra-competitive intermediate event on 119, just one ahead of Patsy O'Donovan (Collins) and first round leader Margaret Forde (Riverdale). Patsy took the silver medal by virtue of her closing 59 to Margaret's 64.
Catherine Fox (Glenville) held a three shot halfway advantage with 60 and scored 68 second time to win the Junior on 128, two ahead of Theresa O'Keeffe (Ryston) and Joan Caffrey (Rathfeigh). Theresa posted a 60 over the second round to merit third spot on the countback.
Anthony Malone (Lucan) won his second All Ireland Men's Over 55 Senior Grade Strokeplay Championship at Old County. Consistent rounds of 48 and 47 gave Dublin's Chairman a 13 under par aggregate and a one stroke margin over Charlie Egan (Erins Isle) with holder Wally Sheridan (Bellewstown) third with 97.
Anto Carroll, then of Erins Isle, now of Royal Meath,scored 102 (49+53) to win the Intermediate championship by three from a group of three - Christy Hannon (St. Bridgets), John Feery (Kilbeggan) and Emmet Donnelly (Portmarnock). Christy's 52 second round secured runners-up spot while John's better back nine annexed third place after he and Emmet had both matched par over the second round.
With the only sub-par 36-hole return of the championship, Aidan Whelan emerged as the new Junior Champion. The Ryston player carded 107 (55+52) to deny 2011 winner Joseph O'Riordan (Bruff) who finished on 109 (52+57). Dutch native Ed Janssen (then of Glenville, now Lough Owel) improved 10 strokes (61, 51) in Round 2 to fill third slot on 112.
The Munster U16 Matchplay championship has twice previously been played in St Stephens while Gowran hosted the Leinster equivalent just six years ago.
1994 Munster Juvenile Matchplay Championship
St. Stephen's was welcoming a Munster event for the third successive season when the 1994 Munster Juvenile Matchplay championship was played in Sarsfield's Court on August 6th/7th. Lakeside's Paul O'Brien (who would later win Pitch & Putt's World Cup with Ireland and reach the 2007 Adult National Matchplay final) defeated Cian O'Carroll (Ardnacrusha) in the final. Paul O'Brien would retain the Munster Juvenile Matchplay title at Larkspur Park a year later and again at Waterford Crystal in 1996.
2014 Munster U16 Matchplay Championship
Son of current St. Stephen's Club Chairman Dave Towler, Ryan Towler (St. Anne's) won the 2014 Munster U16 Matchplay at St. Stephen's over the weekend of October 11th/12th. Ryan, who played quite a bit of Pitch & Putt at St Stephens, overcame Cian Morrison (Douglas) by 2&1 in the final. Ryan had beaten his brother Glenn (who was representing St Stephens) by 4&3 in the semi-final. At that stage, Cian Morrison outlasted his club-mate Conor Irwin by 10&8.
2017 Leinster U16 Matchplay Championship
The Leinster U16 Matchplay Championships were contested at Gowran on July 8th 2017. Eliminated in the Strokeplay qualifying group, Evan Carry failed to win the title for the only time in the four year span 2015/18, but the Co. Meath prodigy did claim the consolation Plate event.
Dylan Hudson (St Patricks) became the new champion, beating Jason Brady (Poulaphouca) by 7&6 in the decider. The championship semi-finals saw Dylan Hudson overcome Andrew Curran (Poulaphouca) on the final green of their 18-hole match while Jason Brady beat Lennon Blake (Old County) at the 19th.
In the Plate Final, Evan Carry (Castletown) beat Luke Kelly (Bagenalstown) by 11&9 having taken out beat David Horan (Glenville) by 5&4 in the last four where Luke Kelly beat Jack Buckley (Collinstown), who would claim the main championship two years later 1up.
Latest National News
Latest Regional News