National Youth Championships Report
Great day for host county as Cooney retains Girls title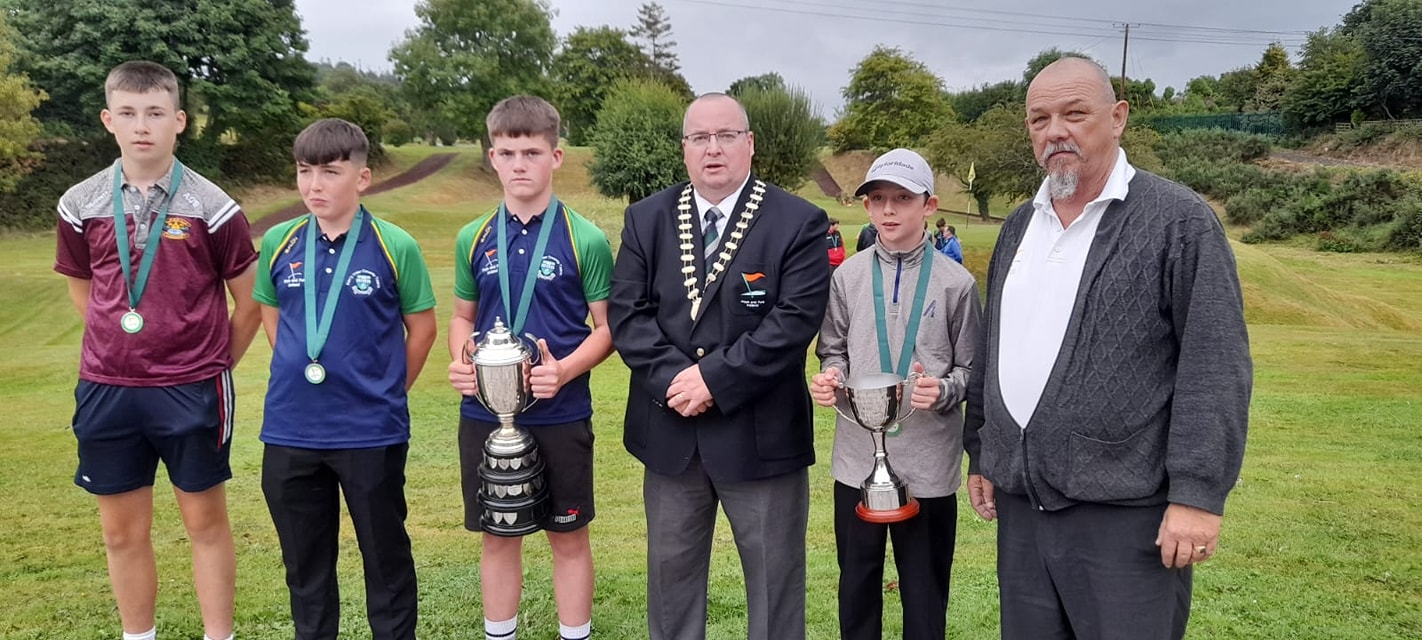 Communications and Press Officer Jason O'Connor reports on a day of interesting results at Deerpark in Killarney.
U20
The small field which started the day's play saw some of the best scores shot as first and second were the only individuals to shoot double figures at the inviting Killarney track. Sean Crowe of Riverdale had been the 18-hole pacesetter on seven under par but it was 2018 National U16 Plate Matchplay winner Jack Buckley who would go into the lead in the second round.
Improving his score by five in the first nine holes of the second round was a big feature of his win as he went on to post an 11 under par total despite taking a five at the treacherous 16th. Cian Murphy found five shots himself in the last nine holes to claim second with 10 under par as the St Annes player was the only other player on the day to get into double figures.
Two players finished on nine under par with countback needed to decide third. David Murray of Collins eventually claimed it three years after he reached the National Plate Final at the same venue. Ardnacrusha's Ralph Fitzgerald was the one to miss out on the medals as Buckley became the first player to win this event in three years.
Boys
One of the most convincing winning margins ever in the competition, Listowel's A Jay Barrett left the field in his wake to become the first member of his club to ever win this grade. He started off with three under par but really moved clear over the next nine holes in reaching his winning total of eight under par. That's the score he stayed on in the end as he was all of 10 shots clear of his nearest challengers.
It came down to countback to decide second as both Adam O'Brien of Lakeside and Deerpark's Brian McCarthy both finished on two over par. A better back 18 of 54 gave Adam the silver medal as McCarthy held off his club-mates in Ben Kelliher and Noah Sexton for third after they both finished on three over.
The Helen McMorrow Cup for the best score by a player under the age of 13 went to Gowran's Jack McShane meanwhile as he had rounds of 57 and 55 in finishing on 112, four over par.
Inter-County
With the change in format, inter-county players best 18 hole cards in the 36 hole Singles would be used as their Singles score for the Inter-County event. Kerry 'Gold' had a seven under par total before their started their Scotch Foursomes, five of that coming from A Jay Barrett's efforts in the Singles.
That gave them a 17 stroke lead over the field as both Barrett and Brian McCarthy brought in a six under par Scotch Foursomes score as their teams Nathan Cronin and Noah Sexton had one under in their Scotch Foursomes to give them a tournament score of 14 under, 22 clear of their nearest challengers Tipperary 1 in second.
The win was a third consecutive success by a Kerry side in the competition going back to their 2018 and 2019 wins and a seventh overall in the competition for the Kingdom. The real battle was probably for second as Tipp's first team of Joe Franklin, Adam O'Brien, Padraic Bergin and Jack Duggan just held off Kerry 'Green' of Ben Kelliher, Jayden Chute, Daniel Leahy and Dylan Sweeney by two strokes for the silver medals.
A second Tipperary team, Kildare and a Cork/Limerick combination were amongst the others to take part in the Inter-County event today.
Girls
Defending champion Sarah Cooney of Seapoint had seven shots to spare in brining the Cup back to Louth as a very impressive second round of one over par was a major part of her win. Sarah had led the player she defeated in last month's National Girls final, Sophie Moynihan of Tralee, by three strokes after 18 holes on 63 but only dropped one further score when she went back out in posting her winning total of 10 over par.
Sophie had a decent second round of four over herself in finishing on 125 as seven shots was also the margin between herself and third place Sarah Ryan of Tipperary Hills who finished the tournament on 132.
That was five shots clear of fourth place finisher Megan Ahern of Collins on 137.
Click on the above links to see how all the other players fared today.
Latest National News
Latest Regional News