National U16 Strokeplay through the years
A look at some previous events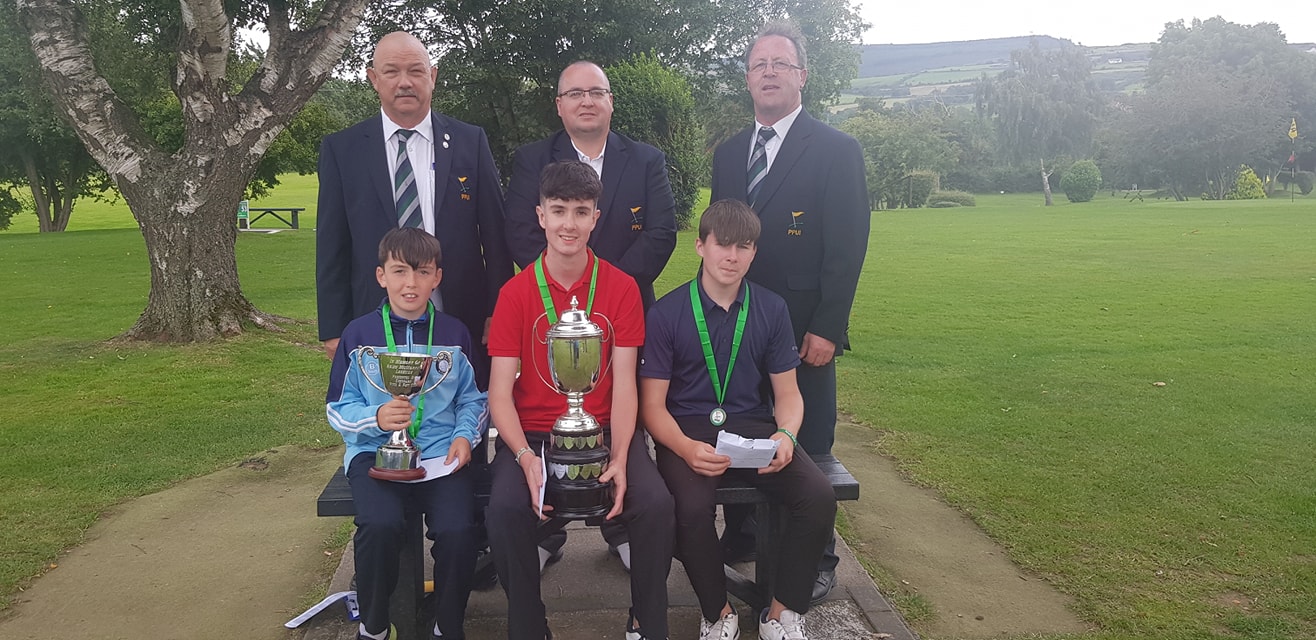 In advance of tomorrow's National U16 Strokeplay Championships, John Manning takes a look back to some previous events by the 0's and also looks at the only other staging of the event in tomorrow's venue, that being the 1982 event in Athgarvan.
Local hero David Kinneen defied gale force winds off Galway Bay to become 1980 Boys' Strokeplay Champion at Mellows on 102, which proved two strokes better than runner-up Jim Rafferty (Seapoint). Michael Ahern (Dunlops) scored 105 to finish third in a field of 48 players. Denise Rusk of Royal Meath shot 113 to win the first of her two Girls' titles by a couple of strokes from Fermoy's Eleanor Walsh.
The 1990 Juvenile Strokeplay Championships at Dunlops had to be curtailed to 18 holes due to heavy rain. The girls' championship was played in the worst of the weather. Anita Langstone (C.Y.M.C./L.C.) retained the title with 57. The runner-up shot 59 and was to be heard of again in subsequent years! Her name was Marian Byrne (St. Bridget's). Marian took the silver medal on the back nine (30 to 31) from Anita Reddington (CYMC/LC).
Lakewood's David O'Donovan shot a fabulous 45 before a huge gallery to clinch the Boys championship by a shot from Kerry's Inter-County hero, Barry Moynihan (Tralee). Another Tralee player Jason O'Regan scored 48 for third spot. Barry Moynihan posted an impressive clubhouse lead of 46 when he slotted in a three-footer on the last for his tenth two of the round, counterbalanced by a couple of bogeys at 14 and 17. Jason O'Regan produced a good run at his club mate's intimidating target but eventually settled for six under.
The reigning Cork Matchplay Champion at the time, Dave O'Donovan birdied the 15th to get to -7. O'Donovan's pitch to the daunting uphill 57 metre 16th pulled up five feet away and the resulting unerring putt saw the Corkman tied with Moynihan. An outstanding O'Donovan pitch to two and a half feet below the 18th hole gave the Lakewood youngster a putt for the championship – an opportunity he grasped with aplomb.
Hazel Hanrahan of the host club Fermoy carded two steady rounds of 58 to win the 2000 Coca Cola Irish Girls Strokeplay Championship at Fermoy on August 20th. Hazel finished three shots clear of Teresa O'Connor (Castlelyons), who birdied the final hole with a superb pitch to two feet to finish on 119. Teresa returned 18 hole scores of 62 and 57. Completing a great day for Fermoy, Jenna McCarthy of the home club was third on 125 - rounds of 63 and 62 for Jenna. Hazel Hanrahan was four strokes ahead of Teresa O'Connor at halfway and held on comfortably with a fine display.
Jason McNamara (Hillview) won the National Boys' Strokeplay championship. Joint leader on eleven under par 43 after the opening round with Kieran Dunscombe of St. Annes, Jason shot a second round 45 for a cumulative 36 hole total of 88 and a two shot winning margin over Kieran, who was runner-up for the second successive year. Jason's winning score was an all-time low aggregate in the history of this championship. Terence Brady (Old County) was third on 91, beating Keith Crowley (Lakewood) on the second 18 tiebreaker. Glenn Perry (Kilbeggan) shot 95 to win the Age 10-13 Category prize while Keith Crowley's consolation was the Age 14-15 age award.
Two polished rounds of 48 and 44 for a sixteen under par tally of 92 captured the 2010 National Boys' Strokeplay Championship at Kilbeggan for Shane Redmond (Channonrock). Shane secured the first of his two titles by just a single stroke from Kieran O'Keeffe (Deerpark), who had led by four after a brilliant opening round of 43. There was a play-off in the Girls' Championship between holder Claire Keatinge (Old County) and Kilbeggan's Laura Coffey after a tie on 112. Laura prevailed in extra holes to emulate her cousin Sarah, the champion in 2003. Áine Egan (Kilbeggan) captured third place on 122.
Laura fired a splendid two under par 52 opening round to lead by seven at the halfway stage. Back came Claire though with a second eighteen of 53 to force a tiebreaker. Laura birdied the second hole of the play-off and never relinquished her advantage, winning by a single shot.
Shane Redmond made many superb putts in his inspired second round of 44 but it was a long par-saver on the home green that ensured he overhauled Kieran O'Keeffe who scored 50 at the end of the field in his second round. Another Channonrock player Ciarán Byrne closed with a phenomenal 43 to jump up into third place on 96, piping Shane Murphy (Pfizer) on the countback.
1982 in Athgarvan
On July 18th 1982, Kieran Kearney (Fermoy) won the National Boys' Strokeplay Championship at Athgarvan with 101, from Tristan O'Dowd (Glenville) on 103. O'Dowd survived a six-way tie for second on the countback. In all, 17 players finished under par.
The Girls Championship went to Eleanor Walsh (Fermoy) with level par, 108. It was the second of Eleanor's two titles. Runner-up was Siobhan Cronin (Ierne) on 114.
The previous day, Kieran and Eleanor (who captained the side) were an integral part of the Cork sextet that retained the Juvenile Inter-County title at Athgarvan on a total of 631. Meath placed second (for the second successive year) with 644 and Dublin third, a further three strokes back.
The Fermoy duo were joined on that Cork team by Liam Coughlan (St Finbarrs), Garrett Walsh (St. Annes), Noel O'Leary (Dunlops), Chris Scannell (Collins) and travelling reserve Pacelli Bratchford (Fermoy).
Meath were represented by Gerry Dunphy (Navan), Garrett Fitzsimons (Ashbourne), William Stanley (Navan), Sean Downes (Stackallen), David Morgan (Royal Meath) and Martin Casey (Navan).
Latest National News
Latest Regional News