National Strokeplay Championships - Sunday Report
Ger Ward and Ian Donnelly triumphant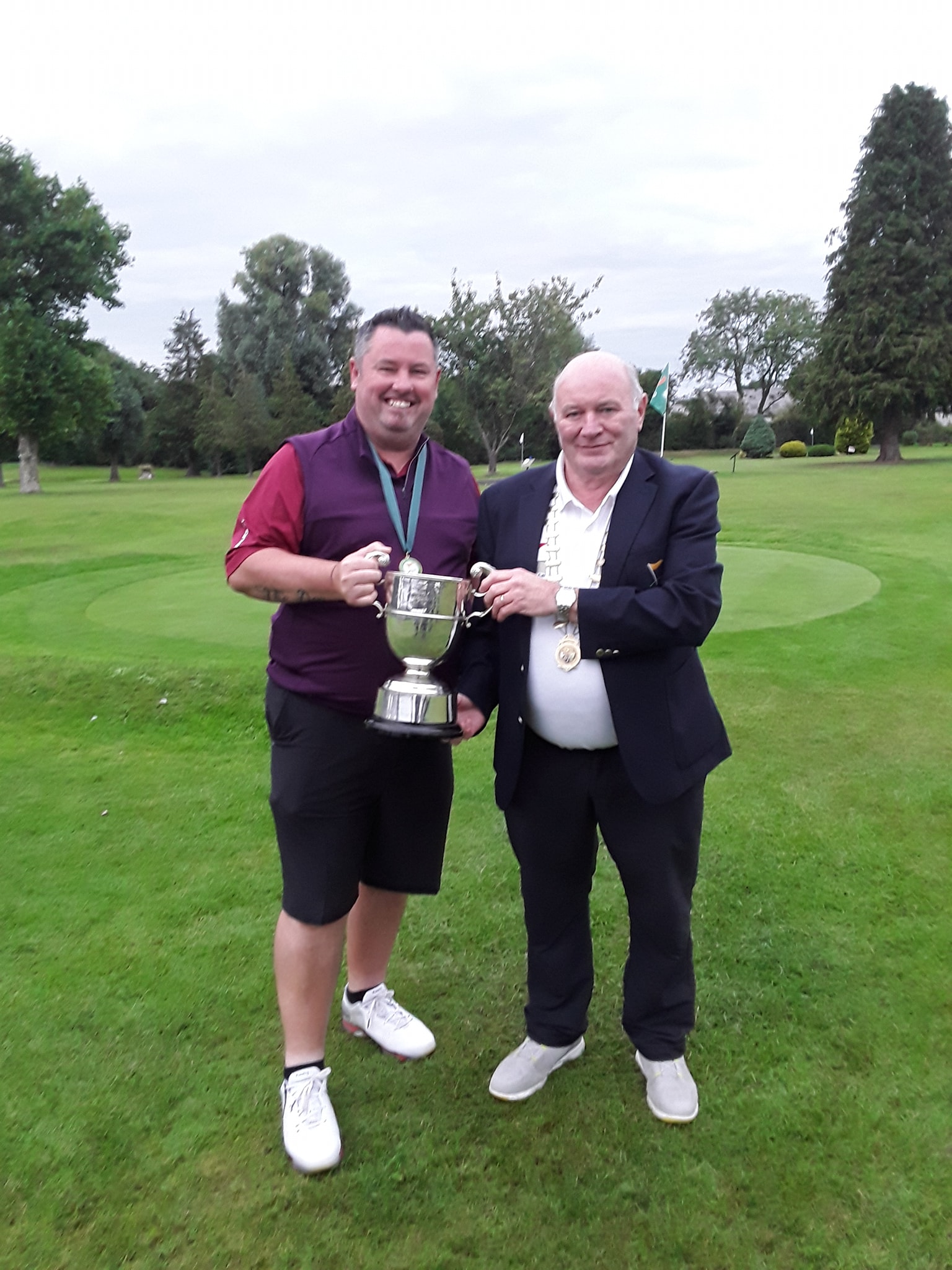 Two All Ireland Ladies Strokeplay titles and one National Ladies Matchplay win. By most mortal standards, that's a stellar career. Ger Ward has achieved that - on one course - Tullamore. The Portmarnock player added further lustre to her legend with an Elvery Cup winning tally of 101 at Tullamore today. Five strokes clear after a blistering first round of 47, Ger added a 54 second time to clinch her eleventh Strokeplay title by a three stroke margin from perennial rival Chrissie Byrne (Ryston). Chrissie outscored Ger by three strokes over the second eighteen but the three-time champion had left herself with too much to do with her 53 opener. Chrissie closed with a 51 to take silver for the fourth time in the last five years and for the fifth time in all. Tullamore's Margaret Hogan, another player whose named is carved in the pantheon of ladies greats, demonstrated her undimmed talent and enthusiasm with a vintage second round of 50 for 106 and third place. Five-time winner Margaret first claimed this championship in 1977. Ger's 23rd national individual title arrives 37 years after her first - the 1984 National Matchplay. Two-time All Ireland Girls champion, and current Lucan Lady Captain, Barbara Furlong fashioned a fine 102 return to take home the Nett laurels.
Tipperary's proud record in recent intermediate and junior National Ladies Strokeplay championships continued at Tullamore, following a virtuoso performance by Margaret Hennessy. The Riverdale lady posted 61 to lead by two shots at halfway in the National Ladies Junior Strokeplay championship. A carefully played second round of 60 earned Margaret a one stroke victory over the fast-finishing Ann O'Herlihy (Lakewood). The reigning Cork Strokeplay champion scored a second round 59 to fill the runners-up slot. Mary Ann Byrne (Fermoy) also carded a second eighteen of 59 to capture the bronze medal with 123, on the tiebreaker from Hillview's Veronica Anglim. Veronica's consolation was the Best Nett prize for her 85 effort, playing off 19. Margaret Hennessy's success is the second such victory by a Riverdale lady in this event inside the last five years. It's also the fifth triumph in either the National Ladies Intermediate or Junior Strokeplay championship by a Premier County representative within the last ten stagings.
Twenty four years after he finished as runner-up in Seapoint, Ian Donnelly (Killineer) is the National Gents' Strokeplay champion. The Drogheda man defeated reigning National Matchplay champion Damien Fleming (Deerpark) after the pair had tied on 29 under par 133 for the regulation 54 holes. Damien led early in the nine holes play-off, but a two stroke swing at the 7th proved crucial. Ian pitched close to make birdie and Damien bogeyed after pitching right of the green. Another four by Damien at the ninth left Ian Donnelly a winner by two strokes, 22 to 24. It is former Irish international Ian Donnelly's first National individual title – richly deserved. Old County's Stephen Murray fired the low score of the final round, a 43, to take third place on 28 under par 134. That 43 gave the Dublin man, a former Irish Open runner-up, the bronze medal on the final eighteen tiebreaker from 2020 National Matchplay champion Kieran Earls (Bruff). Anthony Culhane (Tipperary Hills) was the 36-hole leader on 86 (which included a stupendous first round of thirteen under par 41) and the cut fell at 94. Culhane was awarded Best 36 Nett on 88.
Latest National News
Latest Regional News