National Strokeplay Championships - Saturday Report
John Manning reports on an exciting day's play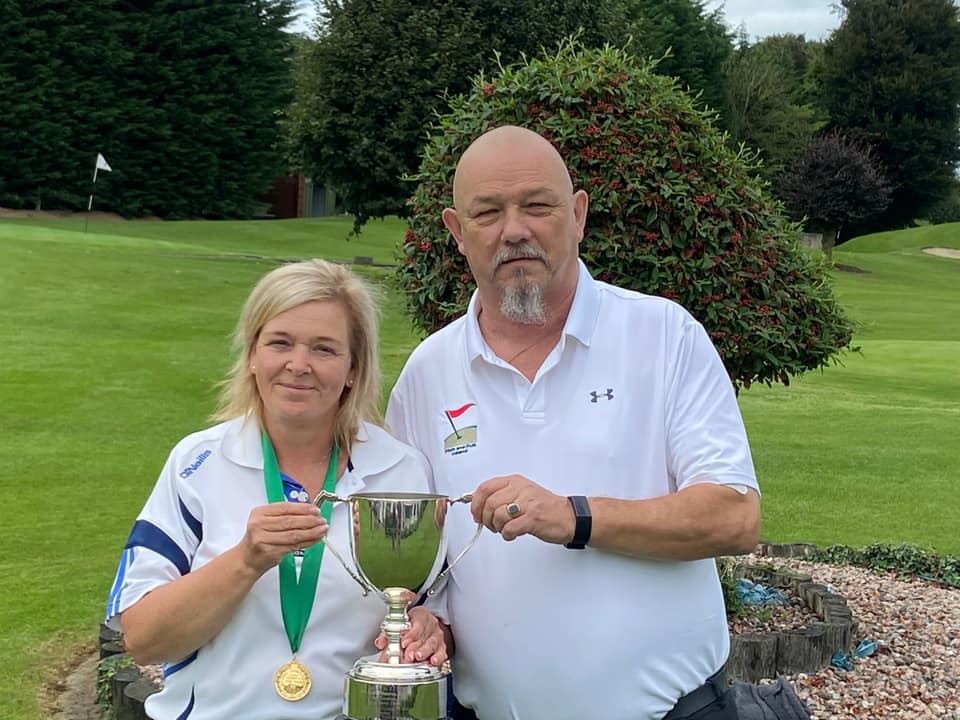 Denise Pyke is the new National Ladies Intermediate Strokeplay champion and the first-ever from Co. Offaly. The popular Tullamore player compiled rounds of 57 and 53 over her own course to post a 36-hole aggregate of 110. That two-round two over par tally gave Denise the 2021 title by a single stroke from Una Brosnan, the former National Girls champ from the Claycastle club in Youghal. Una stood three over par at halfway and matched the card second time around for her 111 total. Third place was filled by another Cork representative. Ailish Sexton (Fermoy) captured an intermediate bronze medal almost a decade after she lifted the junior cup at Ierne with a couple of steady rounds of 56. Oldcastle's Margaret Reilly scooped the Best Nett prize for her 87 return off 13 handicap.
Justin McKeon (Prosperous) fired three sumptuous sub-50 rounds to claim the 2021 National Gents' Intermediate Strokeplay championship at Navan. After phenomenal morning rounds of 47 and 45, Justin entered the final eighteen a single stroke behind. In the pressure-filled last round, Justin fashioned a fine 49 for his winning total of 141. There was a distinct Short Grass County feel to the upper echelons of the final leaderboard as Ryston's Daniel Condon conjured the lowest final round, a 48, to fill runners-up spot on 20 under par 142. Leading Meath qualifier and 36-hole leader Evan Ganly (Trim) closed with a 54 to take third place on 145. Stephen Donovan (Cunnigar) was awarded Best 36 Nett for his 84 (96 gross) off a handicap of six. There was a noble defence from 2020 Champion Michael Conway. Poised in a challenging position on -14 after 36 holes, the Tralee man returned a 51 to ultimately finish fourth. The cut fell at 101. Justin McKeon is the first player representing a Co. Kildare club to win the National Gents' Intermediate Strokeplay championship since Athgarvan's Ger Brady 38 years ago.
Cian O'Callaghan (Bishopstown) blitzed the Stackallen course with a final round of 45 to romp to a three-stroke win in the National Gents' Junior Strokeplay championship. Four strokes back with a round to play after initial returns of 53 and 50, Cian stormed clear of 36-hole leader Jack Carr (Killineer) with his phenomenal nine under par final eighteen and -14 overall. Eventual runner-up Jack had looked to be the man to beat when he added a 47 to his first round 52 to post 99 and hold a two-stroke cushion after 36 holes. Former All Ireland Boys' Strokeplay runner-up Dominic Scully (Erry), who was tied second heading into the final round, closed with a 51 for third place on 152. The Nett prize winner was Sean Cullen (St. Patrick's) who fired 81 off 10. Cian O'Callaghan's 148 is the lowest 54-hole winning aggregate in the championship since Darren McCann (Cement, now Killineer) scored 146 at Tullamore in 2003.
The Tullamore, Navan and Stackallen courses were presented in impeccable condition for their respective championships. We look forward to reporting the action again tomorrow from Navan (National Gents' Senior Strokeplay championship) and Tullamore (National Ladies Senior and Junior Strokeplay championships).
Latest National News
Latest Regional News