National Scotch Foursomes Updates: Day 2
Non Mixed Pairs in action today in Larkspur Park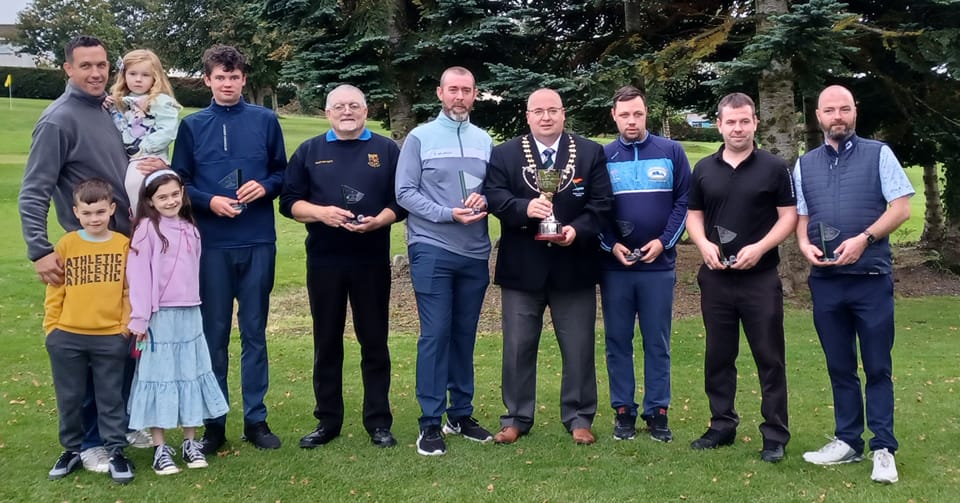 Scores from the second day at Larkspurk Park can be found here at following link:
2022 National Scotch Foursomes Mon-Mixed Scoresheet
Tipperary partnerships prospered in the ideal conditions at Cashel for the 2022 National Scotch Foursomes extravaganza and the local Larkspur Park club is celebrating a dominance never before seen in the event.
Husband and wife combination Grainne Shelly (17) and Derek Shelly (12) dovetailed superbly to post an opening eighteen of 51 Stableford points (four under par gross) in Saturday's Mixed first session. That gave the Cashel couple quite a cushion and although their second tour of Larkspur Park (understandably) wasn't quite as productive they mustered another 45 points for a winning aggregate of 96 points.
Alan Hogan and George Goodman completed a notable Larkspur Park double when the grouping of 15-handicap Alan and George, playing off seven, delivered a record-breaking triumphant Sunday aggregate of 101 points. An eight under par gross bagged 52 points in Round One and a 49 second time around saw the Cashel duo win by two from fellow Tipperary men, Matthew Buckley (10) and John Fitzgerald (Hillview).
Nearest challengers to the new Mixed champions were another Tipperary twosome, Kathleen Shanley (11) and John Fitzgerald (2) of the neighbouring Hillview club. The Clonmel couple displayed remarkable consistency all though their brace of rounds in the first session, scoring 48 and 47 for their 95 point haul in the runners-up position.
Paula Nolan and Garrett O'Mahony (Rocklodge) emerged victorious in a closely-contested battle for the Mixed Gross award. Central to the Leeside pair's ascension to the top of the board was a stunning seven under par second gross circuit of Larkspur Park which gave Cork Inter-County player Paula and her club champion Rocklodge teammate Garrett a successful tally of 85 Points, just two clear of Padraic Sarsfield and Audrey Donnelly of the McBride club in Drogheda.
Josephine Tobin and Thomas Roberts (Lakeside) were awarded the Best 1st Session prize with a 92 point return, which proved two strokes better than McDonagh's Peter Kearney and Bernie Dunne
Gillian Morrissey (St. Anne's) and young Dylan Ahern (Collins) went two better with 94 points in the Second Session, which ended a single stroke superior to the luckless Padraic Sarsfield and Audrey Donnelly (McBride).
Two handicapper John Fitzgerald broke new ground by becoming the first player ever to claim podium finishes in both Mixed and Non-Mixed in a single year. Just like his Saturday performance alongside Kathleen Shanley, Fitzgerald and Matthew Buckley displayed ultra-consistency in recording successive eighteens of 50 and 49 Stableford points.
Stephen O'Reilly (Hillview) and Brian Cahill (Riverdale) looked like they would complete a Tipperary clean sweep of the main Non-Mixed prizes for this year on Sunday as the Tipperary Inter-County compadres signed for a 92 point gross effort (47 + 45) in the morning wave. However, the second session produced the Best Gross winners as former Cork Strokeplay champion Rob O'Donoghue teamed-up with his Douglas colleague Denis O'Sullivan to unstoppable consecutive rounds of 49 points Gross. The Douglas men saw-off another couple of Cork teams - Declan Freeman & Daniel Keohane (Fermoy) and the Collins legends John Walsh & Chris Scannell - by a couple of shots.
The positive Premier County story continued as Riverdale's Matt Corrigan (8) and Gerard Tuite (9) mustered 97 points to scoop Sunday's 1st Session prize. That was just enough to see-off another Tipperary partnership – Hillview's Marco Comerford and Sean O'Connor – on the second eighteen tiebreaker, 50 to 47.
Former European Strokeplay champion Ian Farrelly (Scratch) linked-up splendidly with fellow Bellewstown member Sean Kennedy (11) for a Sunday afternoon score of 96 to plunder Leinster's only podium finish of the weekend – the Non-Mixed 2nd Session prize.
Latest National News
Latest Regional News