National Gents Strokeplay Build-Up: Day Four
A look at the Senior Event in Ringcommons on Sunday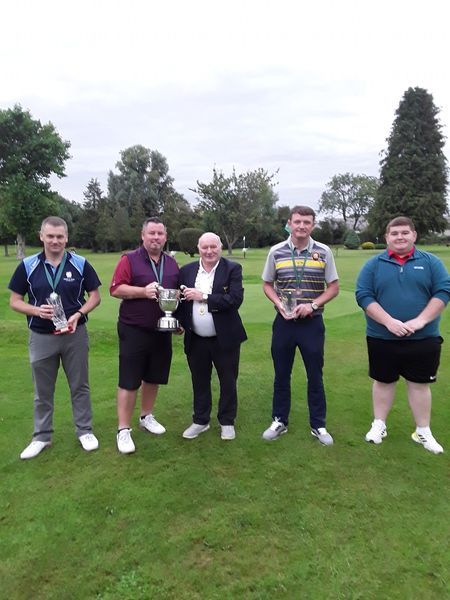 As a man named Donnelly prepares to defend the Donnelly Cup itself this weekend, Communications & Press Officer Jason O'Connor looks at the field in this year's National Gents Strokeplay Championships.
In one respect this is a 'homecoming' of sorts for the National Gents Strokeplay Championships. It returns to the weekend normally associated with it up to 2006 as after two stagings in 2021 brought by the Public Health Restrictions, it will be a single solitary staging for 2022.
After the 63-hole marathon he went through with Damien Fleming last year, Ian Donnelly might be looking at the Intermediates playing his home course (Killineer) tomorrow and be slightly rueful that he is not defending his title on home turf. Ringcommons isn't the longest trek for him as he is due to tee-off at 1pm exactly on Sunday afternoon with Fermoy's Paudie O'Sullivan and Mellows' David O'Connell his playing partners for the first 36.
After not qualifying for the National Matchplay Ian will want to prove last year was no 'one-off' in entering as defending champion. Damien Fleming will only be two groups ahead of him in the timesheet as the Irish No 1 tees-off with Old County's George McGreal and fellow Kerryman Tony Blake of Tralee. George's Old County club-mate Stephen Murray will be expected to lead the Dublin challenge as he tees off on Sunday morning alongside St Patricks Wayne Allen and Bruff's John Farrell.
Kieran Earls was the other automatic qualifier from Navan last year as he will play alongside 2020 National Intermediate Strokeplay Champion Michael Conway of Tralee and Riverdale's Stephen Shoer. In a graphic illustration of the competitiveness of qualifying out of Cork, National Matchplay winner Barry Morrissey is not amongst the field as Douglas' runner-up and 2001 winner of this event, John Cahill tees off with St Patricks Martin O'Neill and Lucan's Michael Ahern.
One of the semi-finalists from Douglas in John Walsh tees off in the penultimate three-ball of the morning session with 2020 National Matchplay runner-up Ian Dillon and 2020 Junior Strokeplay winner Jake Shine of Listowel. Walsh is hoping to win this event for a third time. 2003 winner and recent semi-finalist at the National Matchplay, William Buckley Jnr will be in the first group of the afternoon session meanwhile playing alongside Lough Owel's Sean Dinnegan and Dunshaughlin's Paul O'Rourke. One very interesting three-ball to keep an eye on will be at 12.30pm when 2017 winner Mark Millar plays with Leinster Strokeplay winner Sean Goggin as well as Evan Ganly of Trim who contended strongly last year in the Intermediate event in Navan ending up on the podium for a finish.
Winner of that Intermediate event, Justin McKeon of Prosperous, returns to senior level playing alongside Niall Quigley of Cloghogue and MacBride's Barry Thornton. The one local hope amongst the field plays with former winner John O'Leary of Ballinlough and former European Strokeplay winner Ian Farrelly as Colin Byrne tees off in the 9.48am. What of Ray Murphy as the all-time great comes near the 10th anniversary of his last success in Rocklodge back in 2013? Well winning the Munster Strokeplay in Bruff is likely to give him some confidence about this format as he will play with Collins' Eoin Walsh and Listowel's Chris Gibney Jnr.
Liam O'Donovan is another player seeking to add to his collection of titles (3) as he will play alongside Tralee's Jason O'Regan and Tullamore's Jamie Hogan in the morning session. 2008 winner Frank Dineen of St Annes meanwhile tees off in the final group of the morning session with Larkspur Park's James Cleary and St Bridgets Anthony O'Mahoney.
That's just some of the field for Sunday spectacular as hopefully despite the recent inclement weather, the course will prosper and the Championship will live up to expectations in advance. This being the first time the Men have played a National Finals here will create its own dynamic.
There is no form to go on like the Ladies would have from their 2011 and 2015 visits here. Much like last year we also cannot rule out the possibility of more than 54 holes being needed to decide the outcome.
We wish the players the best of luck in all three events as hopefully the crowds will come out to watch players in all three grades.
We look forward to seeing everyone this weekend and hope to keep you updated on proceedings as best we can with some streaming as well.
Latest National News
Latest Regional News