Michael Hayes RIP
John Manning pays tribute to our former Development Administrator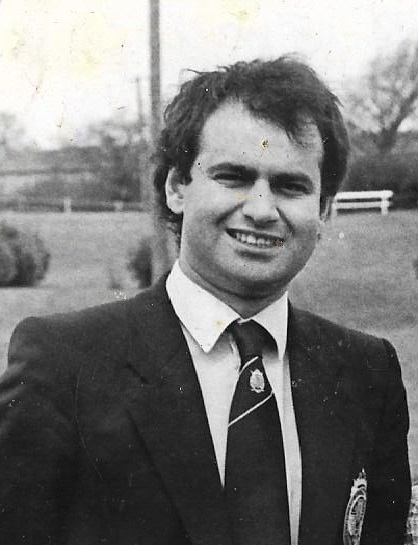 The Pitch and Putt community is reeling from the shock news of the death, at a young age, of Michael Hayes (RIP). John Manning remembers the former Pitch & Putt Union of Ireland administrator in the following tribute.
Waterford native Michael was appointed Pitch & Putt Union of Ireland National Coaching and Development Administrator in 1991 and introduced many enhancements to the organisation in the 12-year period of his tenure in that role.
He achieved his Coaching Tutor qualification from the National Coaching and Training Centre in Limerick. He was then instrumental in introducing the National Coaching Development Programme to the sport of Pitch & Putt. That Programme skilled many coaches within the PPUI as Michael delivered numerous coaching courses himself. He also facilitated the induction of a number of skilled coaching tutors –the likes of Junior Smith, Tommy Foley (RIP) and Steven Enneguess.
Michael was a key liaison person between PPUI and COSPOIR (initially) and later the Irish Sports Council. Michael's constant promotion of the Pitch & Putt cause was a vital cog in the delivery and enhancement of Government assistance to our organisation down the years.
Michael was a leading member of the PPUI Strategic Planning Group that delivered the first ever such Plan, "Our Sport - Planning for the Future", to the members in 2002. He produced many leaflets and pamphlets aimed at encouraging people to play Pitch & Putt and helping administrators to operate more efficiently. Other major contributions were his "National Pitch & Putt Day/Week" initiatives, Code of Ethics liaison/education, Club Development Awards and representing the organisation nationally with distinction at various trade shows, seminars and conferences.
A first-class senior performer in his playing days, Michael served a brief term as the PPUI's Honorary Registrar in the early 1980s and was also a volunteer administrator at club (St. Otterans), Co Waterford and provincial (Munster) level.
A former bank official, Michael was elected Munster Council Honorary Treasurer in 1982 before ascending to the Munster Council Presidency in 1983. He also served as a provincial delegate to the old Central Council. Michael's brother Terry was a National Executive Officer for over 15 years and President of PPUI from 1995 to 1998.Before and after assuming the salaried role in 1991, publicity for Pitch and Putt was a constant crusade for Michael and he contributed splendidly to many radio and newspaper inserts.
For years, Michael Hayes concentrated most of his energy on his twin portfolios and didn't have much time to actually play Pitch & Putt but did briefly revitalise his playing career when he joined Royal Meath in 2000.
Every new (and many existing) Pitch & Putt clubs received a visit from Michael during his term in the post. He cultivated Pitch and Putt's relationship with other sporting bodies, the ICA, Active Retired groups, schools and Special Olympics. He was a dedicated Pitch & Putt volunteer for the 2003 World Special Olympic Games at Glenville, very adroitly filling the role of Super GMS (Games Management System) User (computerised recording of results). He was a constant adviser to the honorary Officers concerning the P.P.U.I.'s handicap and registration database.
Michael's regular input to "Backspin" magazine was the extremely popular National Rankings (for a time sponsored by Waterford Crystal, backing engineered by Michael). Michael compiled the data for hundreds of players annually between 1991 and 2003. When the organisation produced Yearbooks in 1997 and 1998, Michael was a vital member of the Editorial Team. He worked with Billy Lynch on a number of compelling Pitch and Putt videos.
Along with Catalan supremo Martin Whitelaw, Michael expertly organised the Ireland tour of Catalonia in 1997. That trip by a 70-strong Ireland touring party culminated in the inaugural Catalonia v. Ireland international match that sparked sustained international development of Pitch and Putt. Michael represented Ireland at the exploratory international meeting held in Dublin during 1999, which led to the formation of the European Pitch & Putt Association (EPPA). Michael contributed to EPPA's first Constitution.
Michael Hayes was rightly recognised at a function in Dublin's Bewley's Hotel in November 2003. A presentation was made by then Union President Myles McMorrow. Myles praised Michael's contribution to the sport of Pitch and Putt over many years before he switched sports. The function was thronged with PPUI National Executive Officers and other Pitch and Putt personalities in a fitting tribute to more than a decade of distinguished development work for Pitch and Putt.
Michael Hayes left the PPUI for pastures new in 2003. Michael joined the Football Association of Ireland, where he very capably administered the Eircom, later- SSE Airticity, League of Ireland.
After his exit from the salaried role with PPUI, Michael continued his involvement with Pitch & Putt as part of the Strategic Plan Coaching Development and Training Committee while encouraging and helping his successor- Claire Fennessey.
Unfailingly good humoured and brimming with good ideas, Michael was ultra-efficient. A fount of knowledge on all the topical issues, sporting and otherwise, he was always good company. His encyclopaedic knowledge of football, in particular, made him a much sought after team member for quizzes.
Deepest sympathy is extended to Michael's family and many friends.
Ar dheis Dé go raibh a anam uasal.