Mervyn prepares to say National farewell
John Manning speaks to our outgoing President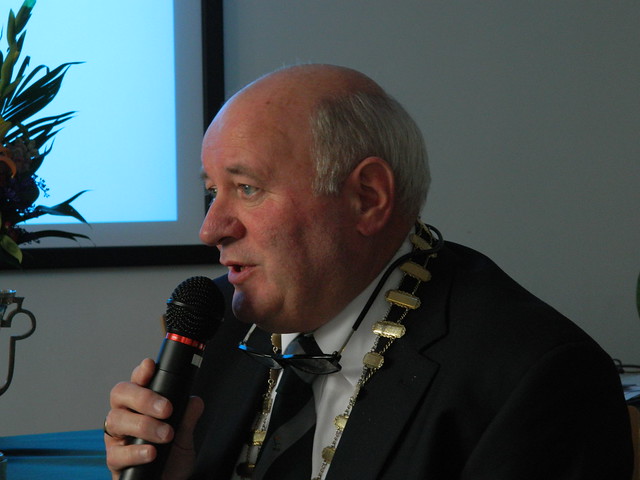 In advance of stepping down from the role of Pitch & Putt Ireland President on Saturday, John Manning spoke to Mervyn Cooney about his life and times in the sport of Pitch & Putt.
In 1979, George Askins was about to step down as Club Secretary. In choosing the erudite Enniscorthy Solicitors Clerk's successor, St. Patricks made a decision that would change the course of Pitch & Putt history.
Next Saturday, the curtain will come down on the long and distinguished administrative career of George Askins' protégé. Mervyn Cooney has been one of the most charismatic and influential Pitch and Putt administrators at club, regional, national and international level.
"He was brilliant," says Mervyn now of the late George Askins. "Initially I didn't understand how the thing worked. George taught me good administration. An extremely well-read man, he was so intelligent. He knew every aspect of administration, not just Pitch & Putt, but how to run a club."
"I still meet his son very regularly and we often reminisce about how I used to call to his house. I'd be in the front room, learning about handicaps and registrations. Overall, I hope George would be happy with the road I took."
In his pitch for the Presidency six year ago, Mervyn said he was a good listener. So what were the main themes that he heard during his second coming as President?
"A lot of the things you listen to are problems for people within the club. You listen to a gap in the understanding of the Handicap System (how it works) as well the various competitions and how they relate to them. Above all, you learn from listening to club members and players, dealing with the little things that come up along the way. You try to sort them out before they become major issues.
During the six years, my phone line was always there for people to contact me and many did. I'd listen to their situations and 99 times out of 100, things got sorted.
There are voids out there that members sometimes don't understand. With a high turnover of officers in clubs, new people coming into administration get confused and a bit frustrated as to what they should be doing and how to handle situations. They miss deadlines.
In listening to people we need a greater emphasis on administration seminars – perhaps something online.
I listened to problems about Rules and interpretation of the Rules of Play and that prompted me to introduce the Referees Course, which we have up and running.
That should be the start of other things that we can move on to. When we educate people on the rules and administration, it will be a great help.
That's what I listened to, apart from complaints from people who feel aggrieved about one thing or another!"
Whatever the walk of life, whatever the endeavour, people need support to thrive. In this regard, Mervyn Cooney has been more blessed than most. His wife and daughter aren't hugely interested in Pitch & Putt per se, but have made a tremendous contribution to our sport.
"When Yvonne was growing up, I probably didn't see her that much because I was away most weekends. It was left to her mother.
Cathy was superb in the first three years when I returned as President. I was trying to get a lot of things done in a whirlwind. With changes in the Handicap System there was a lot of work going on. I was away a lot and although she was quite ill at times (thankfully all behind her now), she did a phenomenal job. Our accountant says that she is the business woman really. My name might be on it but he credits her with the ability to run the business!
In the last three years, I wasn't away too much because of Covid.
Our (bakery and café) business is very much hands on. Cathy keeps the show on the road. We have had up to twenty-five employees so she had her hands full but overall she has played a massive role.
Hopefully Yvonne will join us back in the business again one day."
Mervyn was keen to thank a coterie of some key Pitch & Putt confidants, who quietly offered counsel.
"I'd like to record my appreciation to those whom I was able to pick up the phone to for advice or assistance in the background, which they were happy to give without getting any publicity for it."
And he had an amusing story to recount about one such consultation.
"We dabbled with two-tee starts and Shotgun Starts, which led to a very funny comment on the Facebook page. 'Whoever came up with shotgun starts deserves a good kick in the ***##!' My two grandsons found that hilarious and still remind me about it!"
Twinning the Ladies and Gents National Matchplays (in 1994) and the three-round National Strokeplay format (later in the 1990s) are generally and rightly accepted as two of Mervyn's finest administrative achievements. What else is he proud of?
"I look back on those and am very happy. The Ladies, in particular, deserved a much better stage that they were getting back then and we achieved that. We regenerated the Inter-County Championship as well.
More recently, the changes we made to the handicap system will be progressive. The referees' course is very important and bringing in an expert to examine the marketing of our sport will prove to be a good idea. We are a great unique sport, but we need to get it out there through advertising and promotion.
Streaming of the Championships has been very successful. Matchplay is ideal for it. It's great for those who are at home. Others say we should be encouraging people to attend our championships but that doesn't suit everybody.
We need to step forward with the equipment. We're priced it (it's not bank-breaking money) and I hope the incoming NEC will purchase that equipment and train people to use it so that we can showcase and promote our sport (Matchplay and Strokeplay and underage as well, with parental approval) both nationally and internationally."
Is there anything he's less proud of?
"The last two years have been very good for us, numbers-wise. Prior to that, it was a struggle.
I'm disappointed I didn't achieve more in the U16 area. That wasn't for lack of trying on the part of the Juvenile Officers. We may need to be less rigorous in the type of events we run. So I'm bringing forward a motion to allocate a handicap to juveniles, to level the standard.
The galleries at juvenile events were massive in the past. They were as exciting as adult competitions. We need to get that element of our sport back. Todays' champions were the juvenile champions of the past.
The more Juveniles we have – the more we can retain.
The Ladies Championships are no longer drawing the support they once did. Are the days of Scratch Ladies Competitions and Championships gone? Should we have more Stableford-type events to attract more players and give them a chance to be more competitive? I'd be disappointed that we didn't achieve more there.
Our sub-committees worked hard and came up with ideas but, for some reason, we didn't seem to get it over the line as well as I would have liked.
Covid set us back in different ways. It was good for numbers but administratively it was a nightmare. It was tough going and you couldn't refer to anybody. There was no precedent for it. We had to play it as best we could but had to follow Public Health advice.
People didn't want Zoom Conventions and I can understand that but then you'd see 85-year-olds on TV using Zoom to talk to their grandchildren in Australia!"
It is said that a prophet is rarely appreciated in his own land but Mervyn has remained enormously popular and effective in St. Patricks through the decades (as Regional Secretary in the 1980s, international pioneer in the noughties, NEC Officer through the years). What's the secret?
"I've been there so long! What I've always tried to do (together with the Club Chairman) is to keep encouraging young people who show an interest in the club, its committee and administration.
I do very little in the Club. They still want me to be the Treasurer and that's fair enough. But we've some great people in the club, probably one of the youngest memberships in the country, all anxious to see the club progress further.
I try to be fair and honest with everybody and keep the thing going. It has a great future and there's great camaraderie among the members."
Mervyn was in sombre mood when he reflected on thephenomenal memories he has of many good administrators he served alongside, several of whom have gone to their eternal reward - great colleagues whom he really misses.
"Tragically, two Officers passed away during my current tenure as President.
Helen (McMorrow) and Liam (Sherry) were two wonderful people who gave tremendous service to Pitch and Putt at club, county and national level.
Losing Helen and Liam was a major downside of my time as President. Both of them were very popular and put in such hours of voluntary work. Some appreciate the volume of work they put in. Some don't.
I could scarcely believe their heartbreaking loss really, and it brought me back to my earlier years at national level when the late Sean Coyne (former National PRO and Treasurer) died at a meeting in Thurles.
It's very sad and we also lost lots of other people who were actively involved at club level. People lost family members through Covid and we offer all our deepest sympathies."
Mervyn took a near 10-year sabbatical (2006-2016) from administration at national level. He must have noticed huge changes on his return?
"The biggest difference was the instant communication that exists in this century. There was time when a letter might take a week. Now you get into the car after a competition or a meeting and the whole world is reading about it immediately.
The expectation of the players had risen. It was a different world back in the nineties. Nowadays there's a greater demand for better quality everything.
And that's good as well. That's progression. Change can be really good. Lots of things that have changed are for the benefit of the sport.
We always have issues that remain problems whatever the era. When I first got into Pitch & Putt, Handicaps were a major bone of contention and they still are. And will continue to be, as there will never be a system that's universally accepted.
It wasn't too dramatic a change, overall. I got back into it, fairly easily I think. Maybe that's for others to judge!"
Mervyn combined a hugely influential administrative career with the running of an extremely successful Business and brought some business credos across to Pitch & Putt.
"We spend a lot of time looking at the opposition or the competition and how they're doing things and keeping abreast of changes. That's one of the reasons why I wanted to examine the professional marketing of Pitch & Putt. I would like to have done it sooner but the handicap system took priority and I spent a lot of time on that with Michael Murphy and Chris McCarthy.
It's important to see what other sports are doing as well. Another sadly-missed administrator Michael Hayes (RIP) and myself were very friendly with the CEO of the Ladies Gaelic Football Association when she was starting out and it's impressive to observe how that organization has progressed by way of marketing.
In my second term, I wanted to embark on the marketing project. I was delighted in 2021 to get Seán Tackaberry involved. People like Seán have a huge amount bring to the table.
We have to look at Pitch and Putt as a sport primarily but, behind the scenes, the NEC need to look at it as a business and making it pay. We work very closely with Sport Ireland and managed to increase our grant allocation for 2022 and that's down to diligent work on the part of Breda Brophy and Michael Murphy, who are held in high esteem by the Sport Ireland."
Registration levels are at their highest levels for over a decade. To what does Mervyn attribute that?
"When the big recession arrived, we thought that Pitch & Putt would thrive as it did during previous recessions. That just didn't happen and then Covid comes along and Pitch and Putt numbers go up!
We were on a little bit of an upward trend and then in the last two years we have seen phenomenal growth. And while Covid did play a role, the individuals at clubs had worked right throughout the lean years to keep courses and clubs in good condition and were there to capitalize when the demand came.
It was a wonderful to see. The trick is, how do we maintain that level of membership?
We tried to help the clubs by availing of the Covid Grant money that was there. Between the Covid Grant of €48,000 and the reduction in registration fees more than €88,000 has gone back into clubs. County Boards benefited financially from having no outgoings.
We'd hope that the numbers will stabilise and grow modestly, year on year.Numbers participating in competition rose also, which was amazing."
As the first President of both EPPA and FIPPA, Mervyn was heavily involved in the international development of our sport. What's his assessment of the international scene these days?
"I'd be very enthusiastic about it still.
They're probably trying to fit too many events into the calendar at the moment. I'm excited about the World Pitch & Putt Tour but I have concerns about how they find dates for the WPPT events alongside the Opens.
I love to see Irish players getting an opportunity to play for their country, going right back to the Australian and Catalan trips 25 years ago.
Have we progressed sufficiently in the meantime? Maybe not? The split that occurred was unfortunate but it was important that Pitch & Putt maintained its own identity.
I know people look forward to going abroad (look at the Irish entries for the Catalan Open – a waiting list already) and it would be great to see more people visiting Ireland for our Open as travel opens up post-Covid.
I hope that it continues to grow. The concentration should remain on building a strong European model before attempting further world development."
What's next for Mervyn Cooney? Pitch and Putt wise and personally?
"I'll be 68 in April so it's time to hang up the administrative boots! In Pitch and Putt terms, I'll stay involved with the club and play a little. I will continue in business for another year or two. I was hoping to hand it over but none of my grandchildren are interested in 4am starts! I love attending Hurling and Horse Racing and playing the odd round of Golf with a friend of mine.
I look forward to watching Pitch & Putt and seeing how it progresses. There's a lot to be achieved. I'll still turn up at championships."
Mervyn is somewhat reticent about offering advice to his successor.
"I wish the next President the very best of luck. I know whoever gets the job will hopefully continue the mainstream work we have been operating and carry on the development programme. We have a great, great competitive sport, which hopefully we can maintain and be inclusive. We need younger people in the organization with new thinking. However, we also need a steady hand on the tiller. But Past Presidents probably should be seen and not heard!"
Emblematic of Mervyn Cooney's extraordinary administrative journey were the rousing speeches he delivered at home and abroad. A reformer of competitions and procedures, he espoused reinvention and leaves a superb legacy in Pitch & Putt coaching, education, strategic planning, marketing and communication.
His leadership style was one of inclusion, encouragement and example. One suspects he will now become a valued member of that coterie of quiet counsellors.