2023 National Strokeplay Championship Build-Up: Day Three Part 2
A look at 54 hole National Gents Strokeplays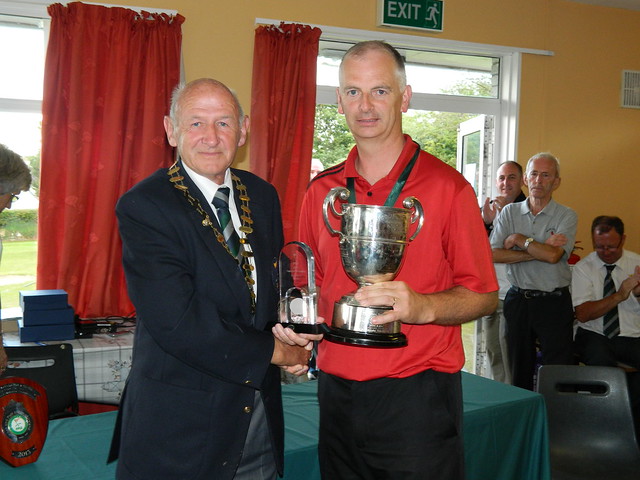 John Manning offers us an interesting look at the history of the Final 18 in the National Gents Strokeplay.
A total of 193 different players have qualified to contest the final round of the National Gents' Strokeplay Championship at least once in the 27 stagings over 54 holes since the event reverted to 54 holes in 1995. Covid-19 forced the delayed playing of the 2020 Championship over 36 holes.
Not surprisingly given the passage of time, no player has come near to surviving the 36 holes cut in each of the 27 Championships. One player now holds the distinction of making the cut 20 times. Not surprisingly, it is the 'GOAT' himself, Ray Murphy, victor in millennium year and in 2013 along with his double success in 2006 and 2007.
Ray Murphy (with four wins, two seconds and two thirds) has eight Top 3 placings (in addition to two more thirds in the 36 hole phase) for an overall average of 7.3. Ray's stroke average is marginally inferior – at 142.45. John Walsh has made the 36-hole cut at the finals eighteen times and his average position (6.7) is slightly better than Ray Murphy. Two-time champion Walsh has amassed eight podium finishes in all and his score average is almost 21 under par - 141.06.
2018 champion Damien Fleming is one of the most consistent performers in National Strokeplay championships of the modern era. Fourteen times a final round qualifier, Fleming has finished in the Top 6 nine times. Fleming has an average placing of sixth (6.14 to be precise) for the 14 Championships, which puts him right up there with Ray Murphy and John Walsh.
The low 36-hole cut over the past 27 events was 93 at Ryston in 2010 while the 103 at testing Cunnigar five years later was the highest. The average cut was fractionally less than ten under par (98.1).The 94 qualifying scores in the recent Navan and Ringcommons Championships are the second lowest of all time, matching Fermoy 1999.
The champion was joint fifth after 36 holes in 1995; Liam O'Brien led into the final round in 1996 and at Seapoint, John Walsh was joint leader. At Lucan, Frank O'Donoghue emerged from a 36-hole ranking of eighth to clinch the championship. Niall Cuffe led from gun to tape at Fermoy as did Ray Murphy in 2000. The 36 hole leader, Sean Harkins, finished second in 1995 while Johnny Campbell Junior (Bissell), tied with John Walsh with a round to go in 1997, finished fourth, as did the 1998 36 hole leader, Brendan O'Shea. Ray Murphy (eventually second) and John Cahill (winner) were joint top of the 2001 leaderboard after two rounds. Jason O'Regan (Tralee), who finished sixth, led on 89 with a round to go at E.S.B. one ahead of ultimate victor Liam O'Donovan.
Corkmen Frank Dineen (second) and John Walsh (fifth) were in pole position after the opening rounds at Tullamore in 2003. William Buckley was poised to make his victory spring from seventh place – five shots back. Darren Collins lay joint fourth at St. Stephen's in 2004 just as Ian Donnelly did at Navan in 2021. Sean Downes shared the lead with a round to go at Royal Meath. Sean Goggin was two behind heading into last year's final round. Mark Millar and John Ross Crangle are the two most recent 36 hole leaders to go on to clinch the title and in all the two-round leader (or a player tied at the top of the 36 hole leaderboard) has gone on to win twelve times.
Low score in the final round was returned by champion Chris Scannell at Collins in 1995 and in all the winner has produced the top (or joint top) score of the Final 18 in 10 of the 27 stagings, including Sean Goggin's brilliant 43 a year ago. Other early top final round scores were posted by champion Frank O'Donoghue with a brilliant 44 at Lucan; by Alan O'Callaghan (Douglas), whose 46 at Rocklodge moved him from 19th to 7th and Mark Millar (Cement) at Seapoint. Mark's nine under par 45 promoted him from 13th to 5th.
There were two eleven under par 43s in the scoring bonanza at Fermoy. Hubert Kelly's 43 saw him jump from seventh to third while Joe Flood progressed nine places to fifth following his 43. The 'man in the cap', Bruff's Billy Farrell shot the low 18 of the Lakeside final round in 200. His 45 advanced the likeable Limerick man from 18th to 6th. There were four 47s at E.S.B., including seven under par scores from the two main protagonists, O'Donovan and Murphy. Second placed Frank Dineen's 44 was the low final round at St. Stephen's. Best of all final round scores is 42, initially recorded by champion William Buckley at Tullamore in 2003. Sean Downes equalled the lowest final eighteen of the 27 stagings (42) when he regained the title at Royal Meath in 2005 as did John Cahill in securing third place in 2008.
Final rounds of 42 were also recorded by champion Eddie Carey and third-placed Jonathan Goodall at Ryston in 2010. Anthony O'Loughlin closed with a 42 en route to the title at Douglas a year later. Damien Fleming fired a 42 final round as he jumped up into third place at Tullamore in 2016. Stephen Murray benefitted from a closing 43 at Navan as the Old County man improved from seventh after 36 holes to ultimate third place.
John Ross Crangle's second round 40 at Ryston in 2019 is the lowest single round recorded in the National Gent's Strokeplay Championship finals, eclipsing Liam O'Donovan's 41 at Tullamore in 2016.
Munster's phenomenal dominance of the 54-hole format came briefly to an end at Fermoy in 1999 but was revived at Lakeside in 2000. Southern province dominance of the top award continued into the new millennium with only 2003 kingpin William Buckley Junior, Sean Downes, Mark Millar and John Ross Crangle bucking the trend. From 1995 to 1997, the Championship was won on each occasion by a Munsterman and Munster also picked-up a second and a third. At Stackallen, it was a Munster 1-2-3 and at a Leinster venue to boot – the second time that had happened inside four years (remember Lucan '98)!
St Stephen's witnessed that feat for the third time in the period under review. Munster players scooped all four places at Tralee in 2009 and repeated that feat at Rocklodge four years later. At Fermoy, it was another second for Munster but Leinster finally wrested the title back and also picked-up a bronze medal. Munster took the top laurels at Lakeside but Leinster took second and third. In addition to Munster's 19 wins, the southern province representatives have marched away with 16 silver medals and 12 third places. Royal Meath 2005 saw the first Leinster 1-2 since 1994. Munster is now ahead in the automatic qualifier fourth slots 15-12. 2019 saw a 1st, 3rd and 4th for Leinster in the National Gent's Strokeplay Championship – for the first time since 2010 - also at Ryston. That Leinster 1-2-4 was replicated at Ringcommons last year.
Overall 101 different Leinster players have made the cut to 88 Munster men and four Ulster stalwarts. At Collins, eleven Leinster men made the 36-hole cut, eight Munster players and a lone Ulster representative, Paul O'Hagan (Cloghogue). In 1996 it was again eleven Leinster players to nine from Munster, while Leinster had a large monopoly at Seapoint, 14-6. The 1998 split replicated the 1996 figures, 11 Leinster players to nine from Munster. Nine Leinster players made the Fermoy cut to eleven from Munster. At Lakeside, 11 Munster men made the 36-hole cut, eight Leinster players and a solitary Ulster representative, Peter McGivern (Cloghogue).
That Munster domination continued every year after that until 2004 and was most manifest at St. Stephen's in 2003 – 16 Munster players to just four from Leinster. Royal Meath saw the eastern province reassert itself. Eleven Leinster players survived 36 holes at Clonee, seven Munster men and two sons of Ulster. Tullamore 2008 saw an even split 10-10. 14 Munster players featured in the 2009 Tralee final round and it jumped to 17 (to just three from Leinster) for the 2013 decider at Rocklodge. Since then, Leinster players have redressed the balance somewhat with eastern province representatives holding sway apart from the 2017 renewal at Hillview (where it was 8 Leinster and 12 Munster), 2021 (7 Leinster, 10 Munster and 1 Ulster) and 2022 (7 Leinster, 11 Munster).
Frank Dineen (winner in 2008 and twice runner-up) has made the cut eleven times while his Inter-County colleague and 2001 champion John Cahill has qualified on nine occasions. John Cahill boasts an average position of sixth for the nine instances that he has beaten the axe. John Cahill has three Top 3 positions and a stroke average of 144. Frank's average finishing position is 9.5 and his low 54 is an impressive 133 (returned at Tullamore in his victory year). The victor the in the first modern-day three-rounder, Chris Scannell, made the two-round cut for the 12th time at Navan.
John Ross Crangle is level with Sean Downes as the most successful Leinster player, with 11 cuts made equaling the Meath man's haul (achieved between 1995 and 2012). Derek Courtney has made nine cuts. July 14th 2019 saw John Ross Crangle's sixth podium finish (1st, 2nd, 3rd or 4th) in the previous nine stagings of the National Gent's Strokeplay Championship.
Holder Sean Goggin has made 10 cuts while former champions Ian Donnelly and Mark Millar have qualified seven times each. Sean's average score is 141.8 and his average position is ninth. At Ryston in 2019, John Ross Crangle qualified for the final round of the National Gents Strokeplay Championship for the 10th time in a row and for the 11th time in all. Crangle's ten final round cuts made in a row remains a championship record, one better than Damien Fleming (2012/21). John Walsh made eight on the bounce between 2009 and 2016 while Ray Murphy's best is seven ('09-'15).
The 23 year gap (1998-2021) between National Strokeplay final rounds is an all-time record for Anthony Culhane. Brian McGinn qualified in 1995 and not again until 2014. There were long gaps also for Mark Millar (16 years) and Sean Minogue (14 years). Current active cut streaks are: Sean Goggin (three-in-row), Jason O'Regan (3), Kieran Earls (2) and Ray Murphy (2).
The average final round is approximately 49.3. That means that the qualifiers were 2,497 under par for (the number of qualifiers has changed and there have been some no returns and disqualifications)! The qualifiers at Collins 1995 were only -32 cumulatively for the final round while the corresponding figure at Fermoy in 1999 was -152 for a staggering average of 46!
Tomorrow: We preview the Senior Mens event in Riverdale on Sunday