2023 National Strokeplay Championship Build-Up: Day Four
A look at the Senior Mens event on Sunday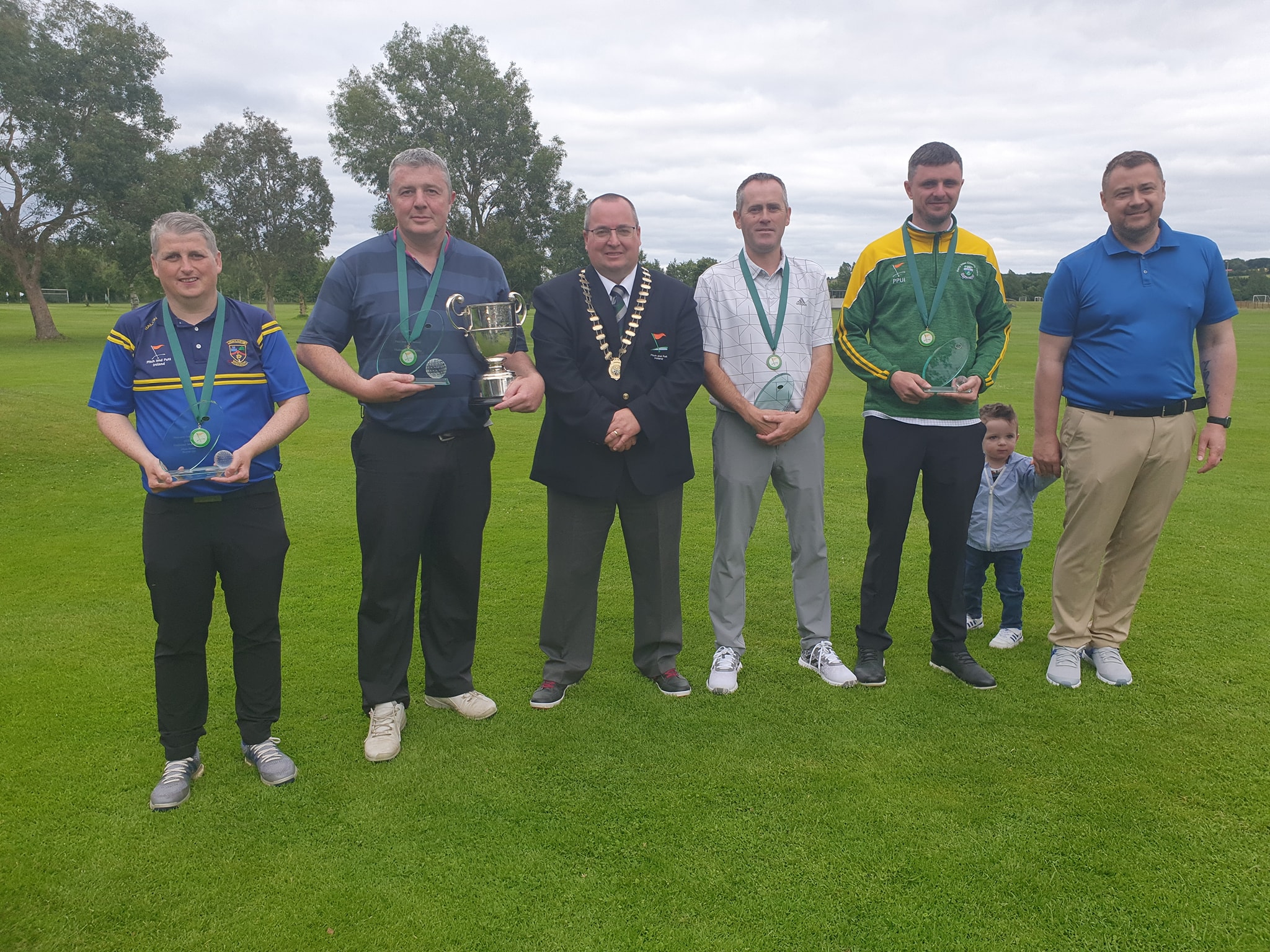 John Manning takes us through some of the big names in the field for Sunday's proceedings in Riverdale
Holder Sean Goggin will be joined by no less than ten former National Strokeplay Champions in the very strong field that has been assembled for the 2023 renewal at Riverdale.
William Buckley Junior (2003), Damien Fleming (2018), Liam O'Donovan (2002, 2004, 2016), John Ross Crangle (2019), John Cahill (2001), Mark Millar (2017), Ray Murphy (2000, 2006, 2007, 2013), Frank O'Donoghue (1992, 1998), Anthony Malone (1989, 1991) and Bryan Delaney (2009) have all lifted the Donnelly Cup in the past and will be quietly confident of adding to their haul. O'Donovan was Munster Matchplay runner-up at Riverdale back in 1999.
The 12.06pm three-ball of O'Donoghue, Malone and recently-crowned Leinster Strokeplay champion Darren Fagan should be well worth watching.
Add into the mix three current and former National Matchplay winners Stephen O'Reilly (2023), Kieran Earls (2020) and three-time victor Sean Harkins (in addition to Fleming, Crangle, Millar, Murphy and Delaney) and one begins to appreciate the depth of talent on view.
What a mouthwatering grouping O'Reilly, Earls and Fleming is at 9am on Sunday!
James Ryan won the 2014 Munster Strokeplay. Reigning Munster Strokeplay champion Dave Sexton is in a high profile threesome alongside 2020 Irish Open champ Pat Malone and 2019 National Inter-County winner Chris Gallagher, four times a Leinster Inter-County gold medalist and six-times Dublin individual champion.
European Strokeplay Champion John Cahill has a Munster Strokeplay win at Riverdale (2010) under his belt while Bryan Delaney was provincial Strokeplay runner-up at the north Tipperary venue in 2015.
Last year's runner-up Gary Healy (the reigning Dublin Matchplay champion) heads an impressive batch of silver medalists such as James Cleary and Stephen Shoer (as well as Fleming, Delaney, Crangle, Murphy, Buckley Junior and Harkins).
Reigning Leinster Matchplay champion Ian Dillon was National Matchplay runner-up in 2020 as was Eoin Walsh in 2012. (Cahill, Murphy, Delaney, Fleming, Crangle and Goggin have also been defeated Matchplay finalists).
2008 National Intermediate Strokeplay champ Stephen Shoer took second place in Tipperary (at Hillview) behind Mark Millar six years ago. James Dignan finished tied third in the 2016 Intermediate championship at Tullamore only to lose out on the tiebreaker.
David White reached this year's Munster Intermediate Matchplay semi-finals before returning to the senior ranks.
James Cleary has a second (2006) and third (2022) on his resumé and many observers feel the 2023 Riverdale Scratch Cup victor will complete his national set this weekend.
Boys' Strokeplay champion on Tipperary soil back in 1994, Brian Webster is a proven Irish international as is 2003 Matchplay semi-finalist Alan Hanlon, fellow European Team Championship winner with Webster at Overbetuwe in 2005.
2022 Irish Open victor Evan Carry is the most successful juvenile player of all time. Michael Conway was Best Nett winner 12 months ago and Intermediate champion at St. Stephen's in the 2020 championship (played in 2021 due to Covid-19).
Nine Tipperary men start and few are as experienced as Anthony Culhane, Nett winner two years ago and an Inter-County winner with Tipp in 1995. 2018 Munster Intermediate Matchplay champion Kyle Kennedy was 2017 National Junior Strokeplay runner-up at Hillview.
Paul Sweeney was a Munster Inter-County winner (alongside Kennedy, Cleary and Shoer) with Tipperary at Cunnigar last August having previously helped the Premier men to provincial glory in 2019.
Evan Ganly was third in the Intermediate Championship at Stackallen a couple of years ago; having been fourth at St. Stephen's a few months earlier in the postponed 2020 event.
Another European Team Championship winner Thomas Hanley was crowned Munster Matchplay champion at Rosscarbery in 2015. 2011 National Juvenile Inter-County runner-up Jason Cregan is the reigning Munster Matchplay champion following his win on home turf back in May.
Killian O'Gorman will bid to become the first player in history to win the intermediate and senior titles in successive years. Killian's Listowel club-mate Jake Shine meanwhile attempts to become the third player ever to add senior honours to a Junior win.
1991 National Intermediate Strokeplay champion Hubert Kelly took third place at senior level in 1999 in Fermoy.
Eamon Gibney can boast wins in the World Cup, the European Team championship and the 2014 Irish Open. Gibney has been racking-up the podium finishes in the Leinster Strokeplay championship and ascension to the National Strokeplay dais by the Castletown man would be popular.
2011 European Strokeplay champion Ian Farrelly is a former winner of the National Mixed Foursomes and a four-time Leinster Inter-County winner with Meath. 2019 National Junior Strokeplay runner-up Sean Crowe has seen National Inter-Club glory with Riverdale and collected Riverdale Scratch Cup honours in 2022.
Former Provincial Matchplay kingpin Declan Freeman took third place behind Anthony Malone and Frank O'Donoghue in the recent All-Ireland O55 Senior Grade Strokeplay championship at Glenville. Damien Creevey was the 2015 National Intermediate Strokeplay champion in Cunnigar.
Irish international Paudie O'Sullivan finished fourth in Rocklodge in 2013. O'Sullivan has featured on four Cork National Inter-County winning sides. Tadgh Harrington placed third in the 2022 National O55 Senior grade Strokeplay championship at Bellewstown.
Denis O'Sullivan claimed the Munster Intermediate Strokeplay title at Riverdale back in 2010 and clinched Best Gross in last October's Non-Mixed Scotch Foursomes in Larkspur Park.
A final round contestant in the 1996 championship at Rocklodge, Junior Smith holds the record for the longest gap between first (1983) and most recent (2019) winning appearance in the National Inter-County Championship.
David O'Brien, Barry Thornton (Leinster winner with the Wee County in 2016) and Gerry Breen Junior all helped Louth to third place in the 2017 Inter-County championship at Ryston. 2018 National U20 Strokeplay champion Eoin Keating was an Inter-County winner with Cork in 2018 at adult level in Deerpark having reveled in a Leeside Juvenile success at Royal Meath two years earlier.
Darren Keogh is a multiple winner of the National Mixed Foursomes Best Gross and a Leinster Inter-County winner with Kildare.
Stephen Murray was runner-up to Ian Dillon in the recent Leinster Matchplay Championship final at St. Patricks, the latest in a long line of dependable performances by the 2021 bronze medalist at Navan. The Old County man has one All-Ireland Inter-County and four Leinster victories with the Metropolitans.
26 years have rolled by since reigning Dublin Strokeplay kingpin George McGreal was second in the 1997 National U16 Strokeplay Championship at Royal Meath but the 2010 Leinster Strokeplay champion has been a very consistent performer on the circuit ever since. McGreal was part of Dublin's successful 2019 Inter-County squad at McDonagh.
That's just some of the field for Sunday in what is potentially a very strong field for the first staging of a National Strokeplay Finals in August since 2007.
We hope that you will be able to join us either in person or online over the course of this weekend.
Latest National News
Latest Regional News