2023 National Strokeplay and Inter-County Championship Preview
A look at tomorrow's events in Seapoint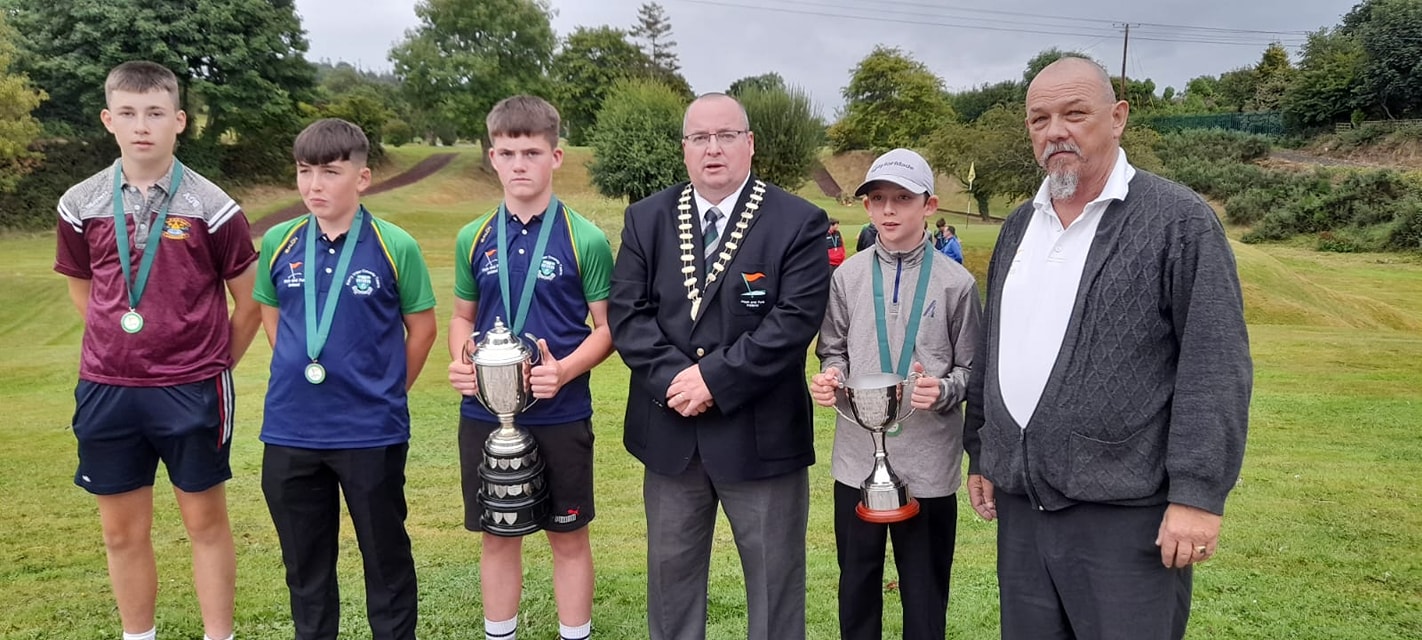 Tomorrow in Seapoint will see three events down for decision with the Boys, Girls and Inter-County Championships down for decision. Jason O'Connor explains a long day that awaits in Termonfeckin on Saturday with the National U16 Strokeplay Championships receiving their biggest entry for over a decade.
Boys
Munster U16 Matchplay winner Nathan Cronin and Leinster U16 Strokeplay winner Peadar O'Toole tee off at the first hole at 8.30am on Saturday morning alongside Portmarnock's AJ Corish as at the same time on the 10th hole National Matchplay winner Brian McCarthy begins his day alongside Athgarvan's Rory Mitten and Portmarnock's Alex Corish in the first two-tee start at a National event since the National Mens Strokeplay in Hillview back in 2017.
Also at the 10th hole in the first session Listowel's A Jay Barrett begins the defence of his title that he won so terrifically last year in Deerpark with a strong second round for a 10-shot winning margin in the finish. He plays with Ryston's Harry Tiernan (recent Leinster Boys U13 Champion) as well as Portmarnock's Adam Audah with A Jay having been the recent runner-up to Brian McCarthy in the National Matchplay final in Lakeside.
One of the more interesting three-ball occurs in the afternoon when 2022 National U16 Matchplay winner Joe Franklin (Hillview) plays with last year's Helen McMorrow Cup (10-13 prizewinner) winner Jack McShane of Gowran and Aidan Spence Murphy of Claycastle who has had a good year so far in winning the Munster Plate Matchplay, reaching the semi-finals of the National Matchplay Championship and finishing third at the recent Munster Boys 14-16 Strokeplay event. Jack has already won the Leinster U16 Matchplay this year.
Ronan Bennett of Deerpark won this year's National U16 Plate Matchplay as he plays with Athgarvan's Jim Geraghty and Portmarnock's Jack Conway in the morning session. National Plate Matchplay runner-up Billy Buckley of Collinstown plays with Ryston's Devon Whelan and Glenville's Luke Kilpatrick in the morning as the beaten semi-finalists in the National Matchplay Plate last month, Listowel's Daniel Leahy and Gowran's Eoghan Morrissey are also amongst the entries for Saturday. Michael Holland from Gowran who was third in the Leinster U16 Strokeplay Championships in Seapoint last year is also amongst the entries for Saturday.
The recent Tipperary 1-2-3 in the Munster Boys U13 Strokeplay are all entered for Saturday as well with Ben Franklin (Hillview), Charlie Taylor (Tipperary Hills) and Alex Downey (Hillview) are in the second session of play. Harry Concannon of Gowran who was third in the Leinster U13 Strokeplay in Poulaphouca is also entered as the host club have a total of eight entries for Saturday's play.
As per last year the best 18 hole card for an inter-county player will count as their Singles score for the Inter-County event later in the day.
Girls
All eyes will be on Sarah Cooney to see if she can make it three-in-a-row on her home course but a recent defeat to Molly O'Toole in the National Matchplay semi-final may temper expectations slightly ahead of tee-off. Molly herself went on to win in Lakeside and will want to replicate what Sarah did last year in winning the Matchplay and Strokeplay double in the one year.
Both of them being paired together initially makes it all the more interesting as the other competitors will hope they can make an impression in Seapoint. Munster duo Megan Ahern and Sarah Ryan traded victories in the provincial events there, Megan winning the Matchplay before Sarah claimed victory in the Strokeplay as the trip to the North-East of the country will be an interesting test of their abilities.
Gemma Cuffe won the Leinster U16 Matchplay this year as her sister Pippa is also amongst the entries. The other four girls taking part in this event on Saturday are Hollie McMorrow from the host club as well as Ryston duo Eabha O'Connor and Tara Donovan as well as Bellewstown's Ava Halpin.
Any playoffs for the overall titles in both Boys and Girls competitions will be settled by nine-hole playoffs.
Inter-County
Kerry bid for a fourth consecutive title at this level going back to their win in Fermoy in 2018 (no event was held in 2020 or 2021) but there are unlikely to have it as comfortable as they did on home turf in winning by 20 shots like they did last year in Deerpark. Tipperary and Kildare (Leinster winners) would appear to be their biggest challengers at the outset but with more counties entering this year it will be interesting to see what effect they have.
Kilkenny and Westmeath won medals at the recent Leinster as Dublin, Carlow and the CKW Regional Board will have teams involved as well as some counties will have multiple teams. After the Singles is completed inter-county players will go back out and play 18 holes of Scotch Foursomes to determine the Inter-County Standings at the end.
All four Singles cards will count for this event like it was at the recent provincial Championships.
Best Wishes to all concerned this weekend as we will have updates throughout the day tomorrow from Seapoint.
Latest National News
Latest Regional News