2023 National Matchplay Build-Up Day Two
A look at the Ladies Nett event in St Bridgets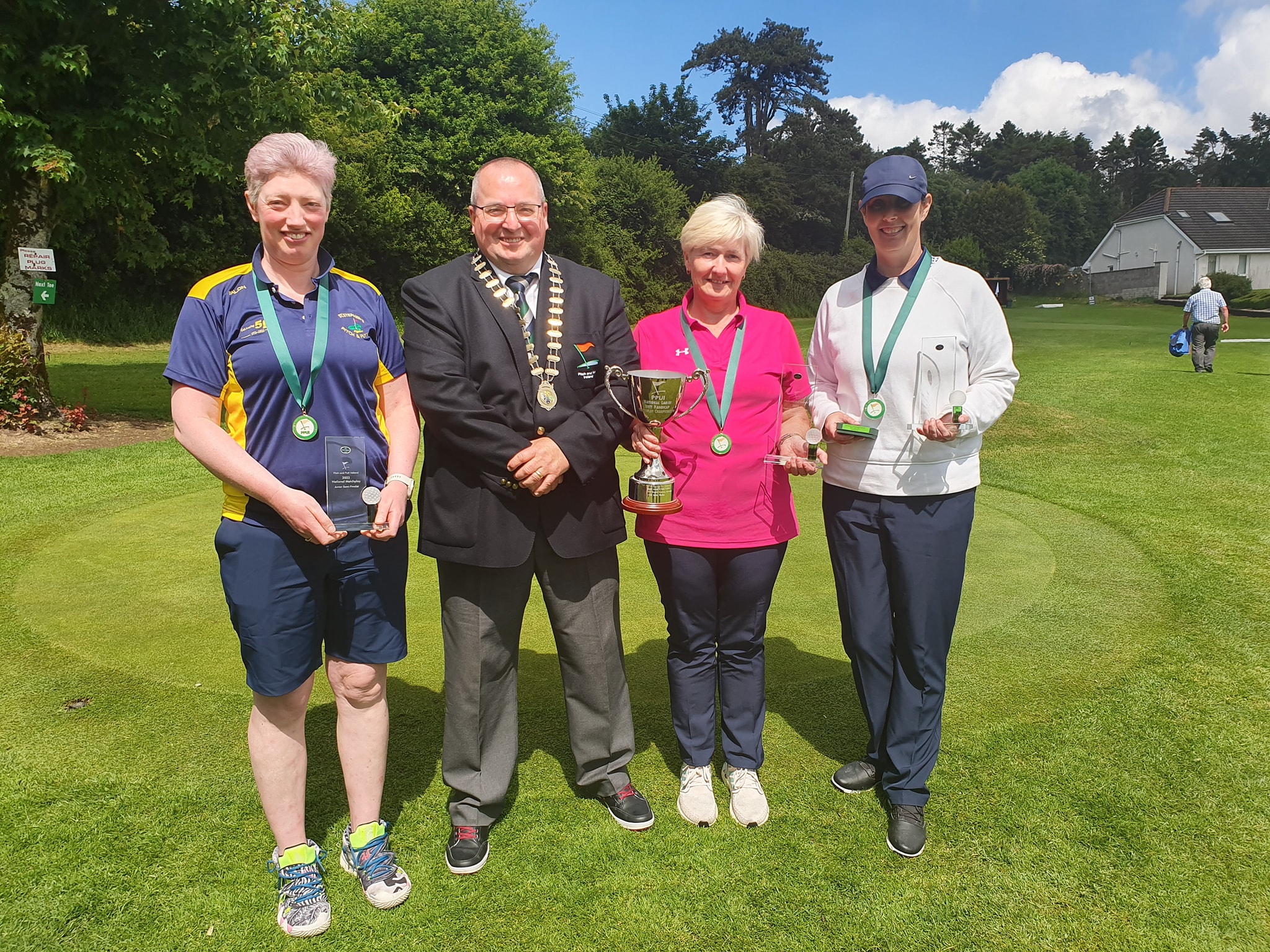 Ahead of this weekend's National Ladies Nett Matchplay Championship at St. Bridget's club in Kilcullen, Co. Kildare, Declan Sheedy previews the Nett Championship including the groups and the players taking part.
This weekend St. Bridget's plays host to the 2023 National Ladies Nett Matchplay and for the 6th time we will crown a new first time champion of the event. Previous winners of this championship include Elaine Quinn (Lakeside) in 2018, Sarah O'Neill (Collins) in 2019, Margaret Hennessey (Riverdale) in 2020, Abby Whelan (St. Bridget's) in 2021 and Suzanne Reilly (Oldcastle) in 2022.
Saturday will see 16 different players taking to the tee, all hoping to add their name to this list of National Champions come Monday afternoon. The format of the championship will comprise of 4 groups of 4 where they will play 18 holes Handicap Matchplay on a round robin basis across Saturday and Sunday morning with the top 2 players from each group moving onto the quarter finals on Sunday afternoon. After which it will be 18 holes knockout from that point until our champion is crowned on Monday afternoon.
Given the shorter format and use of handicaps in all matches all the ladies will be very keen for quick starts in the head-to-head games. However, with the round robin format and two to qualify out of the group a defeat or draw in the group stages will not necessarily mean the end of the weekend. Depending on how other results in the groups matches go, we can expect many of the groups to be decided in the third and final round of group games on Sunday morning.
The draws for the group stages were made last week and given there will be multiple matches to be played and many different handicap combinations involved we will take an overview look at the groups and players within them to try and assess who may reach the knockout stage on Sunday evening.
Please note references to players' handicaps below in brackets are those known by the author at the time of writing. All handicaps to be used in the championship (handicaps to be used as of closing date) will be officially verified and confirmed by the NEC before commencement of play on Saturday.
Group A
The host club will be keenly following the results in this group as the group includes two host club players in the form of Catherine Dillon (18) and Anne Sweeney (16). Joining the two St. Bridget's Ladies will be Grainne Shelley (16) of Larkspur Park and Charlotte Finnegan (17) from Loughlinstown. With very little between all the ladies in terms of handicaps the key factor in this group may well come down to local knowledge which may on paper give Catherine and Anne the advantage for progression out of the group.
Catherine and Anne are no strangers to championship weekends and will know what is required although being home players can also carry some extra pressure which they will have to manage this weekend. Grainne and Charlotte are however well accomplished players themselves with plenty of experience on the scratch cup scenes and will not be over awed by the challenge ahead and will be out to dismiss home course advantage and take the top two spots themselves.
An intriguing group where the benefits of home advantage will be put to the test.
Group B
Group B includes the third of the home club players, Gabrielle Sweeney (20) where she will be joined by a player from the Athgarvan club only 2 minutes out the road in the form of Christina Foley (17) along with Dublin duo Theresa King (10) of RGSC and Nora O'Meara (14) from Glenville. Unlike Group A, handicaps will certainly play a key factor in this group with a number of shots being given in many of the games. Seasoned player Theresa King will be aiming for strong starts to all her matches as she will be giving away shots in all her matches and can't afford to fall too far behind early, given the 18-hole format.
Like Catherine and Anne in Group A, Gabrielle will be hoping for some home advantage and her knowledge of St. Bridget's will play to her advantage. Meanwhile, Athgarvan's Christina Foley is a player who has been gaining strong experience in Scratch Cups over the last two years will seek to capitalise on a course she will also know well and secure herself a place in the quarter finals and beyond. Nora O'Meara is another strong supporter of the Ladies' game and will fancy her chances of getting out of this group with a fast start in her first game against Gabrielle on Saturday morning.
This looks like it will be a closely contested group where one can expect all ladies to pick up some points in the group stage.
Group C
This group sees three of the four lowest handicappers drawing together along with the 2023 Leinster Junior match play champion making for a very competitive group. All playing off 10 handicaps are the experienced Margaret Connelly of Trim, Susan Ritchie of RGSC and Mary Fulham of Shandon. All three ladies are regular competitors in provincial and national championships where each have tasted success in the past.
This experience and success cannot be under estimated and each player will bring a very strong challenge not only for getting out of the group but for getting their names on the title come Monday albeit to do so they will have to bring their A games while giving away shots along the way. Audrey Donnelly (15) of the MacBride club makes up this group. Audrey will enter this Championship with high levels of confidence having won the 2023 Leinster Junior Matchplay title in St. Patricks only two weeks ago. Audrey defended that title in St. Patricks having won it last September in no other place than St. Bridget's and thus will return to the Kilcullen with very fond memories this weekend.
A group that is too close to call who will make it out of it and into the quarter-finals but many may believe whoever does may have a big say in this championship.
Group D
The fourth and final group is comprised of Betty Cody (14, Loughlinstown), Veronica Anglim (16) of Hillview, Laura Fogarty (14) from Athgarvan and Licia Doyle (19) from Glenville. A relatively balanced group in terms of Handicaps so key to progressing out of the group may come down to the first round of matches.
In these games, former runner-up in this championship (when played in Ryston in 2021) Betty Cody will face Laura Fogarty. Betty proved in 2021 she has the game to compete very strongly at this level and will be hoping she can go one better this time around in Kildare. Laura, like her club mate Christina Foley, will be hoping she can capitalise from course knowledge in bringing her success this week. Veronica Anglim is one of the great supporters of the ladies game and championships in Munster and will certainly bring a smile and determination to the championship this weekend.
She will face Licia in the first match. One can expect a closely fought affair in these games and both will fancy their chances of making it out of this group and if they do could prove a strong challenge for anyone in the field. A group on paper that appears to be very balanced and one can expect to possibly see a number of games halved here. Who will pick up the key group win? We will have to wait and see.
A close and competitive championship awaits us this weekend with all 16 ladies first goal being to exit the group and make it into the quarter final draw come Sunday afternoon where they will only be three games away from lifting the title on Monday.
We wish all ladies the very best of luck and a sporting championship this weekend in the excellent St. Bridget's venue.
Tomorrow: We preview the Ladies Scratch Event
Latest National News
Latest Regional News