2023 National Matchplay Build-Up Day Three
A look ahead to the Scratch Ladies event in St Bridgets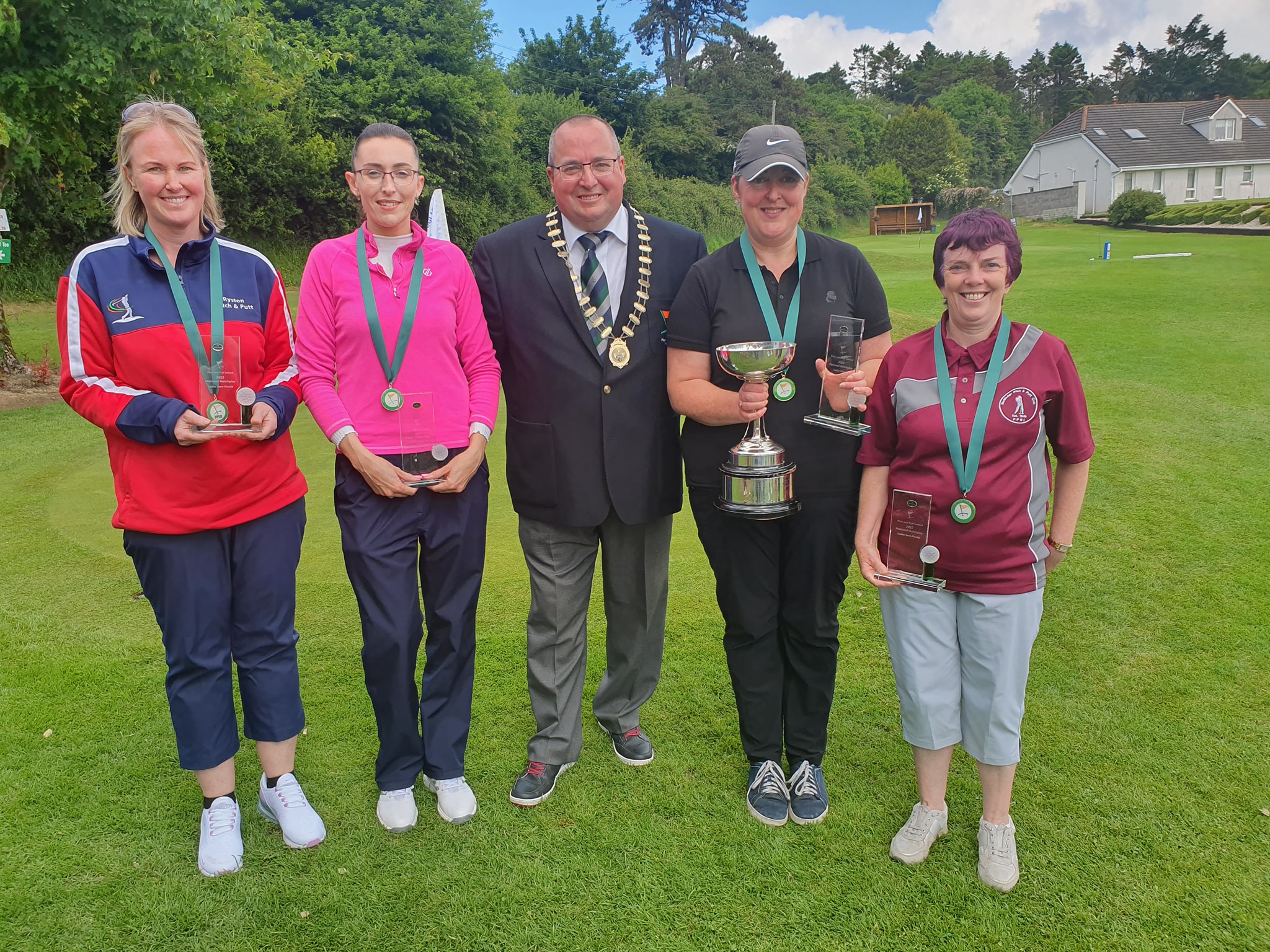 Ahead of the blue ribbon event of the Ladies game -Ladies National Scratch Matchplay, Declan Sheedy previews the 2023 championship to be played this weekend in St Bridget's.
The prestigious Ladies National Scratch Matchplay championship this year has been confined to 16 finalists only. As a result, for the first time since 2016 county qualifiers were required due to highest number of entries in a long number of years. With a rule change passed at Convention earlier this year the semi-finalists from last year received automatic spots in this year's Championship meaning there was only 12 keenly sought after qualifying spots available. This might be revisited for the Ladies Championship again due to the lower number of finalists in order to provide for more open qualifying spots in future.
The annual debate on the pros and cons of county level matchplay qualifiers continues and with qualifiers required in the Ladies Championship this year we did see some county draws see ladies draw each other in the qualifying rounds who would have been strong contenders for the main championships itself. This is a shame but it is what the current format is. It maybe merits further consideration if new qualifying systems needs to at least be looked at particularly for the ladies.
All that aside the championship this weekend sees an excellent field of players take to tee on Saturday all with aspirations of etching their names on the prestigious National Matchplay Cup come Monday afternoon. Interestingly the draw has thrown up an all Leinster top half, all three Kildare players are drawn in the top quarter, all five Munster qualifiers are in the bottom half with three of the four Cork qualifiers in the bottom quarter.
Unusually the first ball to be stuck at the weekend will be the conclusion of the Tipperary qualifier. Due to a mix up in the Tipperary qualifier draw, on an exceptional basis, the final game of the Tipperary qualifier will be played first thing Saturday morning at St. Bridget's. This game will be between Martha O'Brien of Lakeside and Breda White of Tipperary Hills, a repeat of the 2020 final. The winner will enter the main championship and face Ailish Sexton in Match 7
Main Draw
Match 1 of the championship pits Ireland's #1 and #2 ranked players against each other. Chrissie Sheedy from Ryston who is six times National Matchplay champion, last won in 2021, and Ireland's #1 ranked player faces defending champion Liz Quinn of Collinstown in a mouth-watering opener. Liz, who won the title for her first time last year in Douglas defeating Sarah Byrne in the final, enters the championship off the back of a runner up place in the Leinster Senior Matchplay championship in St. Patricks two weeks ago so enters in very good form and one can expect a very strong defence her title this weekend.
Coincidently both these ladies met in the final of the 2022 Leinster Senior Matchplay final on this very course only eight months ago in September 2022 when Chrissie was victorious 3&1. Chrissie aims to return to competitive action for the first time in over eight months on Saturday and while Chrissie has not played this year yet one can expect the six time champion will take to the tee determined to try claim a seventh title and is a player who will know what is needed to win when it comes to Matchplay. Will it be the 2022 or 2021 champion to exit early?
Match 2 sees Bridie Cummins (Trim) takes on three times National Matchplay champion Marian Courtney (Ryston). Both ladies will be very familiar with each when they take to the tee on Saturday as it is a repeat of the first round match from the 2023 Leinster Senior Matchplay in St. Patricks only two weeks ago. On that occasion Marian ran out a comfortable winner in that game and eventually went on to claim the title defeating Liz Quinn in the final.
Marian enters in excellent form having won the Kildare and Leinster Matchplay titles already and will be many people's pick to add the National title come Monday. Bridie however is an accomplished player and will be out to revenge her defeat to Marian two weeks ago. To do so Bridie may need to have her A game but will be hoping for a quicker start than their match in St. Patricks and to put the pressure on Marian earlier on. Could a surprise be on the cards here?
Match 3 pairs the third of the Kildare and Ryston challengers Tara Dillon (Ryston) versus Glenda Hoey (Lucan). Hopes of an all Kildare final on home county soil were dashed when the draw was made where for the third year running; Chrissie, Marian and Tara have been drawn the same quarter of the draw. Winner of this title in 2008, Tara will hope to add a second Matchplay title to her name this week on a course she plays very well and will know better than anyone. Winner of the ladies' scratch cup prizes in St. Bridget's on a number of occasions in recent years, Tara is an excellent pitcher of the ball and if her putting hits form this weekend will be difficult to beat.
However, this match with Glenda promises to be a very close affair. The 2019 Leinster Senior Strokeplay champion, runner up in the 2022 National Senior Strokeplay and regular player with the Dublin Inter-County team, Glenda has established herself as one of the top senior lady players in Dublin and will know St. Bridget's well. She will be very confident of having a big say in this championship this weekend. A very close battle can be expected here.
Match 4 sees Maree O'Toole from the Shandon club face Amy Galvin of Tullamore. An intriguing match is on the cards here. Maree is a two time semi finalist in this event, most recently in Larkspur Park in 2020. Maree was narrowly beaten in the semi final of the 2022 Leinster Senior Matchplay here in St. Bridgets in September 2022 so has proven Matchplay form at this venue. Not only is Maree one of the great supporters of the Ladies Championships but is a very experienced player and will know what will be needed on these occasions.
Amy enters this for the first time and brings with her some very impressive scoring form from scratch cups and competitions around Offaly along with having beaten Margaret Hogan in the qualifier after extra holes. Amy is the 2012 National Girls Strokeplay champion where she won that title in St Bridgets so will have very fond memories of the course. An excellent match in store here where the winner could have well still have a big say come Monday.
Bottom Half
The bottom half of the draw starts with Match 5 and the game between Paula Lynch of Oldcastle versus Siobhan Keely of Lucan. On paper this looks to be a very evenly balanced match. Paula is relatively new to this Championship but is another lady who has shown strong form early in the season with impressive scoring in Opens and Scratch Cups around Meath already this year. Paula is part of the strong emergence of ladies playing out of Oldcastle so will not fear the challenge ahead over the weekend.
Siobhan is another seasoned and experienced player and no stranger to championship weekend. Member of winning Dublin inter-county teams in the past, Siobhan will enter the weekend confident of a strong performance on a familiar course and will be aiming to make it to the business end of the championship. A difficult match call, one which could need more than 36 holes to determine a winner.
Match 6 will be an all Munster affair as Ailish Sexton of Fermoy will face the winner of the fore mentioned Tipperary Qualifier between Martha O'Brien from Lakeside or Breda White of Tipperary Hills. A former National Junior Strokeplay champion, Ailish defeated Mairead Manning in the Cork qualifiers en route to these finals and is a very solid player who will know her opponent well from Munster championships. She certainly will not be overawed by the challenge of championship weekend.
Whether it will be Martha, the champion of this event in 2020 and who also claimed the National Senior Strokeplay title on the St. Bridget's course in 2019, or Breda White who was champion in 2014 plus who has been runner up twice in the last three years, a very strong claim for this year's title will come from the winner of this Tipperary qualifier. In another year it could be a final in itself. It is to be seen whether the winner of the Tipperary qualifier on Saturday morning will have an advantage having already played the course or a disadvantage as they will be required to play again soon after concluding the qualifier in what is forecasted to be a hot day for playing.
Regardless another closely contested match between Ailish and Martha/Breda can be expected.
Match 7 sees another newcomer to this championship in the form of Tracey Smith from Lucan when she takes on Collin's Nicola Ahern. This promises to be another evenly balanced match between these two ladies. Tracey was a victor over Marie Dooley in the Dublin qualifier and was only very narrowly beaten by Liz Quinn in the recent Leinster Senior Matchplay in St. Patricks so enters the championship playing well.
Her opponent Nicola is another lady who no stranger to these National Matchplay weekends and is a very accomplished player. Nicola defeated the 2023 Munster Senior Matchplay champion Sarah O'Neill in the Cork qualifiers proving she has to game for the big occasion and will be confident of a strong performance over the course of the weekend in St. Bridget's. Another match which could go all the way and where one putt could determine the winner.
The final game of round 1 and Match 8 see two ladies who will know each other's game inside out. The match sees 2022 National Matchplay runner up Sarah Byrne of Fermoy take on Inter-County teammate and 2019 National Matchplay Champion Mary Murray of Rocklodge. This is a repeat of the semi-final in last year's championship in Douglas where Sarah came out on top with a victory on the final hole. More recently both ladies squared off in the Munster Senior Matchplay Championship where Mary secured a comfortable 7&6 win over Sarah.
As both ladies were automatic qualifiers for this year's championship they avoided the potential pit falls of the qualifying rounds and both will be looking at this match as a strong opportunity to progress towards another semi final this year. Both Ladies have proven they have the game to make it all the way to the final match in this prestigious championship in recent years so Sarah will hope to go one better than last year whereas Mary will be hoping to replicate her great win in Rocklodge in 2019. Another great match in prospect.
Unlike the Nett Championship, this scratch championship format is the traditional straight 36 hole knockout format, with round 1 being played on Saturdays, quarter finals on Sunday and semi and final to be held on Bank Holiday Monday.
An excellent championship is on the cards and whether we will see one of the ladies regain the title they previously held or whether we will see another first time winner which we have seen in three of the last four championships we will have to wait until Monday afternoon to see.

We wish all the ladies the very best of luck at the weekend in this blue ribbon championship.
Tomorrow: We conclude our build-up by looking at the Mens event in Kilcullen
Latest National News
Latest Regional News