2023 National Matchplay Build-Up Day One
A look at the returning National Intermediate and Junior Gents Matchplay Finals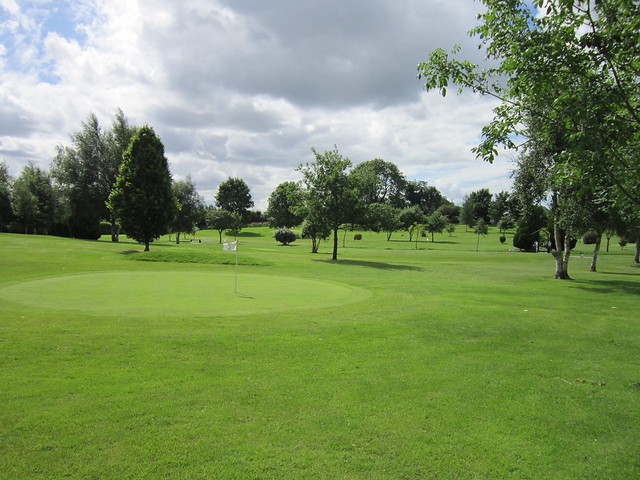 Three decades on from the short-lived National Graded Matchplays experiment; four men have the opportunity to claim an All-Ireland mano-a-mano trophy in their handicap range. John Manning speaks to the four players involved in both finals in the following piece.
Following their respective provincial Matchplay victories a couple of weeks ago, Wayne Allen (St Patricks), Philip Burns (Brinny), James Casey (Gowran) and Colin Hennessy (St Annes) will travel to St. Bridget's to go toe to toe to decide the 2023 National Intermediate and Junior Matchplay champions. These contests will take place on Bank Holiday Monday morning.
Intermediate
The Intermediate showdown will bring together Leinster champion Wayne Allen and his Munster counterpart Philip Burns.
Munster titleholder Colin Hennessy will face Leinster equivalent James Casey in the junior head-to-head.
An alteration in handicap ranges provided the catalyst for formulating Wayne Allen's 2023 goals. "I'm one of the seniors that went back inter because of the grade change and when this happened i set myself three targets for the year," divulges Wayne. "First, CKW Regional Matchplay- I was beaten in the final and second to win an Open or ScratchCup - I won the overall gross in the Ashgrove Open. My third and main target was the Leinster Matchplay, especially with it being on my home course from the quarter-finals on."
The Matchplay venue holds relatively few fears for the St. Patrick's man. "I've played in Bridget's a few times - just done okay. It's a lovely pitching course and has a variety of shots, which I like."
Mirroring his approach to the sport generally, Wayne is adopting a pretty chilled mindset for the challenge ahead. "I only play Pitch & Putt as a hobby. Win, lose or draw,I don't mind.There will be no pressure on my side. I'll enjoy the day and the opportunity to play because I didn't even know about this match until someone mentioned it to me after the (Leinster) final!"
"I'm very excited," admits Philip Burns of the opportunity afforded to him. "It's something to look forward to. It's exciting to be part of it."
"I'm going to have a tough game with Wayne. I'm not familiar with St. Bridget's. At this stage, I probably I won't make it up there for practice but I have confidence in my game. I'm just looking at the distance on the tee-box and seem to be pitching well."
Although he took up Pitch & Putt nine years ago, Philip's career has had its disruptions. "I had a bad knee injury about four years ago. I was out of action for 2/3 years and that threw me off the Pitch and Putt for a while."
"I tore the ACL in my knee, playing rugby," reveals the man who excelled at the oval ball game in school, and who represented Bandon RFC, as well as Sundays Well and Kinsale.
After assiduous preparation (many rounds at Brinny in late winter/early spring, often in harsh weather), Philip has been in a rich vein of form in 2023. "I did well in Collins Scratch Cup where I shot -22 (and won the Intermediate Cup) for three rounds. I was delighted with that. It was a real kick start to the season."
Junior
James Casey played all his matches in St Patricks on his way to Leinster glory. "I had a bye in the first round and beat James Fagan in the quarters."
"The semi-final (against Erry's Ian Fitzpatrick) was the toughest Matchplay game I ever played. I won it with a long birdie putt across the final green."
"Jack, the local lad, that was tough enough too," is how James sums up his final triumph over Jack Kirwan (St. Patricks). The Enniscorthy layout is one he is comfortable on, as he explains. "It's in our region."
A key attribute for James is the quality of the course (Gowran) he is privileged to be a member of. "Kevin (Knox) keeps it in good condition. It's top notch."
"That will be tough. I'm excited about that," remarks James when quizzed on the prospects for his stand-off with Colin Hennessy.
"I'm looking forward to the Monday. I've played in the Inter-County and the Inter-Club but I've never been in an individual All Ireland."
A Pitch & Putt player for seven years ("three or four years competing"), Casey knows St. Bridget's reasonably well. "It's only about 45 minutes up the road. I played the Scratch Cup there two or three years ago. I was four under for two rounds. Hopefully, I can do a bit better this time!"
"It was nice to win outside of Cork," laughs Colin Hennessy when we congratulate the two-time Leeside Matchplay kingpin on his Munster Junior Matchplay success in Tralee.
We spoke to Colin the day after he won the Rocklodge Open Strokeplay with a sparkling 84 Nett. "I'm after doing ten under," states the then seven handicapper. "That will probably put me down another bit!"
"I'm looking forward to it," he says of the All-Ireland final. "I played St. Bridget's for the first time a few weeks ago in the Scratch Cup. The course is unreal. I'm excited to play it. For some reason, I didn't go to watch the Matchplay in Douglas last year so I'm looking forward to the buzz."
Up to now, Matchplay has been the preferred format for the St. Anne's man who is only playing for two years. "As a junior player, Matchplay helps eliminate your mistakes. With Matchplay the fours and fives wouldn't matter quite as much!"
"I think it's a great idea to have the inter and junior there as well. The Matchplay is a big deal and I think it's nice to give a big stage to the other grades," declares Colin who is also in contention to represent Cork in the Inter-County championships. The next trial is in Raffeen Creek. "That's where the provincial Inter-County is for us in Munster so it would be nice to play there."
Dual Involvement
Adding further intrigue to the graded play-offs is that both Philip Burns and James Casey have also qualified for the main National Matchplay championship.
"The main focus is the National Matchplay," admits Burns. "It's great to be a part of it. I wouldn't be thinking too far ahead. I'm playing Gary Healy!"
"I'll have a good old rattle off that too," Casey promises. "I wouldn't think I have too much of a chance on Saturday but If I do win, I could be going up against Kieran Earls!"
Ironically, Leinster champion Wayne Allen hails from Co Waterford and offering further fascination is the fact that none of the protagonists is personally acquainted with his direct opponent. They will be, come next Monday morning!
Tomorrow: We begin our look ahead to the Ladies events
Latest National News
Latest Regional News