2023 National Matchplay Build-Up Day Four
A look at the Mens event in St Bridgets this weekend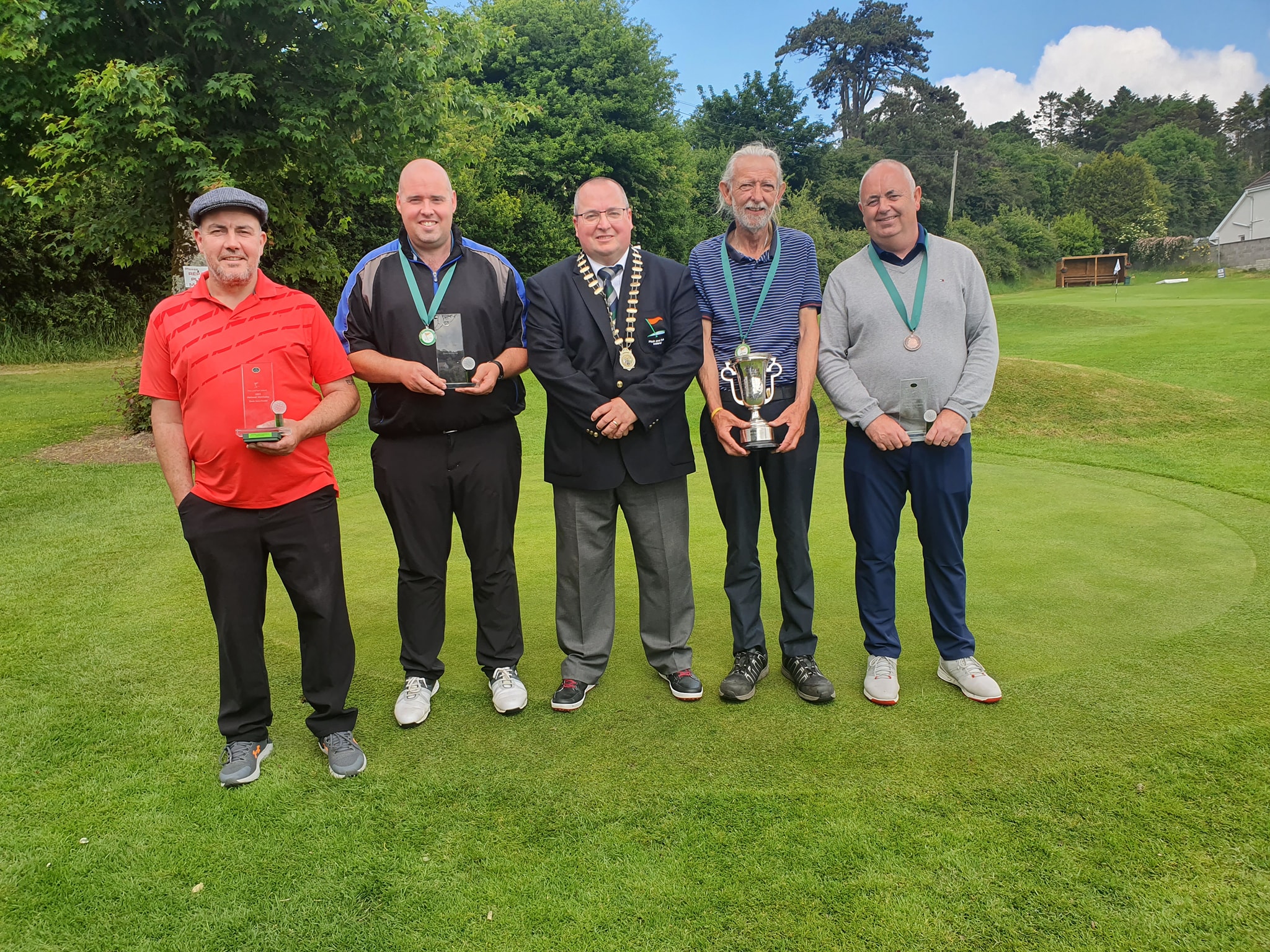 As the battle for the Day Cup will officially kick the weekend off in St Bridgets on Saturday morning, Jason O'Connor takes a look at one of the most peculiar fields ever for a National Mens Matchplay as it is hard not to mention those who will not be there in Kilcullen in advance.
The beautiful spell of weather we are having will hopefully hold up in Kilcullen this weekend, in contrast to the dull and mixed conditions that greeted players in Ryston two years ago when the National Matchplay took place at the slightly later time of the Bank Holiday weekend in August due to the enforced late start to the year caused the Public Health Restrictions at the time.
Three of the players who made that Monday will not be taking part this weekend in the form of Damien Fleming, Ray Murphy and Ian Dillon. Only current National Senior Strokeplay champion Sean Goggin is here from that quartet and in Ian's case it will be tough no doubt to watch on especially around his home course. That he is Leinster Matchplay champion now makes his absence even more surreal as well as that of Munster winner Jason Cregan from Tralee who despite knocking Damien Fleming out in Kerry qualifying was eventually defeated by Gavin Carroll on the final night.
The debate about who should or shouldn't be here is for another day but it's hard not to get away from a sense that this year could be the final year of the 64 player extravaganza as we know it. We leave that in the hands of those charged with looking into it but for now we will focus on those who are actually in the Short Grass County this weekend. Barry Morrissey was a very popular winner of last year's event in Douglas as he held off John Cahill's late charge to force the decider to a final hole.
The start will not be easy for Barry though as he faces a Cork Strokeplay champion in Fermoy's Daithi Sexton who will be a live threat to making Barry's reign a very short one. The second match of the day is good as well as Bruff's Thomas Hanley and Old County's George McGreal will be expected to have a ding-dong tussle. Matches 5 and 6 draw our interest next mainly for what it could bring the following morning if the two Collins club members win. 2010 winner Chris Scannell faces Killineer's Kieran McDonnell but he could find himself facing three-time winner John Walsh on Sunday if John defeats Bruff's Aidan O'Sullivan.
John reached last year's semi-finals and with some of the names that are not here this weekend he will no doubt feel capable of making a run if he finds form. As mentioned earlier this week, Brinny's Phillip Burns will be double jobbing this weekend as he is guaranteed to be in St Bridgets on Monday for the Intermediate final. If he does manage to get past last year's National Strokeplay runner-up Gary Healy he might well start to give the organisers some scheduling headaches with further wins!
The last match of the first quarter sees 2021 National Junior Strokeplay champion Cian O'Callaghan take on Listowel's Chris Gibney Jnr as the 2021 Intermediate Strokeplay winner Justin McKeon is also amongst the field this weekend as he faces last year's other beaten semi-finalist in former National Senior Strokeplay winner William Buckley Jnr in the 12th match of the day. The second quarter of the draw starts with initial local hopes on John Delaney in the absence of Ian Dillon from the tee-box. Delaney faces three-time National Senior Strokeplay winner Liam O'Donovan in a match that will have a lot of local eyes on it.
There is an all club affair in this section as Michael Conway and Alan Hobbart of Tralee meet again in the First Round of a major Matchplay event like they did at the recent Munsters in their home course. Two-time winner Mark Millar has an interesting opener as he faces Bishopstown's Peter O'Donovan who had a good run to the quarter-finals two years ago in Ryston. Some of the remaining matches in the second quarter revolve around young players in the main. Although he won't be called to a tee-box, Ray Murphy will be watching on his son Cian take to the National Matchplay stage for the first time.
After his runner-up finish in the U20 Strokeplay last year, Cian faces Ryston's Tom McCormack in Round 1 on Saturday morning. The winner of that aforementioned event last year, Jack Buckley of Collinstown, has the potential to be involved in one of the ties of the first round. He faces 2020 winner Kieran Earls fresh from becoming the first ever Irish winner of a WPPT Tour event. Expect a lot of eyes to follow this contest too. As with Phillip Burns, James Casey of Gowran will be involved on Monday regardless as Leinster Junior Matchplay winner. Donal Tarpey of Mellows will be his first round opponent on Saturday.
AFTERNOON
The afternoon begins with Sean Goggin as the tournament's No 3 seed. Many will expect him to do well this weekend but he will be well aware of the pitfalls of being seeded and fancied following his loss in the First Round last year to Gary O'Sullivan. He won't look beyond Thomas Lynch on Saturday and he would be right if taking it one game at a time is his strategy. The second match of the afternoon sees former National U20 winner Eoin Keating of Douglas take on Marco Comerford of Hillview. The fifth match of the afternoon session pits two former winners against each other. Sean Harkins will hope for one more day in the sun with his three wins in the competition but 2017 winner John Ross Crangle is back in the competitive spirit himself after some injury problems.
Anthony O'Mahoney is the other St Bridgets player amongst the Mens field this weekend as he faces Tullamore's Anthony Galvin in the match following the meeting of Messrs Harkins and Crangle. Darren Keogh of Ryston will hope for a decent run this weekend as he faces Leonard O'Meara from Erry in Round 1. The final match of the third quarter features former Irish Open winner Eamon Gibney playing Riverdale's Sean Minogue. Gibney is now doubt hoping to erase the memory of letting last year's promising position in the quarter-finals against John Cahill slip.
Heading into the final quarter 2018 semi-finalist John McGrath of Deerpark faces Gowran's Kevin Knox as we have our second all club affair of the First Round in Match 11 of the afternoon. Stephen Murray faces his Old County club-mate Andy Lowe less than two weeks after his Senior runners-up finish at the Leinster Matchplay in St Patricks. We also have a father and son combination taking part in the Mens event this weekend as Mark O'Regan from Tralee faces Trim's Padraig Mallon with his dad Jason facing Douglas' Denis O'Sullivan earlier in the morning in the third match of the day itself.
Former winner John O'Leary, now of Douglas, is also amongst the field as he faces a returning Keith Redmond now playing out of the Erry club in Offaly itself. Last year's runner-up John Cahill will conclude the First Round meanwhile when he faces Tralee's Tony Blake in the last match of the match to tee-off circa 3.45pm.
Saturday is only one day in the National Matchplay journey as we all know but staying in there has always been important especially ahead of the gruelling Sunday schedule of three matches for those seeking to make Monday. Throw in the warm conditions and it has the potential to be the most taxing Matchplay on the players themselves since Seapoint back in 2016.
Mention of that year's event reminds us of the man who refereed the Mens Final between the late Shane Murphy and Dayle Donohoe that year in the late Liam Sherry. The St Bridgets clubman will be honoured by the club this year with the dedication of a room in the Kilcullen club's clubhouse to his memory taking place tonight (Friday) before it all gets underway tomorrow. It will be the first public recognition of his contribution to the game at large since his death in February 2019.
A fitting tribute to a great servant of our game on many different fronts as this is of course our first national event since the death of our recent Vice President in Myles McMorrow. Both will hopefully look down fondly on proceedings throughout the weekend as we hope for a great weekend of action in general in crowning five different National Champions this weekend.
Best Wishes to all players, officials, the St Bridgets club and spectators travelling to Kilcullen throughout the weekend. We will have updates on proceedings throughout the weekend both on our website as well as social media.
Latest National News
Latest Regional News