2023 National Inter-County Stats
Significance of the results in Lucan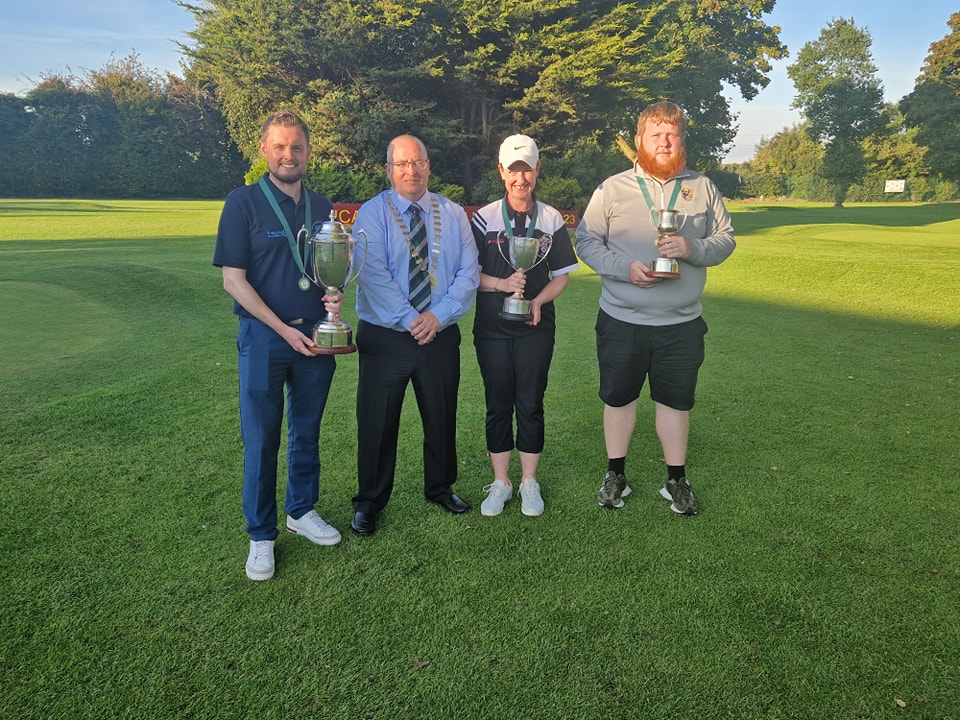 John Manning takes us through the significance of last weekend's results in Lucan
Gents A
Dublin Gents move on to 19 Inter-County wins, consolidating their second-place on the all-time Roll of Honour.
John Ross Crangle now has three National Inter-County wins, Chris Gallagher, Stephen Murray, George McGreal and Gary Healy all have two while it was a maiden success at this level for Damien Creevy.
Tipperary were runners-up for the fifth time and for the first time since their silver medal performance at Hillview in 2013. Of the 2023 crop, Stephen Shoer was the sole survivor from 2013.
Tipperary were second to Dublin just as they were to Dublin at Lucan back in 1991.
Tipperary's five second places leaves the Premier County fifth on the all-time list of runners-up behind Dublin (14 times silver medalists), Cork (11), Meath (10) and Kildare (6).
Eight strokes has now been the winning margin on five occasions.
Dublin finished in the Top 3 of the Gent's Inter-County Championship for the 10th staging in succession.
John Ross Crangle has been on nine of those ten sides, Chris Gallagher on eight, George McGreal six, Stephen Murray five and Gary Healy four.
2022 runners-up Kerry took third place for the second time since third place was officially awarded in 1991. The Kingdom's previous bronze medal was in 2014 at Tullamore.
Gents B
The Eamonn Birchall Trophy (now for the Inter-County teams ranked in the lower section after Saturday play) was won by Wexford in the Slaneysiders' fourth podium finish in four stagings after their third place in 2018 and their second nett performance four years ago.
Following their Nett win last year, Wexford are now the first winners of the Eamonn Birchall Trophy for each its two categorisations.
Westmeath achieved their first podium position at the Inter-County championship since the Lake County men were third overall at McDonagh in millennium year.
Third-placed Kilkenny continued their recent run of success in the Inter-County Championship – third in Division B in 2018 and Eamonn Birchall Cup winners in 2019.
Ladies
Kildare won their 13th National Ladies Inter-County championship, which consolidates the Short Grass County's second position in the Championship's Roll of Honour behind Dublin's 21 titles.
Marian Byrne Courtney has been a member of all 13 winning Kildare teams; Tara Dillon has been on 12, while Chrissie Byrne Sheedy has 11 wins and Margaret Byrne Keogh nine.
Twenty-six years have elapsed since Marian Byrne Courtney's and Margaret Byrne Keogh's initial wins in the Inter-County championship. That puts the Kildare duo tied sixth on the relevant ladies list. For Tara Dillon the gap is 24 years and for Chrissie 23 years.
Cork finished second in the Ladies Inter-County championship for the 14th time. That ties the Rebel ladies with Dublin at the top of the all-time list.
It was the first time since 1975/76 that Cork finished second in consecutive years.
Dublin claimed bronze medals in the Ladies Inter-County championship for the ninth time since third place was officially awarded in 1991.
General
Four players (two ladies and two gents) that played in the Inter-County at Lucan in 1991 played again this year–Ger Ward, Breda White, Jason O'Regan and Anthony Galvin.
The Ladies winning margin was nine strokes in the National Ladies Inter-County Championship for the first time since 2006 (at St. Bridgets), when Kildare beat Dublin, 403 to 412. Nine strokes has now been the winning margin seven times.
Lucan has hosted the championships on two occasions. Dublin's Gents have won each time.
The 44's recorded by Kieran Earls and Paul Sweeney in 2023 trump the lowest individual eighteens recorded in 1991 – 45 by John Looney (Cork), Pat Doyle (Kildare) and Noel Joyce (Tipperary).