2023 National Inter-County Build-Up: Article 4
A look at the Mens teams in Lucan this weekend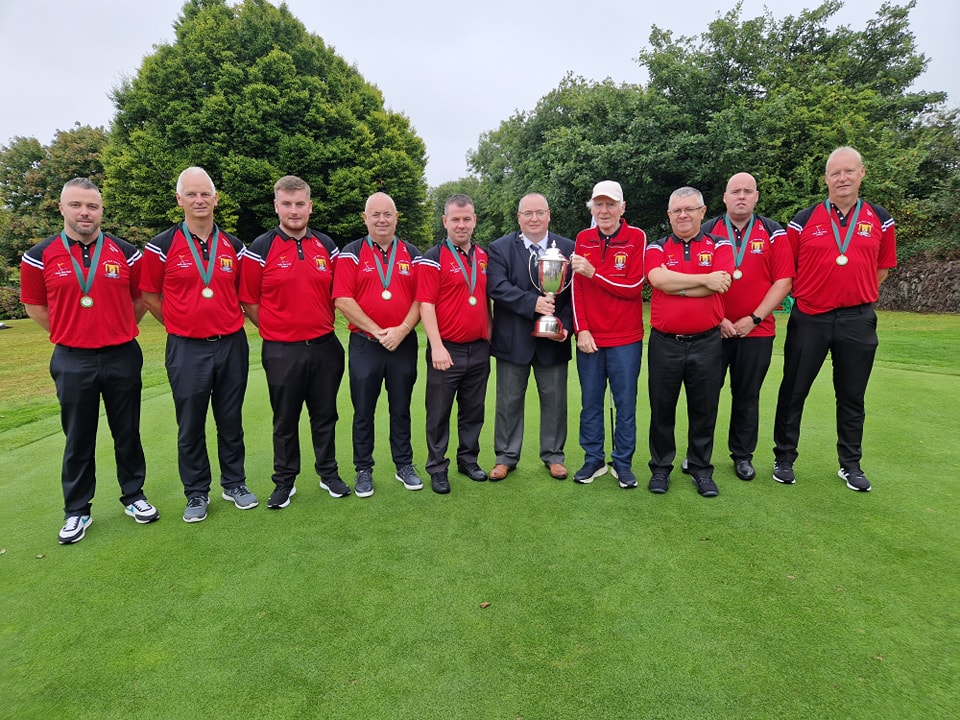 One thing we all hope for this weekend is that we do get a full 72 holes of play at Lucan this weekend following last year's wipe-out of Sunday play in Rocklodge. Jason O'Connor looks ahead to a potentially interesting battle for the Anchor Cup this weekend as tomorrow's play will determine where everyone is on Sunday morning between both that battle as well as the Eamonn Birchall Cup race.
For the first time since 2002 a county's performance in the Mens event will determine whether they end up in an 'A' grade or a 'B' grade in the National Mens Inter-County. As opposed to the B grade that ran from 2014 to 2018 which was an elective entry for counties that wished to do so, following Saturday's play those in the lower end of the standings will play for the Eamonn Birchall Cup on Sunday.
The Birchall Cup has been handed out to the county with the best Nett score outside of the top three in its last two stagings (2019 and 2022) but it returns to being a trophy in its own right this year. The Anchor Cup though could have some major contenders do battle if they get to grips with Lucan early on. Dublin will be fancied on home turf (they won the last Dublin staging of this event in RGSC back in 2016) but they know how much this event brings the best out of each county.
They had a 12-shot winning margin over Louth in the Leinsters in Poulaphouca two weeks ago with two Lucan players amongst their ranks in Chris Gallagher and Damien Creevey as John Ross Crangle, Gary Healy, Stephen Murray and George McGreal made up their winning side that day. Louth themselves will feel disappointed with what happened in Rocklodge last year having been tied on the third place score with Dublin at the end of Saturday's play but unfortunately having to miss out on a prize when the result was officially declared with Sunday unplayable at the Cork course.
Sean Goggin, Mark Millar, Darren Fagan, Jim Judge, George Beardsley and Gerry Breen Jnr make up their side this year and with some good performances by their players in individual events this year it will be interesting to see how they perform around the 12th Lock this weekend. Defending champions Cork had 16 shots to spare in winning their first Munster title since 2017 on home turf in Raffeen Creek two weeks ago with a combined 67 under. They will strive for success again this weekend as some of the team know what it is like to win in Dublin (Portmarnock in 2011 being their last win in the capital) as Ray Murphy, John Walsh, Bryan Delaney, John Cahill, Eoin Walsh and Declan Freeman was their winning side in Raffeen Creek.
Limerick were second to them in Munster just ahead of Kerry in third. Limerick have always been a county with plenty of promise and will hope to compete strongly again this weekend. Kieran Earls, Thomas Hanley, Liam O'Donovan, James Ryan, Martin Keohane and John Farrell were their side in Cork as they will play with Kildare in the Scotch Foursomes tomorrow morning. Meath came third in the Leinsters with a side featuring the two Evans, Carry and Ganly, Ian Farrelly, Cliff O'Brien, Anthony Gibney and Paddy Kelly as they did get a prize last year in Rocklodge for having the second best Nett score.
Kerry were second last year when the result was declared in Rocklodge. Taken with the preceding Munster Inter-County in Cunnigar last year they have won a medal at every event since Inter-County Pitch & Putt resumed in earnest last year. Damien Fleming, Jason Cregan, Jason O'Regan, John McGrath, Michael Conway and Alan Hobbart represented them in Raffeen Creek as a performance in Dublin would be something they would dearly want!
Tipperary's team is unique meanwhile in having the two National Senior Singles Strokeplay champions as Steven O'Reilly (Matchplay) and Stephen Shoer (Strokeplay) give them a unique feature to their side this year alongside Mick Fennell, Paul Sweeney, Oisin Ryan and Sean Crowe. Wexford get proceedings going for the Gents tomorrow morning alongside Meath. They won the Eamonn Birchall Cup for their Nett score as Paul Gorby, James Kirwan, Ruairi Fortune, John Tyrell, Dan Power and Mick Molloy fly both the Enniscorthy and Model County flag this weekend.
Kildare meanwhile will hope for a lot better after a tough experience in Poulaphouca. Frank and Anthony Ryan, Justin McKeon, Darren Keogh, Daniel Condon and Ian Dillon will be their side in Lucan as they will want to do a lot better at national level this weekend. Offaly were five off a medal at the Leinsters two weeks ago as they were represented by Aonghus Coughlan, Patrick Murphy, Anthony Galvin, Leonard O'Meara, Michael Connolly, Sean O'Connor and Anthony Galvin that day. They will play with Kilkenny all day tomorrow between Scotch Foursomes and Singles.
Patrick Robinson, Derek Delaney, Michael Kehoe, Kevin Knox, Mark Comerford and James Casey represented them in the Intermediate event two weeks ago in Leinster as the performance of their U16's in Seapoint last weekend should give them a target to try and match wherever they end up this weekend. Carlow entered the Senior Gents in Leinster with a side featuring Darren McNally, Darren Cleere, David McGrath, Murt Baird, Kevin Power and Leo Whelan wore the county colours that day. They won the Eamon Birchall Cup in Deerpark back in 2018, the last year it was a competition in its own right.
Another side that played at Intermediate level recently was Clare down in Munster as they compete at the top level this weekend with Dermot Tuohy, Niall Seery, Ger Harahan, Martin Walsh, Billy Griffin and Kieran Tuohy as their representatives this weekend. They were the first winners of the Eamon Birchall Cup when a 'B' grade was reintroduced again back in 2014. Galway have also entered this weekend with Donal Tarpey, James Fleming, Frank Naughton, Kevin Walsh, Dave O'Connell and Bernard Power representing both Mellows and the Tribesmen this weekend.
Staying western side (of Leinster) we also have Westmeath who will be represented by Rene Jan Bloem, John McDonald, Pat Malone, Jack Buckley, Dessie Baker and Mark Newman in the course that is the right side of the M6 Motorway for them. Completing the 16-team field is Waterford who fielded at Intermediate level in the recent Munsters but come back up to the top level this weekend with a side featuring Eddie Hennessy, Ian Flynn, Sean Hennebry, Robbie Walker, Owen Tubbritt and Robbie Walker. Waterford won the Eamon Birchall Cup three years in succession between 2015 and 2017 and will be fancied if they end up there again after tomorrow's play.
There you have the 16 teams who will play it out this weekend as tomorrow will dictate where they end up on Sunday. Another factor this year as well will be the permitted use of one substitution for counties throughout the weekend. How it will be used will be interesting to see as it could be a gripping weekend in Lucan where we all hope we will see the 72 holes played for the first time since 2019 in McDonagh.
We hope you join us either in person or online to see how it all pans out this weekend!
Latest National News
Latest Regional News