2023 National Inter-County Build-Up: Article 2
1991 at Lucan remembered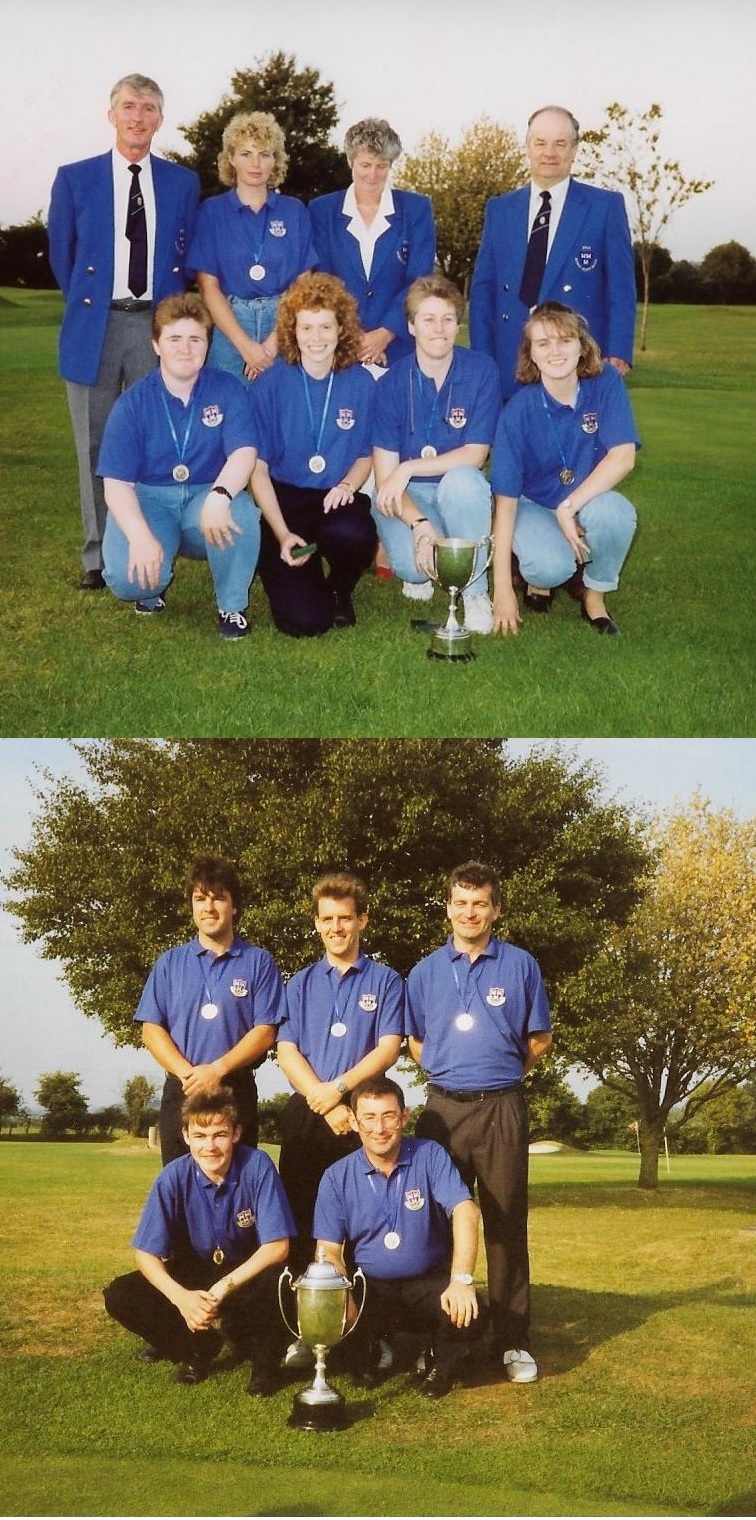 John Manning looks back at the only previous staging of the National Inter-County Championships in Lucan, all of 32 years ago.
Ladies
Lucan sizzled on Saturday September 7th 1991. The sun shone clear out of a cloudless sky. Proceedings began at 2pm. The ladies of Kerry and Offaly led the way.
2FM kept the country informed on happenings. Micky Mac interviewed Michael Hayes, Liam Houlihan and Norma O'Brien before she went out to play.
The course was burnt due to the dry weather but the greens were holding (courtesy of Lucan's new £7,000 watering systems) and putting surfaces were perfect.
Cork were out in the middle of the field, partnered by Meath. A superb chip-in from the back of the 13th helped Rose Scanlon to an initial 49.
Norma O'Brien maintained her impressive 1991 form with a holed chip on 16 en route to a steady 51. Eleanor Walsh weighed-in with a one under 53. Rita Mulvihill shrugged off the effects of a double bogey at the 13th (after being bunkered) to finish with 57. Eileen Buckley failed to find her Matchplay form in the company of the Royal County's long-serving Maureen Rusk.
Cork's halfway six under 210 was the target for hosts Dublin and holders Tipperary who played together at the end of the field. Ger Ward set the pace with Tipperary's Joanne Ryan and returned a par 54.
It soon became clear that Tipperary would not repeat 1990's historic success despite a typically battling display from Breda Lonergan in the anchor role.
Marian Marks, playing with Breda, showed her class when she pitched and held the 12th green, a hole where practically everybody else was attempting a pitch and run. She holed the three-footer for a two en route to an opening 50.
Star of the Dublin show was Dolores Monaghan who capitalized on brilliant pitching to card a flawless 48 on her adult Inter-County debut. Captain Marie Mallin was round in 58 while Gail McDermott shot 60.
That gave Dublin an identical tally (to Cork) of 210. Kildare and Down were next best on 221 and 225 respectively.
Cork started round two with high hopes but disastrously for the Leesiders, only Eileen Buckley (by a phenomenal eleven shots) improved on her first eighteen score.
That left Cork shy of a Kildare squad, managed by Tommy Hall, and superbly led on the course by Alice O'Shea, ably supported by her sisters Mary Donnelly and Rose Kelly, along with Marie Egan and Peg Lambe.
And so to Dublin. An 11th win was theirs for the taking and they made no mistake. Ger Ward was -6 for her second round after seven and seven under playing the 49-metre 18th. An overly long tee-shot cost her bogey but a 48 for a 102 total laid the title foundations.
Dolores Monaghan also took four up 18 but her second round 51 gave her the best individual score of the day.
Gail McDermott improved significantly in her final round and only a four at the last after pitching through the green foiled her of a sub-par second eighteen.
Skipper Marie Mallin produced a superb pitch to the last, the ball pulling up six feet behind the stick. Her putt for a 57 fell away to the right.
Marion Marks followed up a good putt on 17 with a tremendous pitch to six feet on 18. Her putt for a second successive 50 missed on the left side but the Dublin team total of 416 (-16) was 24 clear of the field.
1. Dublin 416 (Dolores Monaghan 48+51=99, Marian Marks 50+51=101, Ger Ward 54+48=102, Gail McDermott 60+54=114, Marie Mallin 58+58=116).
2. Kildare 440 (Alice O'Shea 51+52=103, Mary Donnelly 54+54, Marie Egan 57+55= 112, Rose Kelly 59+58=117, Peg Lambe 60+60=120).
Cork 443, Meath 449, Louth 457, Down 467, Offaly 470, Tipperary 475, Westmeath 476, Kerry 484
Gents
The following day (Sept 8th, another Indian Summer day), Mervyn Cooney set the Gent's Inter-County championship in motion at Lucan. The yellow of Clare and the green of Meath led a field of 18.
It was Kildare who were prominent early on. The Short Grass County 18-hiole tally was 25 under. After going out in 20, Pat Doyle scored 46 while Eddie Carey (who was home in 21) and Ollie Lambe both signed for 48.
A week on from a famous hurling success, the men from the Premier County began to assert themselves in the middle of the field. Sean Minogue carded an eight birdie 46 and Noel Joyce went one better with 45. John Shoer and Seamus O'Halloran supported well with matching 50s to give Tipperary a halfway 25 under, level with the Kildare men.
But the final pairing was really what the large crowd had tuned-up to see. Homesters Dublin lined-out against holders Cork. Two weeks before William Hill had won the Lucan Scratch Cup and a Cork quartet had won the team event. Could they repeat this?
Dublin opened like they meant business. As if by clockwork, each of their five made the heart of the first green. Courtney, Malone and first-timer Keane all birdied; Brennan and Harkins missed, narrowly.
By the end of the opening round, Dublin had matched the Kildare and Tipperary target. Mark Keane's first Dublin 'cap' continued to be more than promising. The young Lucan man contributed a ten birdie 46. Derek Courtney capitalized on a front nine 22 to post 49.
Primarily due to the work of John Looney with a 45 (ten twos, one four), Cork kept in touch on -21. Ultimately, though Cork fell away and could only manage fourth.
The main challenge to Metropolitan supremacy came from Kildare and Tipperary. Pat Doyle continued his superb performance with nines of 25 and 20 for 91 (the top individual score of the day). Eddie Carey rendered excellent support with 94 and Kildare's team total was 391.
Sean Minogue birdied 16 and 17 for Tipperary and finished with a very satisfying 95. Noel Joyce aced the 8th and with twos at 5, 7 14 and 15, he faced a six-footer on the last to finish -16. The putt just missed on the low side.
John Shoer had the same right to left breaking putt as Joyce from a fraction closer. His putt also broke sharply left and stayed out. Yet again, though, the great Nenagh man had served his county well (101). Seamus O'Halloran recorded 99 to give Tipp a team aggregate of 44 under.
For a while, it appeared as if the strains of 'Slievenamon' would be heard all over Lucan. However, the star-studded Dublin team, backed by an enthusiastic home gallery, had other ideas.
They were a collective 13 under for the third nine leaving them needing seven over the last nine holes to win. It looked on when Pat Brennan chipped-in on 13 and Derek Courtney 'stuck' 17.
There was just a five minute spell where Tipperary dared to hope. Derek Courtney pitched through the 18th green and chipped to three feet below the hole. The putt stayed out. Mark Keane found himself a long way over the 17th green, chipped back too strongly and took two putts.
Keane quickly rallied. Having missed the green long again at 18, he recovered to three feet and saved a great par.
Pat Brennan pitched well over the back of the difficult finishing hole. Having chipped back to green side, his five yard par effort lipped out.
Sean Harkins holed a good putt for a three on 17 and then two classic Dublin pitches clinched matters. Harkins threw a glorious tee-shot into 18. The ball stopped dead, just six inches from the hole. Seconds later, Anthony Malone glued his ball to the 17th.
'Skinner' pitched (as he had done thousands of times before) to the heart of Lucan's 18th green. The five footbirdie putt missed. It didn't matter. Another double was won.
1. Dublin (Mark Keane 46+46=92, Derek Courtney 47+49=96, Sean Harkins 47+50=97, Anthony Malone 50+49=99, Pat Brennan 49+51=100) 384
2. Tipperary (Noel Joyce 45+48=93, Sean Minogue 46+49=95, Richard O'Halloran 50+49=99, John Shoer 50+51=101, Anthony Culhane 55+58=113) 388
Kildare 391, Cork 399, Offaly 403, Westmeath 406, Carlow 407, Louth 413, Limerick 417, Clare and Wexford 420, Meath 421, Down and Galway 423, Waterford 424, Kerry 425, Armagh 426, Longford 443.
This evening: We preview the Ladies event this weekend.