2023 Hall of Fame Recipient
Ardnacrusha's Ger McInerney profiled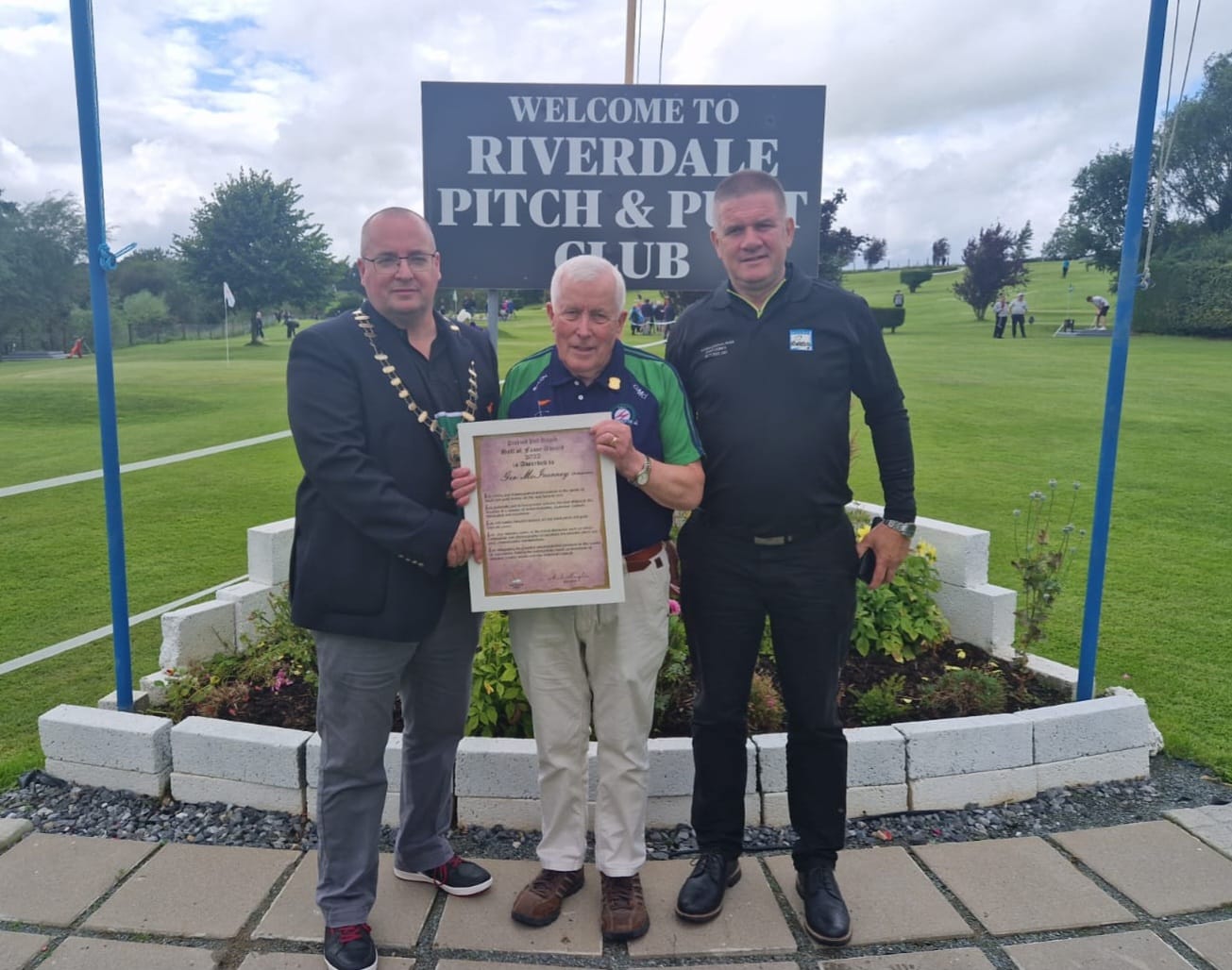 Former Limerick County Board and Munster Council Registrar Ger McInerney was welcomed into Pitch and Putt's Hall of Fame at the Convention back in February but only formally received his award last Saturday at the National Intermediate Strokeplay Championships in Riverdale. John Manning spoke to Ger about receiving his award and his time in Pitch & Putt.
"It is indeed a great honour for me to accept induction into the Pitch and Putt "Hall of Fame". It has come as a complete but very welcome surprise," reflects Ger. "My only regret was that I was not in a position to accept this honour personally due to being out of the country. I wish the President and NEC members a very successful season and thank NEC for this honour."
Ger pays tribute to his fellow Hall of Famers, some of whom were very close associates."When I look through the list of previous inductees, I can see that this honour is not bestowed on any person lightly. I didn't know all of the previous inductees but those that I did know are certainly well deserving of the honour. It is also an honour for my club Ardnacrusha. I am proud to follow in the steps of another Ardnacrusha person PJ Coonerty who was honoured in 1997. We must spare a thought for those members like PJ who are no longer with us."
Ger is modest about his playing achievements. "I have spent most of my time in the background as an administrator and not travelling around the country as a player."
"My Pitch and Putt career commenced in 1972 when a relative encouraged me to join Ardnacrusha Club. A decision I never regretted." That family member was Pat Storan and by his simple suggestion, Pat bestowed a bountiful gift to Ardnacrusha and to Pitch and Putt administration.
"The lowest handicap I ever got down to was -6. One of the highlights of my playing career is when my handicap was cut from -12 (which was the max male handicap at the time) to -8 on the same weekend. I won two County Board competitions, Saturday and Sunday. It was probably in the mid to late seventies," recalls Ger.
Those two County Board tournaments were the Foley Trophy and the County Junior Strokeplay. Ger was on a County League winning team around that period and notched a number wins at club level - the Fogarty Cup, Captain's Prize and the Club Open."
"I spent the first number of years just learning and playing the game but in 1978 my club was having difficulty in forming a committee. I was approached to help out and reluctantly took on the role as Secretary, a position I held for 2 years. In 1980 I was elected Club Captain and the following year Club Chairman. In 1983 I was elected club Treasurer/Registrar a position I am still holding 41 years later. Overall, I've been an officer of my club for 45 years and this is my 52nd consecutive year of membership."
Ger's 20-year County Board career began in 1997 and he was the last ever Munster Council Registrar before the Provincial Councils were retired during the implementation of Pitch and Putt Ireland's first Strategic Plan.
He is relieved that his sojourn in administration has coincided with the evolving technological age. "In the very early 90's I purchased my first PC. One cannot imagine how basic this computer was."
"At this time I started to make use of my computer to record annual membership lists on the Lotus package. The printouts were not very impressive, they were printed on a dot matrix printer and there was only one font type available (Courier). The info was printed on the continuous feed sheets with the perforated edges."
"In 1995 there were major breakthroughs with the introduction of Windows 95and Microsoft Office."
Early retirement from work opened-up new horizons for Ger. "I was in a position to go and get some computer training, I went from basic training to advanced and ended up completing a JEB diploma which is an IT course for teachers. From then on I slowly developed my own systems to try to remove excess paperwork in the club."
"I set-up systems like:
Extracting members for Registrations from my membership list straight onto Registration Forms with a press of a button.

Recording Open Competition Data

Calculating 54-hole and 36-hole scores from multiple rounds,

Printing names on score cards for Opens and Scratch Cup etc.
My systems may not be user friendly but they certainly saved me a lot of time over the years."
Ger is a strong advocate of Pitch and Putt Ireland's handicap system. "As a longstanding Pitch & Putt Registrar I had huge interest in the development of the new handicap system, which has taken a huge responsibility off club Registrars. I am particularly pleased with the later additions, some of which I suggested myself. Being able to upload competitions in bulk is certainly a game changer. In my opinion there is one more step to go, that is to incorporate Competition Entry sheets into the system (if this is feasible)."
An able set dancer, an inveterate follower of traditional music and a keen lensman (engrossed in photography and video), Ger has assorted other interests outside of Pitch and Putt. "A number of years ago I became a volunteer with Age Action.This entails giving lessons to seniors' on how to use their Smart Phones/Tablets/Computers etc. Lessons are one to one which suits this age cohort.At the end of each term there's great satisfaction in seeing learners no longer nervous around their own device. So far I don't believe that I have seen any learner older than myself."
The Irish Camping and Caravan Club promotes family camping and caravanning in Ireland. The club organises a calendar of events throughout the year, which include weekend outings to various sites around the country. Here too there is an administrative element for Ger McInerney. "I am also a Trustee and Hon. Treasurer of Shannonside branch of the Irish Camping and Caravan Club. I took up the Treasurer role in 1996 a position I still hold 28 years later. I was also Treasurer of the organising committee when Ireland hosted the annual rally (Olympics of the caravanning world) of the International Federation of Camping and Caravanning in 2007."
The Hall of Fame is the most recent deserved tribute to Ger's distinguished Pitch and Putt career. "In 2018 I was made a life honorary member of my club. I just hope that I am around long enough to enjoy this honour that is being bestowed on me in 2023."
Tomorrow: John Manning brings us through the stats from last weekend's National Strokeplay Finals