2022 National O55's Winners in Profile
John Manning looks at our six winners from Bellewstown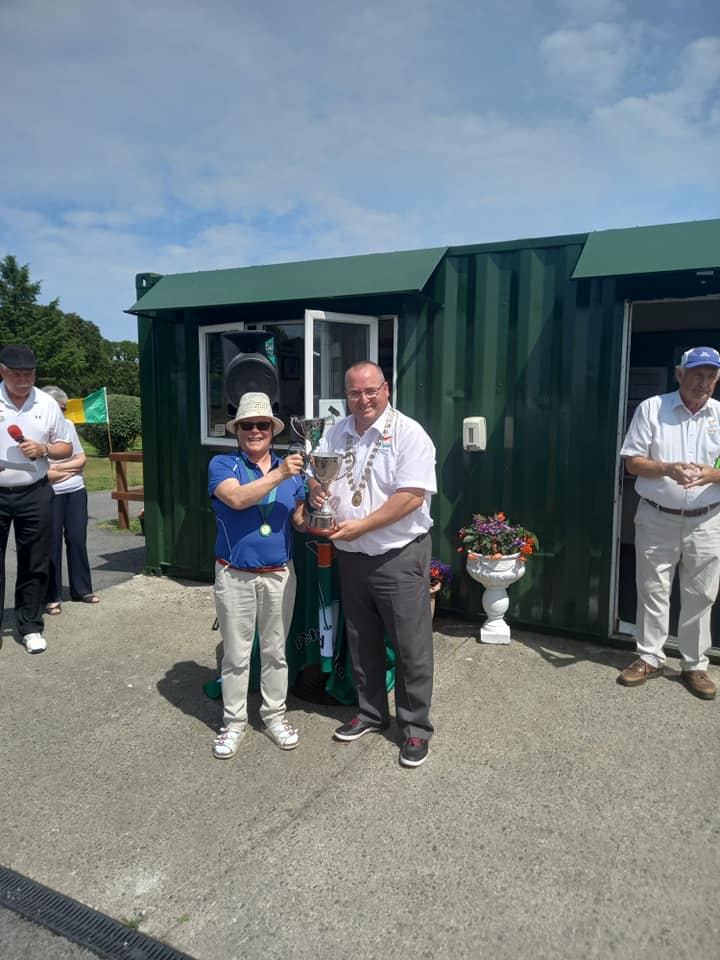 John Manning profiles our six winners from the National O55's Championships at Bellewstown two weeks ago.
Breda White- Senior Ladies Winner
Sixteen players qualified for the final 18 holes of the 54-hole Parteen Scratch Cup on April 15th 1990. John Walsh (Collins) led the qualifiers on 96, 12 under. He had two strokes to spare over Parteen pair Niall Duggan and Paddy Browne and one Breda White, previously of Tipperary Hills and at that stage briefly playing out of Hillview.
The great Mick Forrest (Rocklodge), who had been showing some useful early season form, came off the course following a 101, saying that the windy conditions were making scoring very difficult.
Pitching very straight and putting extremely well, Breda White returned a flawless final round of 49 to post a three round total of 147, 15 under par. One by one, her co-competitors fell by the wayside until it was all down to Walsh who stood on the last tee at fifteen under par. Three to tie; two to win. His pitch to the intimidating uphill 18th was short. His chip was short, leaving a six-footer to tie. It missed. Breda White had completed a famous victory.
That's just one example of the breadth of achievement through the decades of 2022 National Ladies O55 Senior grade Strokeplay champion Breda White.
2018 World O55 Strokeplay champion at Verin, Breda White (Tipperary Hills) was National Matchplay Champion in 2014 and a runner-up in 1988, 2020 and 2021.
An Inter-County winner with Tipperary in 1990, 2013 and 2019, Breda reached the National Matchplay semi-finals on six other occasions.
A Munster Inter County winner with Tipperary in 2019, Breda also played on the Premier County side that placed third nationally in 2011.
The National Ladies Strokeplay was played in Newbridge on September 10th 1978. Margaret Hogan (Clara) retained her title with a return of 102, two ahead of Breda White (Tipperary Hills).
A protegé of Pitch & Putt Hall of Famer Sean Keane, Breda lifted the Elvery Cup for the National Ladies Strokeplay championship for the first time at Athgarvan back in 1987 and regained it at St Stephen's in 2016. That 29 year span ties her for the longest gap between first and most recent victory with Margaret Hogan (1987 – 2006).
On September 24th 1989, Michael Murphy and Ros O'Rourke (Crosshaven) shot +15 to win the National Mixed Foursomes by one from Eddie Lonergan and Breda White (Tipperary Hills).
Munster U16 Strokeplay winner as a 13-year-old at St. Luke's (Clonmel) in 1972, Breda has chalked-up nine Munster Strokeplay Championship wins as an adult.
Previously Over 55s senior grade winner in 2016 and third in 2019, Breda's outstanding 47 in the second round at Bellewstown saw her join Mairead O'Toole, Sheelagh Elmes and Margaret Hogan as multiple winners of that championship.
1989 Munster Matchplay winner at Lakewood, when she beat her great friend Eleanor Walsh (Fermoy) in the final, Breda has claimed that title eight times in all, and reached two other finals.
Tipperary County championships have been accumulated by the sackful and but for a Pitch & Putt career interregnum to play golf, how many more titles across the categories could this great-hearted and multi-talented player have won?
Ann Bird- Intermediate Ladies Winner
Ann Bird (Laytown) became the second Co. Meath winner (after Kay Grendon of Rathfeigh eleven years ago) of the National Ladies O55 Intermediate Strokeplay championship when she triumphed at Bellewstown recently.
In the most closely contested championship since 2018 (when Mairead O'Toole outlasted Rose Kelly in a play-off), Ann finished a single stroke clear of runner-up Suzanne Jordan (Portmarnock).
The third player in history (after Kathleen Grendon and Bernie Dunne) to win National Ladies O55 Intermediate Grade Strokeplay Championship having previously been Leinster Intermediate Strokeplay Champion, Ann was leading Meath qualifier (at Castletown) for the 2010 National Intermediate Strokeplay Championship.
That Leinster win arrived in 2012 at Cement, when Ann scored 109 to win the provincial championship by two strokes from Claire Keatinge (Old County). Carol O'Brien (Gaeil Colmcille) took third with 114. Ann had trailed early leader Bernie Dunne (St. Bridget's) by two at halfway but delivered the only sub-par round of the championship, a 52 second time, to earn a famous victory.
That 2012 win came on the back of a consistent performance in the 2011 Leinster Ladies Strokeplay Championship at Royal Meath, when successive rounds of 57 saw the Laytown lady finish third, two back of Intermediate champion Geraldine Ryan (Erry) and one shy of second placed Denise Pyke (Tullamore).
Stamullen, Co. Meath resident Ann and her husband Paddy boast an excellent record in Mixed Foursomes tournaments.
The pairposted +6 in the 2014 National Mixed Foursomes at Ringcommons to capture the Best 2nd 18 award.The following year at The Acres (Longford), another +6 return claimed Best 1st 18 in the Leinster Mixed Foursomes. Ann and Paddy were playing out of Bellewstown that year.
Ann was back representing Laytown when she contested the 2017 National Ladies Intermediate Strokeplay Championship at Cement on July 1st, signing for rounds of 59, 55 and 60 to finish fourth behind Cathy Richardson (Bellewstown), Philo Condron (Lucan) and Mairead Manning (St Stephens).
An accomplished badminton player, Ann is a regular on the Pitch & Putt Scratch Cup and open circuit across Leinster and is a consistent prize gatherer.
A Meath Scramble winner with husband Paddy and Dom Scully, Ann has served administratively as Secretary/Registrar and Lady Captain of Laytown.
A former Gaelic football and soccer player, Ann has represented Meath in the Pitch and Putt Inter-County arena and will play again at Seapoint and at Rocklodge this autumn. At St. Bridget's in 2019, Ann linked with Teresa Fagan, Christine Morgan, and Margaret Conneely in a Meath team that tallied 250 Stableford points to win the Leinster Intermediate Inter-County by 16 strokes from runners-up Kildare (Antoinette Doyle, Catherine Smith, Marian McCormack and Rose Kelly).
2019 Meath Matchplay and Strokeplay champion, Ann beat Kathleen Geraghty (Skryne) at Navan in the final with a chip-in at the final hole.
There was a modicum of revenge in that victory over Kathleen as Ann was second to Kathleen in the Strokeplay when Meath Matchplay and Strokeplay runner-up in 2013, having also won the Matchplay at Laytown in 2011.
Ann Williams- Junior Ladies Winner
In contrast to some of the other players profiled here, Ann Williams (Ryston) is a relatively recent convert to Pitch and Putt.
The Kildare lady has been playing for just six years but on July 17th became the sixth different winner from the Short Grass County of the National Ladies O55 Junior Grade Strokeplay championship.
Nora Tierney (Prosperous) claimed the title on three occasions so Ann Williams' recent victory at Bellewstown was the eighth by a Co Kildare club member in the 17 stagings of the championship.
Lady Captain of Ryston 2020 alongside Gents counterpart, Fran O'Connor, Ann's Prize day was unusual in that it was held in November due to covid.
Ryston Club Ladies Junior Strokeplay winner back in 2019, Ann (whose husband Eddie is also a keen Pitch and Putt player) has in addition served on the Ryston Club Committee for a number of years.
Following the twin trials process, Ann has qualified to represent Kildare in the 2022 Leinster Junior Inter-County championships at Seapoint
Ryston have nominated Ann as Most Improved Club player for the 2021 Kildare County Board awards. That awards ceremony (postponed in March following the tragic death of Shane Murphy RIP) has yet to take place.
An opening round of 66 at Tullamore saw Ann (who played golf in the past) right in the mix for the 2021 National Ladies Junior Strokeplay championship. A closing 68 left her in ninth place but valuable experience had been gained.
That experience was put to optimum use at Bellewstown when a first round 62 left Ann in pole position and a carefully played 68 second round ensured a four stroke win.
Frank Ryan- Senior Mens Winner
Frank Ryan (St Bridgets) is one of a relatively small cohort of players to have represented two different counties in the Inter-County arena.
And his sojourns in the white of Kildare and in the blue of Dublin have borne much fruit.
Frank Ryan (on 91) joint top-scored with Joe Ronan when Kildare triumphed in the millennium yearInter County Championship at McDonagh. Eddie Carey, Tom McCormack and Ian Dillon were the other members of that Kildare quintet that posted 370 and piped Cork and Westmeath by a shot.
In their title defence at Rocklodge, the following year, Kildare (with Darren Keogh and Sean Harkins replacing McCormack and Dillon) took second place behind a rampant Cork team.
Second place was also to be Frank's Ryan lot in the Dublin colours on NationalInter-County day at Lakewood in 2007 when he joined Anthony Malone, Derek Courtney, Eoin Mithen and George McGreal in a metropolitan score of 399, which was ten shy of the host county who were completing a five-in-a-row.
Having been a Leinster Inter-County runner-up with Kildare in 2004, Frank won the Leinster Inter-County with Dublin in 2007 before returning to Kildare to win again in 2011.
Playing out of RGSC, Frank Ryan led the field a merry dance in the 2007 All Ireland O55 Senior Strokeplay Championship, for the first of his record equaling three titles, at St. Patrick's. Ryan fired 93 to finish ten strokes clear of runner-up Pat Desmond (E.S.B.). That 10 stroke winning margin ties the all-time highest in the championship.
Frank's second victory came at McDonagh, in 2018 when he scored 92 to win by two from Joe Ronan (McDonagh).
A valiant attempt to retain the title at ESB a year later led to third place on 99, denied by a shot by Patsy Farrell's (Bruff) 98 with runner-up Pacelli Darcy's (Bruff) 99 marginally better on the B18.
In the 2002 National Mixed Team Event, at Glenville, Frank lined out alongside Chrissie Byrne, Ian Dillon and Tara Dillon as the Kilcullen side scored a winning team total of 172 Stableford points, which proved two superior to runners-up Glenville
Frank Ryan's career graph has been constantly on the rise since he was a two-time Leinster Matchplay champion in 1996 (he beat Liam Sherry RIP in the final at McDonagh) and 1997. His Leinster Strokeplay record is pretty impressive too. A win at Ryston in 2013 (141 to 144 by Paul Tobin of St Patricks) was followed by a runners-up performance four years later at St. Bridgets when his 139 proved just shy of Martin O'Neill (St. Patricks).
In the 1997 National Matchplay at McDonagh, Frank Ryan claimed the not inconsiderable scalps of former winners Derek Courtney and David Hayden RIP in the early rounds and of future champion Derry McCarthy (in the Quarter Finals) before losing to eventual champion Jason Hannon in the last four.
During the 2014 International Challenge against Catalonia in Lloret, Frank claimed a singles win over European Team Championship winner Daniel Gimenez.
Frank was an impressive third place finisher at the Irish International Open in Seapoint four years ago.
JJ Quirke Intermediate Mens Winner
2022 National O55 Intermediate Grade Strokeplay champion JJ Quirke's entire family have been steeped in Pitch and Putt.
JJ, wife Kim, son Darren and Sonia Quirke captured Best Gross for Fermoy with 143 points in the 2009 National Mixed Team Event at Fermoy.
Darren is a former National Boys' (2003) Strokeplay and National Intermediate (Strokeplay (2007) champion.
JJ is a two-time Munster Intermediate Inter-County Championship winner with Cork.
At Castleisland in 2017, JJ teamed-up with Jimmy Quinn, Eoin Keating, Conor Irwin, Daniel Quirke and Ronan O'Driscoll in a Leeside team total of 435 that was fifteen clear of runners-up Tipperary.
Tipperary were also second two years later at Hillview when Cork (Gavin Dawson, Keith Power, Dylan Seymour, Jimmy Quinn, Ronan O'Driscoll joining JJ this time) posted 452 to triumph by seven. That same Cork sextet went on to defeat Dublin by five matches to four in the National Inter-County final at Tullamore.
Team events are something of a specialty for J.J. and he was a valued member of the Fermoy squad that defeated Riverdale by 7½-1½ in the 2017 National Inter-Club final at Hillview, having earlier that year won a Cork Intermediate League medal.
In the 2003 Munster Gent's Strokeplay Team Championships at Collins, JJ was joined by Robbie O'Donovan, Mick Cahill, John Cahill and Paul Doyle in a Fermoy team that posted 409 to finish runners-up to a star-studded St. Anne's quintet.
Later that year JJ was part of a Fermoy triumvirate, which also included Joan Doyle and Pat Doyle, that produced 281 Nett to beat runners-up The Ranges by three strokes in theMunster P.J. Bell Team Event at Castlelyons.
A measure of retribution was exacted for the 2003 Munster Team Strokeplay reverse in the 2005 Cork Gent's Strokeplay at Fermoy. J.J. was part of a Fermoy team (John Cahill, JJ O'Connor, John Keohane and Joe Flood were the others) that carded a phenomenal 369 to beat St. Anne's into second place by a 10 stroke margin.
JJ has twice finished as runner-up in the Cork Intermediate Strokeplay Championship while he has been third on another occasion. Just last May, JJ top-scored with 95 for the Fermoy team that won the Cork Intermediate Strokeplay Team Championship and he eventually finished second in the individual championship behind club-mate Shane O'Hara.
JJ was previously Cork Intermediate Strokeplay silver medalist at ESB four years ago when his 151 tally proved just four strokes shy of winner Adrian Forsythe (Bishopstown). His third place finish had come a year before when JJ ended-up just two back of club-mate Peter O'Donovan over the 2017 72-hole format.
A past Captain and Chairman of Fermoy, JJ has been rightly lauded for his commitment to the club and his unstinting work on the course.
The first player from the famed north Cork club to win the National O55 Intermediate Grade Strokeplay championship, JJ was part of a Fermoy team that took second Gross (Tilly Noonan, Frances Tobin and Daithi Sexton were his team-mates) in the 2003 Cork Mixed Team Event at Fermoy.
Stephen Ashcroft- Junior Mens Winner
On Thursday June 30th at ESB, Stephen Ashcroft shot 60 in the opening round of the National O55 Strokeplay qualifying. That left the Raffeen Creek man in 10th place in the Junior section with just nine to make it through. A 56 second round saw him safely qualify for the finals on the cut mark.
Less than three weeks later, Stephen was celebrating a national title at Bellewstown when his 107 aggregate gave him a three stroke victory.
Stephen's affinity with the National O55 Junior Grade Strokeplay Championship dates back to 2019. His 54+57 = 111 return at ESB saw him miss out on third place by a single stroke but his 85 off a then handicap of 13 captured the Best Nett award.
In the 2019 Cork County Board Scramble at Bishopstown, Stephen combined with his Raffeen Creek colleagues John Tett and Donal Field to produce a winning Nett salvo of 65.33.
A month later, Stephen played on the Cork Junior side that placed third in the Munster Junior Inter-County championship at Hillview behind Tipperary and Limerick.
UK native Stephen Ashcroft is to be found regularly winning Club prizes at Raffeen Creek and also at ESB where he is an associate member.
He took second spot in the 2022 Cork County Board Charity Junior Scratch Cup at Raffeen Creek.
He was Raffeen Creek Junior Strokeplay Champion in 2020following up his Club Fourball Matchplay success a year earlier alongside Frank O'Donoghue. He also lifted a club major, the Dunlea Cup, at Raffeen Creek in 2020 having won the 2018 Captain's Prize.
Latest National News
Latest Regional News