2022 National Matchplay Build-Up: Day 2 Part 1
John Manning talks to defending Elvery Cup holder Chrissie Byrne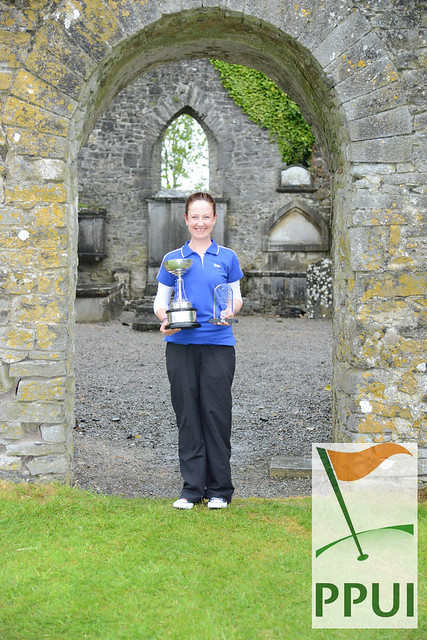 Ahead of her defence of the Elvery Cup this weekend, Chrissie Sheedy spoke to John Manning.
How has the 2022 Pitch and Putt season been so far for defending National Matchplay champion Chrissie Sheedy?
"Overall, it has been a relatively quiet year so far for me playing wise compared to other years," reflects Chrissie, five days out from her title defence at Douglas. "That said, I have played in a number of Scratch Cups around Leinster, the Kildare County Strokeplay and recently in the Leinster Mixed Foursomes in Collinstown, all of which have been great for getting some competition practice in ahead of the very condensed window of championships for the Ladies."
"On the practice front, I have been trying to play between 18-36 holes each week in Ryston, although due to various commitments that isn't always possible. Hopefully I can continue to play a bit more over the coming months with the longer evenings available. Overall, it's been an enjoyable year to date and it's great we all have a full calendar of events to choose from around the country."
That 'quiet' year so far has seen Chrissie win the Kildare County Board Scratch Cup, the Kildare County Strokeplay and the Liam Sherry Memorial Ladies Scratch Cup so it doesn't appear to have felt any differently playing as Mrs. Chrissie Sheedy.
"Ha-ha…..well I think the biggest challenge so far has been to remember to sign the card with my new surname. C. Byrne has subconsciously been used a few times!"
"Other than that,the only occasion it has actually hit me was when I saw the National Ladies Matchplay draw last week and for the first time in 23 years there was no 'Byrne' from Kildare on the drawsheet. That said, I know Declan, Derek and Darren won't mind me saying, we (myself, Marian and Margaret) will always have the Byrne name in our hearts when we play."
The first round draw for the 2022 National Matchplay inevitably evokes memories of the famous 2006 final in Fermoy when Chrissie faced her sister Marian en route to lifting the Elvery Cup for the second time.
"Surprisingly over the 23 years of entering the National Ladies Matchplay, myself and Marian have only crossed paths on three occasions over the finals weekend with Marian 2-1 up in those head to heads….I will have to try even up those stats this weekend!"
Is it difficult playing against one's sister in high profile matches?
"Jokes aside, we have always had great matches when we face each other and that 2006 final in Fermoy will always be considered one of the great finals, in which I was lucky enough to pip Marian in play-off holes. Ideally, it would be great if we both had the opportunity to potentially face each in the final on Monday but that's the luck of the draw and to win this great championship you need to beat all the best players in whatever round it turns out to be. I will be out to beat Marian on Saturday and Marian will be out to beat me. That's sport, but we will certainly enjoy this match whoever is the victor at the end."
The mid 2000's also saw Chrissie win the National Strokeplay at Douglas. She must have happy memories of the course?
"Hard to believe that is now 17 years ago. It only feels like yesterday in many ways despite all that has happened since then. It's always nice to return to course where such great memories occurred and yes I do look forward to playing in Douglas again this week. Other than the shortened National Inter-county weekend there in 2015, I actually haven't played in any singles event there since 2005. I went down a few weeks ago and played 36 holes practice to recall just how tricky a course Douglas is. The evening we played it was quite breezy and it certainly added to the challenge on top of very quick greens, even though I was told when finishing the greens would be even quicker for the finals!"
What is Chrissie's formula for playing Douglas well?
"As I see it the key to Douglas is you have to be on the right side of the pins. If you are not, on some of the holes, a player could really be in trouble and could face any score. If the greens are to be as quick as expected, a par may be a very good score on some holes. Patience and course management will be very important. Add a hot or windy day to the equation then it will really be a tough challenge and wins will be well earned."
Underlining Chrissie's undoubted focus on greens and pins, a recent course change at Douglas didn't register!
"To be honest, I never noticed all the bunkers were gone since I was last there but a course like Douglas is certainly tough enough without them!"
Douglas sweltered that day in 2005 when Chrissie claimed her first National Ladies Strokeplay title. How does she cope whilst playing in extreme weather conditions?
"Yes, I remember how hot it was that day in 2005 and remember the event not getting finished until late that evening due to delays and efforts to avoid the worst of the heat. While Douglas in 2005 was hot, I will never forget the 40+ degrees I played in at the World Strokeplay in Galicia, which I also won. That was incredibly intense heat so I guess I can't say I dislike such hot conditions, albeit I would have a preference for it to be cooler this weekend. In any extreme conditions, it is all about being equipped with the right gear to try and be as comfortable as possible when playing, particularly over the long National Matchplay weekend."
A victory at Douglas would see Chrissie move ahead of Margaret Hogan and leave her alone in 3rd place (behind only Ger Ward and Clare Keating) in terms of total number of All Ireland Matchplay and Strokeplay wins. That's pretty heady territory to be in – in a historical Pitch & Putt context.
"To be named in the same breath as these great lady players of our game is a great honour. To win another National title and get to the milestone of ten (whether this weekend or in the future) would certainly be a goal of mine to try to achieve. However, as I enter any championship focus can only be on that championship ahead you and take them one by one. That will be the case in Douglas as you cannot look or be thinking any further beyond that. I am very proud of what I have achieved so far in my career and will continue to do my very best for as long as I can. Whatever the number of total National titles at the end will be what it is and I will be very happy knowing I gave my all trying to win as many as I could. We have some great ladies playing the game and to win any National title is afantastic and hard-earned achievement."
The six-time National Matchplay champion cares deeply about what's in store for our sport.
"My only fear at this time is what the future of the ladies game will look like given we continue to struggle with numbers and entries. I really hope this tide can be turned very quickly which I feel needs to be player-led with the support of the NEC to save the future of the ladies game so we do have National titles in the same formats as the Gents to play for."
Chrissie found the ideal preparation for Douglas with her win at Stackallen in the 2022 Leinster Strokeplay Championship.
"I was delighted with my win in the Leinster Strokeplay at the weekend. Stackallen was beautifully presented and a pleasure to play on. There was a quality field of players entered and I knew going out that a low score would be needed to win. I played very well and only dropped one shot, which is the key to scoring on any day. A win like that is a great confidence builder going into the national weekend and I'm thrilled to have won it for the 7th time."
Thursday Evening: We will have a preview of the Ladies events in Douglas this weekend.
Latest National News
Latest Regional News