2022 National Ladies Strokeplay Championship Previews
A look at the grades in Fermoy this weekend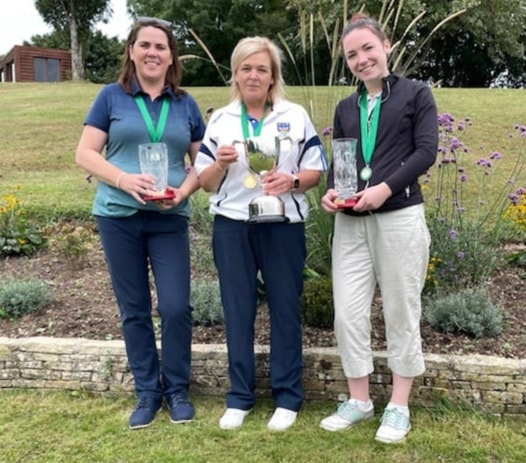 As the National Ladies Strokeplay returns as a standalone fixture for the first time since 2019 this weekend in Fermoy, Communications & Press Officer Jason O'Connor looks at the field in the three grades for Saturday's one day event.
Looking at the field itself in Fermoy overall this weekend, it's interesting to find some parallels to the 2014 staging at the same venue. These apply mainly to the Senior and Intermediate grades but we will start out look ahead with the Junior grade.
Junior
There are 15 entries for this event with the home challenge led by both Mary Anne Byrne and Michelle Flynn. National Nett Matchplay runner-up from Douglas, Ann O'Herlihy of Lakewood is the most stand out name in advance as the field contains a number of those who took part in the competition.
Cunnigar's Jacinta O'Mahony, Mary Daly and Corinne McGee, Hillview's Veronica Anglim and Larkspur Park's Gemma Martin all competed in Douglas as St Bridgets Catherine Dillon was an interested spectator at proceedings. Tipperary is well presented in the field with Lakeside duo Josephine Tobin and Josie McCormack entered along with Riverdale's Catherine Dunne.
Completing the field in Bagenalstown's Ann Hickey as the players will complete 36 holes on Saturday.
Intermediate
Eight years ago, Collins' Sarah O'Neill arguably started her climb up the Ladies ranks with a convincing win in the Junior competition that year. The Irish No 12 looks to win this competition for the second time in three stagings 53 weeks after she won the 2020 staging in Kilbeggan. After a surprise win over Breda White in the first round of the Scratch Matchplay she will be confident of a big showing around a course she has won at before.
The challenge from the field is interesting and varied though. National Ladies Nett Matchplay winner Suzanne Reilly will hope to have another good weekend in Cork only two weeks after her win in Douglas. Sarah isn't the only former competition winner amongst the field as Lakeside duo Bridget Shelley and Mary Quinn along with McDonagh's Bernie Dunne are amongst the former winners of the event. Mairead Manning has followed a similar path to Sarah in winning the Junior and Intermediate event in the last decade as the St Stephen player will want to improve on her Nett Matchplay performance where she reached the semi-finals.
Last year's National Junior Ladies Champion Margaret Hennessy is amongst the field as is a former National Champion at senior level in Rose Kelly of Ryston. Locally Theresa O'Keeffe, Bridget Noonan, Frances Tobin and Ailish Sexton, a former National Junior Strokeplay winner, will lead the Fermoy challenge. Lakeside's Elaine Quinn is a former National Ladies Nett Matchplay winner while Loughlinstown's Betty Cody has won the O55's Intermediate Strokeplay in the past.
Former National Girls Strokeplay champion Barbara Furlong is due to tee-off in the final Intermediate pairing alongside Portmarnock's Irene Reid and Trim Margaret Conneely.
Senior
Eight years after she needed 64 holes to get the better of Tara Dillon in the last staging here, Ger Ward returns to Fermoy to defend the Elvery Cup in what is her first competitive outing at national level for 2022. The all-time great in the sport has stepped back from the rigours of the National Matchplay to focus on shorter events as in an interesting twist she has been drawn out with Tara for this year's staging with Hillview's Shula McCarthy making up this three-ball.
It's an interesting scene that Ger comes back to after the events in Douglas, a new Irish Ladies No 1 in Liz Quinn and a lot of players with points to prove after what transpired two weeks ago. Sarah McGrath performed brilliantly in reaching the final as the local hope has the honour of hitting the first tee-shot in the grade with Chrissie Sheedy and former National Intermediate Strokeplay winner, Helen Greagsbey of Ierne her playing partners.
Chrissie is probably still smarting after her sister Marian surprised here in the first round of the Matchplay in Douglas but she will feel capable of bouncing back this weekend. Marian herself follows Chrissie in the next three-ball as 2019 National Matchplay winner Mary Murray and Old County's Pauline Balfe are her playing partners. Sheelagh Elmes returns to competitive action this weekend alongside Ger Ward as one of her playing partners is a former winner of the Intermediate title here back in 2014 in Ryston's Mary Donnelly.
The two players who were third in the Senior and Intermediate events of 2014 are in the next three-ball as 2016 winner Breda White plays with RGSC's Glenda Hoey. Trim's Yvonne Quinn makes up this three-ball. Another player making a competitive return this weekend is four time winner Margaret Hogan of Tullamore as she looks for a fifth title 10 years after her last success in Ierne. She plays with Cunnigar's Lorraine Troy and RGSC's Siobhan Keely.
Liz Quinn is due to tee-off in the last group with the player who put in a great performance to finish fourth here the last time it was played in Fermoy in Shandon's Marie O'Toole as well as RGSC's Louise Grace. A lot of eyes will follow Liz now her status has risen since Douglas. She will have the advantage of knowing what is happening above her in her bid to try and join a very unique club.
There you have most of the field in Fermoy this weekend. It is a good that lends itself to scoring and hopefully the players can rack up the birdies and give those in attendance something enjoyable on Saturday.