2022 National Inter-County Championship Report
Lookback and Stats from Rocklodge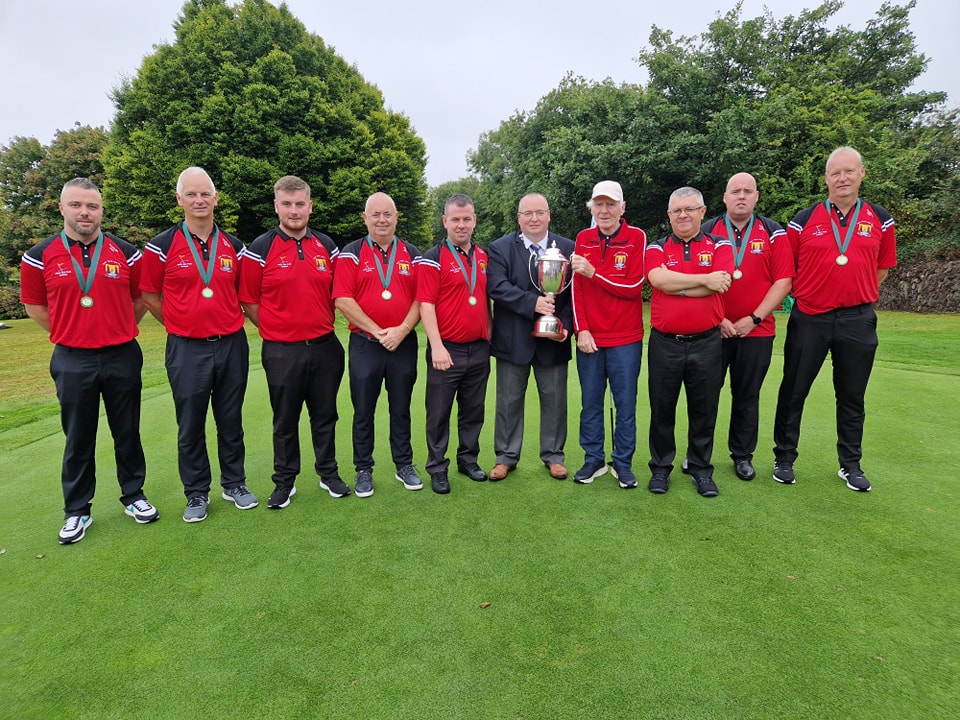 Despite the necessity to curtail the event due to Sunday's weather, the return of the National Inter-County Championships in Rocklodge threw up some interesting observations as Communications & Press Officer Jason O'Connor reports.
Someone up there clearly thinks that anything more than 36 holes for a National Inter-County in Cork is not right. Since the expansion of the format in 2013, the two times we have come to Cork since have not seen the competition go beyond Saturday's play! While Douglas in 2015 was a shock to the system, everyone felt more prepared for what came Sunday because of it. Hopes of scrambling 18 holes from the day went at 10am when the inevitable happened as the rain got heavier and more surface water appeared but there was still enough from Saturday to reminisce on.
Meath Ladies start well
One of the early eye catchers in the Ladies was the seven under par posted by Meath duo Yvonne Quinn & Paula Lynch, the best of the first round as it was a great start to a prize winning performance by the quartet that also featured Margaret Reilly and Ursula Dowd. Two consecutive rounds of five under gave Kildare the lead at halfway point though as a five under from Tipperary's Gemma McCarthy & Mary Quinn helped them into second on eight under par as Cork lay a further shot back in third on seven under par.
A brilliant eight under par by Mary Murray & Ailish Sexton in the second round of Scotch Foursomes had Cork right on Kildare's coat tails however at 16 under par combined as Tara Dillon & Mary Donnelly shot four under par and the Byrne sisters Chrissie Sheedy & Marian Courtney brought in three under par that just kept Kildare in the lead. A two under par round from Maree O'Toole & Glenda Hoey helped push Dublin into third overnight on six under combined, one ahead of Meath before the intervention of the rain called a halt to everything.
The roles from 2015 were reversed as Cork were the ones with a three shot lead overnight that year before it had to be declared in Douglas. Kildare accepted with good grace what happened that year as the feeling was mutual on Cork's part this time. A third title in five stagings for the Lilywhite Ladies but after only coming third in McDonagh in 2019 it felt probably felt like they redeemed themselves in some ways.
It's amazing to think were Meath actually only one shot behind Dublin in fourth on Saturday night but when scores were converted to Nett for those outside the Top 3, there were six shots better than Waterford, their playing partners on Saturday, with their total of 149 ¾.
First and last on Saturday come first and second overall
The Mens grade saw counties that were in the first and last groups on Saturday finish first and second overall as Cork gained good knowledge of what Kerry were doing out on the course in advance of their own tee-offs. A 14 under par total from Kerry pair Michael Conway & Alan Hobbart and 13 under from Damien Fleming & Jason O'Regan in the Scotch Foursomes helped them towards a 31 under par early target for the rest.
Louth and Tipperary matched them initially, 12 under from Jim Judge Jnr & Mark Millar and 11 under from Sean Goggin & George Beardsley helped bring Louth there as Tipp had 12 under from Mick Fennell & Kyle Kennedy and 11 under from Paul Sweeney & James Cleary in helping them get to that number of 31. Cork soaked it all up though and moved ahead of all three sides after the first 18. John Cahill & John O'Leary had 13 under, John Walsh & Rob O'Donoghue 11 while Ray Murphy & Eoin Walsh had eight under for their total of 32 under.
The Singles saw Kerry make the first afternoon move. An associate member of the weekend's hosts, Damien Fleming fired in 13 under to give the Kingdom some confidence as Alan Hobbart brought in seven under and both Michael Conway and Chris Gibney posted six under par totals. They dropped a four under each for John McGrath and Jason O'Regan for their fifth score as they set a target of 67 under par for everyone else to beat.
Louth and Dublin only came within eight of it. 10 under for Stephen Murray and eight under par rounds for Gary Healy and George McGreal were big factors in Dublin moving up the leaderboard into a share of third, eventual third when the countback had to be done. George Beardsley had put in a nine under par round for Louth as part of their Singles but it would be the last significant interest for them in the tournament with everything that transpired afterwards.
The Cork train really got going on the Back 9 Saturday afternoon. John O'Leary brought in 11 under, Rob O'Donoghue and John Walsh nine each, John Cahill eight and Ray Murphy seven as Eoin Walsh's five under could be put to one side by them. Cork finished the day on 76 under, nine ahead of the Kingdom. Their advantage was only half (nine) of what their 2015 side had over Louth in Douglas that year (18 shots) but there was still a strong sense that it was going to take something special to stop them around their home turf.
Mother Nature
We will never know that answer with how Mother Nature intervened but what we do now is that the punishing Foursomes format will have to stay for another year in cold storage until we go to Lucan in 2023. Meanwhile the Eamon Birchall Cup is now doing a full tour of the Carlow/Kilkenny/Wexford region after the Model County were deemed the winners with the handicaps added to those outside the Top Three. They totalled 373 5/8 as Paul Tobin, Dean and Richard Grannell, Wayne Allen, Martin O'Neill and Dylan Hudson made up the winning team. Second place here was decided by a mere quarter of a shot as Meath's 377½ was only that inch better than their neighbours Westmeath.
The speeches at the presentation were poignant and maybe some of the most well spoken and sombre. Shane Murphy was at the forefront of club and county thoughts as John Cahill also spoke eloquently about his late father. The rain cleared enough for photos of all the prize winners to be taken. No one wanted or expected to be leaving by lunchtime on Sunday and everything being done and dusted.
Many getting home in time to see a former Offaly U16 Inter-County player win in Wentworth was welcome though as it felt fated that those that wanted to see it would be able to do so on the day.
The Stats by John Manning
Gents Championship
Cork Gents move on to 24 Inter-County wins, extending their lead at the top of the all-time Roll of Honour.
Ray Murphy now has 17 Inter-County wins, John Walsh 16 and John Cahill 12.
Rob O'Donoghue and Eoin Walsh picked-up their first National Inter-County winners' medals.
John O'Leary becomes the new record holder (surpassing Junior Smith) for the longest span between a first and most recent win in the Inter-County championship. John's first of three wins came in 1984 (at Rocklodge) so the new mark is a remarkable 38 years.
Ray Murphy, John Walsh, John Cahill and John O'Leary all won the Inter-County at Rocklodge for the second time. Ray Murphy has also won at Ryston twice as has Frank Dineen. Ray and John Walsh have won at Larkspur Park twice. Pat Greene has two wins at Seapoint.
A quarter of a century is now the gap between the first and most recent win by Ray Murphy and John Walsh, moving the Cork legends to joint fourth place on that particular list behind John O'Leary, Junior Smith and Chris Scannell.
Kerry were runners-up for the fourth time and for the first time since their silver medal performance at St. Annes in 2010. Kerry were second to Cork again (as they were in 2010) and the margin was again nine strokes, just as it was 12 years ago. Kerry were also runners-up to Cork in 1976.
Nine strokes was also the winning margin in 2005 and 2003.
Dublin finished in the Top Three of the Gent's Inter-County championship for the ninth staging in succession.
Dublin edged-out Louth for third place on the sixth singles card tiebreaker, just as they piped the Wee County for the silver medals at Ryston in 2017.
Eamonn Birchall Cup
The Eamonn Birchall Cup for the Inter-County Best Nett was won by Wexford in the Slaneysiders' third podium finish in three stagings after their third place in 2018 and 2nd Nett performance three years ago. Wexford were also third in 2016 before coming in fourth five years ago.
The Eamonn Birchall Cup has now been won by all of the constituent parts of the C/K/W Regional Board. Only Clare (in the inaugural year of 2014) have broken the south-east stranglehold on the trophy – Wexford now joining Kilkenny, Carlow and Waterford as winners.
Meath's fifth place overall and second nett award represented the Royal County's best result since a second place finish at Portmarnock in 2011. Ian Farrelly was the sole survivor from that side to play in 2022.
Ladies
Kildare won their 12th National Ladies Inter-County championship, which consolidates the Short Grass County's second position in the championship's Roll of Honour behind Dublin's 21 titles.
Marian Byrne Courtney has been a member of all 12 winning Kildare teams; Tara Dillon has been on 11 while Chrissie Byrne Sheedy has 10 wins and Mary Donnelly six.
25 years have also elapsed since Marian Byrne Courtney's and Mary Donnelly's initial wins in the Inter-County championship. That moves the Kildare duo to tied sixth on the relevant ladies list. For Tara Dillon the gap is 23 years and for Chrissie 22 years.
Cork finished second in the Ladies Inter-County championship for the 13th time. That ties the Rebel Ladies with Kildare in second spot, one behind Dublin on the all-time list.
Dublin claimed bronze medals in the Ladies Inter-County championship for the eighth time since third place was officially awarded in 1991.
Nett winners Meath achieved a podium finish in the National Ladies Inter-County championship for the first time since the Royals were third at Seapoint in 2002. Meath Ladies won the Division 2 title at Rocklodge 21 years ago.
General
The Gents' and Ladies' winning aggregates were the lowest ever in the history of the respective championships, not surprising given the curtailed format.
For the second time in seven years, a whole days' play was lost to the weather, both times in Cork – Douglas 2015 and Rocklodge 2022.
21 players (16 gents and five ladies) that played in the Inter-County at Rocklodge in 2001 played again this year- Liam O'Donovan, Declan Sheedy, Robbie Walker, George McGreal, Stephen Murray, Damien Fleming, Jason O'Regan, James Ryan, Mark Millar, Martin O'Neill, James Cleary, Ian Farrelly, Ray Murphy, John Walsh, John Cahill, Frank Ryan, Tara Dillon, Marian Byrne Courtney, Chrissie Byrne Sheedy, Tara Dillon, Ger Ward and Sheelagh Elmes.
The ladies winning margin was one stroke in the National Ladies Strokeplay championship for the first time since 1999, when Kildare edged Dublin, 417 to 418. One stroke has now been the winning margin five times.
Rocklodge has hosted the Gents Championship on four occasions. Cork's Gents have won each time.
Rocklodge has hosted the Ladies Championship on three occasions. Cork ladies have now been 1st (1984), second (2022) and third (2001). Dublin Ladies have a similar record – 1st (2001), second (1984) and third (2022).
Damien Fleming's 41 is a stroke better than the lowest single round from 2001 – John Cahill's 42.
Latest National News
Latest Regional News