2022 National Convention
Updates from Templemore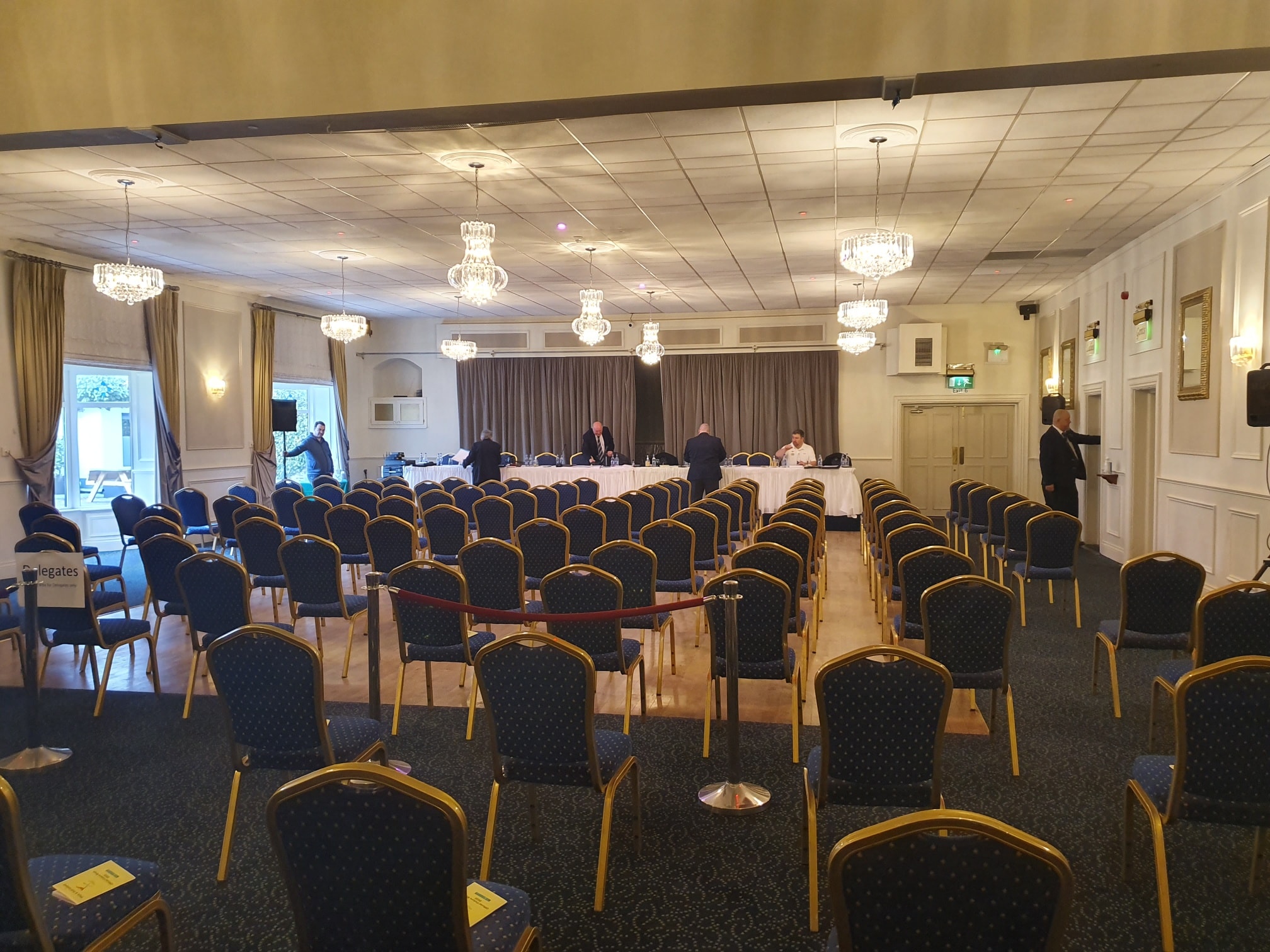 4.15pm
All over here in Templemore as we say a fond farewell to Mervyn after the last six years. We wish Mark Keohane well in the role now. More from here in due course but we wish everyone a safe journey home now.
3.30pm
Recommendations currently being considered as we enter latter part of Convention.
3.25pm
Motion 11 withdrawn.
3.10pm
Motion 10 defeated as it did not get the required two/thirds majority at 33-27 in favour.
3.05pm
Motion 9 carried
2.55pm
Motion 8 defeated
2.45pm
Motion 7 carried
2.40pm
Motion 6 carried, Nett Prizes now allowed for Scratch Cups
Motion 5 carried
2.30pm
Motion 4 carried in relation to the introduction of Juvenile Handicaps
2.25pm
Motion 3 carried
Motion 2 carried.
Motion 1 carried in relation to composition of 2023 NEC.
2.10pm
Convention resuming here in Templemore
12.45pm
Break for lunch now. Back again with Motions at 2pm.
12.40pm
Congratulations to our Treasurer Breda Brophy (McDonagh) who has just been announced as our latest Hall of Fame entrant!
12.25pm
Christy Broe (Old County) and Padraig O'Shea (Douglas) confirmed as our new Patrons replacing the lates James Bermingham and John Coleman (Lakewood) respectively.
12.20pm
Brian Webster (Larkspur Park) elected unopposed as our new Technical Officer.
12.15pm
Michael Vaughan (Inniskeen) is elected unopposed as our new Leinster/Ulster Co-Ordinator.
12.10pm
Davy Reddin elected new National Competition Co-Ordinator unopposed.
12.05pm
Davy declines to contest Vice-Presidential ballot as Myles McMorrow is now deemed elected as our new Vice President.
11.50am
Result: Mark Keohane 56 Davy Reddin 31, Mark elected President
Mark Keohane and Davy Reddin both confirm they are standing for the poisition of President. Ballot underway.
Election of Officers about to begin
11.45am
Consideration of Other Reports concluded. Anti-Doping Policy now being read.
11.15am
Other Reports currently being considered.
11.10am
Secretary's Report taken as read and approved.
11.05am
Discussion of Treasurers Report brought forward on agenda and just completed.
10.50am
2021 Minutes currently being read.
10.40am
President Mervyn Cooney currently giving his final Presidents address to the meeting.
Minutes silence observed in memory of those who passed away since our last Convention.
10.35am
Convention just getting underway here now
10.15am
Our 2022 National Convention gets underway here from 10.30am.
Updates from Templemore will be posted here as the day develops and there will be some streams also on our Facebook page.
Latest National News
Latest Regional News