2022 in Review: Part One
John Manning looks back at the year in Leinster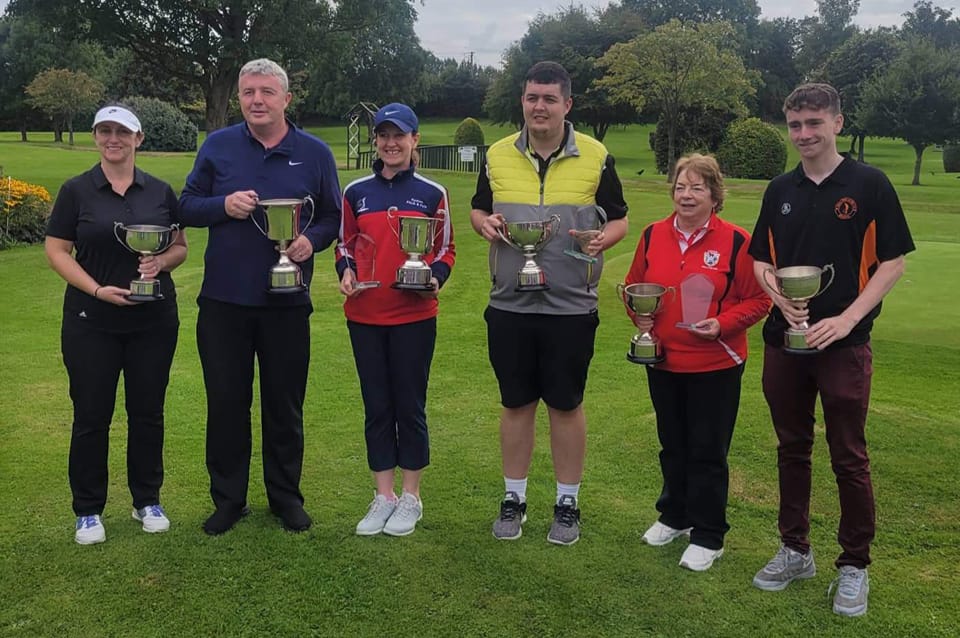 The Leinster Schools' Tournament at Ryston on May 6th had to be curtailed to 18 holes due to weather. Ard Scoil Chiarain Naofa, Clara (Conor Doyle 53, Neil Robbins 55, James Dunne 56) romped to a comfortable win on 164. Mercy Secondary School, Kilbeggan (Jack Mullins 53, Sean Jackson 59, Conor Mullins 61) took second place with 173, just ahead of Patrician Secondary School, Newbridge (Jack Hogan 56, Daniel Campbell 58, Conor Crudden 60) on 174.
John Carton & Kathleen Carton (Kilbeggan) put together impressive eighteens of 47 and 50 for an aggregate of 97 Stableford points and a five stroke victory in the Leinster Mixed Foursomes at Collinstown on May 14th.Catherine Dillon & Ian Dillon (St. Bridget's) filled second position on 92 points while Best Gross laurels went to Liz Quinn & Rene Jan Bloem (Collinstown) with 86 points (on the back 18 from Ryston's Chrissie Sheehy & Darren Keogh). First 18 winners were Bridie Cummins & Trevor Cummins (Trim) with 45 (on Back 6 from the Brennan's of Bellewstown, Marie and Richard) as Ursula Dowd & Eamonn Dowd (Navan) tallied 46 to claim the Second 18 award (on Back 9 from Barbara & Declan Murphy of Seapoint).

In a very tight contest for the Non Mixed title, Raymond & Benny Fay (Collinstown) prevailed on the Back 18 tiebreaker from Martin Power & Aaron Tobin (Ryston), after a tie on 94 points. A haul of 89 points clinched Best Gross for Gary Middleton (Collinstown) & Dessie Baker (Lough Owel). First 18 winners were Mark Newman & Fergal O'Connor (Rochfortbridge) with 45 while Aongus Coughlan & Jimmy Taylor (Erry) scored 48 to dominate the Second 18 category.
The Leinster Gent's Strokeplay Championships were decided at Trim and Stackallen on May 28/29th. In the Senior at Trim, Sean Goggin's great year started off when the MacBride star scored 146 to edge out Eamon Gibney (Castletown) by two. Eamon denied club-mate Evan Carry for second place on the Final 18. Nett winner was Wayne Allen (St. Patrick's) who signed for 101.
Diarmuid Cullen (St. Patricks) won the Intermediate event at Stackallen. His three round 147 tally proved one lower than Patrick Robinson (Gowran). Eddie Hockey (MacBride) took the bronze with 151 as Peter O'Sullivan (St. Patricks) posted 89 for Nett honours.

Martin Power was the dominant force in the Junior Championship at Trim – the Ryston man shooting 153 to finish eleven ahead of runner-up Glen Martin (Killineer). David Franklin (St. Patricks) took third on 166 while Nett winner was Ferbane's Nathan Egan on 95.
Stackallen hosted all of the Leinster Ladies Strokeplay Championships on May 29th. Senior Champion was Chrissie Sheedy (Ryston) who returned 98 for a one stroke margin over Ger Ward (Portmarnock). Liz Quinn (Collinstown) was next with 103 while Maree O'Toole (Shandon) claimed the Nett.

In a Meath 1-2-3 in the Intermediate Championship, Ursula Dowd (Navan) won with 111 ahead of Margaret Reilly (Oldcastle) on 112 and Suzanne Reilly (Oldcastle) with 114. Nett laurels were captured by Frances Farrell (Killineer).

119 secured the Junior Cup for Susan Rodgers (Custume), who was a three stroke winner over runner-up. Catherine Foster (Glenville). Annette Dowling (Trim) took third place with 127 (on the Second 18). The Nett category was topped by Marie Campbell (Glenville).
In an all-Gowran Leinster U16 Matchplay Championship final, at Custume, on June 26th, Jack McShane beat Michael Holland by 10&9. The Girls Final saw Molly O'Toole (Ryston) defeat Gemma Cuffe (Kilbeggan) by 3&2. The Plate Final resulted in a win for Billy Buckley (Collinstown) over Harry Tiernan (Ryston) by 7&6.
Jack McShane (Gowran) completed a double in the Leinster U16 Strokeplay Championship (10-13) at Seapoint on August 5th when the Kilkenny player's 104 saw him home, nine clear of Peadar O'Toole (Athgarvan) in second place, with Jack Courtney (Ryston) third on 118.
Mark Cadden (Oldcastle) headed the field in the Leinster Juvenile Strokeplay Championship (age 14-15) with a scintillating 99. That was five better than Shane O'Reilly (Killineer) as Michael Holland (Gowran) came in third with 110.
Sarah Cooney (Seapoint) posted 115 to capture the Leinster U16 Strokeplay Championship, at Seapoint. Gemma Cuffe (Kilbeggan) was second on 128, ahead of Molly O'Toole (Ryston) on 130.
The Short Grass County controlled the Leinster U16 Inter-County Championship at Seapoint, with Kildare A (Peadar O'Toole, Dylan Kavanagh, Rian O'Flaherty, James Keogh) shooting 364 to beat Kildare B (Jack Courtney, Adam Byrne, Molly O'Toole, Aobha O'Flaherty) into second spot on 380.
There was a Dublin double in the Leinster Inter-County Championships at Seapoint on August 7th.
Dublin Gents (Stephen Murray, Gary Healy, George McGreal, Chris Gallagher, Jason Larkin, Colin Byrne) dovetailed splendidly for 428 and a two stroke victory over Louth (Sean Goggin, Darren Fagan, Mark Millar, Jim Judge, Ian Donnelly, George Beardsley) while the Metropolitan Ladies (Sheelagh Elmes, Ger Ward, Helen Greagsby, Maree O'Toole) conjured up 315 for a margin of four over Kildare (Chrissie Sheedy, Marian Courtney, Tara Dillon, Mary Donnelly).
The previous day saw an exciting play-off for the Leinster Gent's Intermediate Inter-County Championship at Killineer. Wexford (Diarmuid Cullen, Ruairi Fortune, Dan Power, Peter O'Sullivan, Sean Cullen, Mark Kirwan Jnr) eventually saw off Westmeath (Mark Newman, Anthony Browne, Dean Dinnegan, Shane Kinahan, David Kiernan, Mick Dinnegan) over the extra holes after a tie on 472.

Louth (Glen Martin, Anthony Butler, Michael Leech, Adam Crosby, Stephen Behan, John Conaghan) combined for 474 and a comprehensive victory in the Leinster Gent's Junior Inter-County Championship at Killineer. Second were Wexford (Thomas O'Brien, Glen Buckley, John Peare, David Franklin, Dale Kirwan, Lee Murphy) on 499.

In a Stableford format Leinster Ladies Inter/Junior Inter-County Championship at Seapoint, Meath (Paula Lynch, Ursula Dowd, Margaret Conneely, Margaret Reilly) scored 260 points to win by nineteen from Louth (Marlo Everitt, Ann Ward, Mary Coyle, Bridie Hanratty).

National Strokeplay Champion Sean Goggin's provincial double was complete when the MacBride man beat Gary Healy (Loughlinstown) in the Leinster Matchplay Championship final at St Bridgets on September 18th. In the Ballymore Group sponsored event, Daniel Condon (Ryston) defeated Paddy Kelly (Trim) by 2&1 in the Intermediate final while the Junior decider saw David Holland (Gowran) outlast James Fagan (Loughlinstown) by 5&4.

The Ladies Matchplay also produced a Leinster double as Chrissie Sheedy (Ryston) beat Liz Quinn (Collinstown) by 2&1. Mary Donnelly (Ryston) earned another Kildare win with a 3&2 Intermediate final verdict over Yvonne Quinn (Trim). A Kildare treble was foiled by Audrey Donnelly (MacBride), a 1up Ladies Junior decider victor over Ann Williams (Ryston).
In the Ladies Social Tournament at St. Bridget's on October 16th, Dolores Mullen, Doris Weldon (both Glenville) & Margaret Conneely (Trim) delivered an imposing tally of 66⅔ to win from Licia Doyle, Glynis Smith (both Glenville) & Annette Dowling (Trim) on 68. First Session honours went the way of Susan Ritchie (RGSC), Jean McCarthy (McDonagh) & Gabrielle Sweeney (McDonagh) on 68⅔ while 69 swung the Second Session for Joyce Keane, Marion Carroll (both Glenville) & Bridie Cummins (Trim). Holes-in-one were notched by Breda Boyle, Deborah Mahon (both Glenville) and Paula Weldon (Trim).
Tomorrow: We look back at the year in Munster
Latest National News
Latest Regional News