2021 National Senior Mens Strokeplay Preview
A look at the Senior Mens event in Navan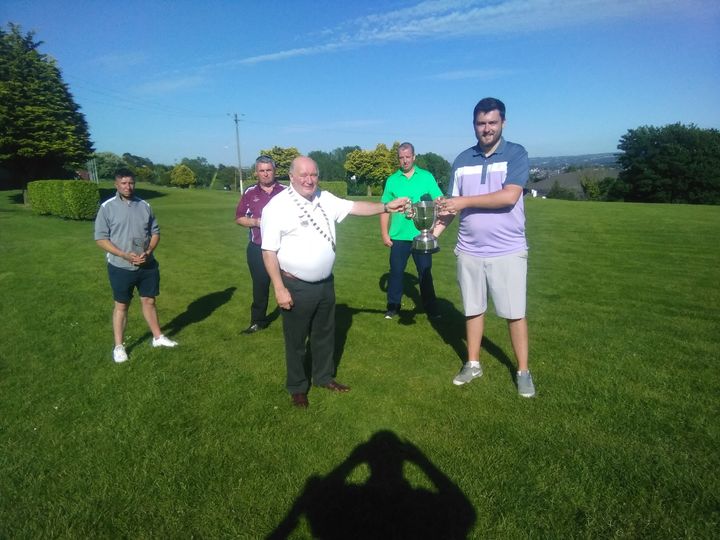 At a time of year more commonly associated with the National Inter-County Championships, the 2021 National Pitch & Putt calendar will conclude on Sunday with the Donnelly Cup battle being decided over 54 holes once more. Communications & Press Officer Jason O'Connor sets the scene ahead of Sunday morning in Navan for the Senior Gents.
As much as the switch to 36 hole events across the board has been welcome logistically since competitive Pitch & Putt resumed in June of last year, there is a sense something different and to done to mark a National Championship out differently from the rest. Hence the reason the Mens Championships return to 54 holes this year. Indeed, with everyone so used to almost an 'arrive, play and leave' feel to the last 15 months, it will be interesting to see how the extra 18 affects those in contention this weekend, having become accustomed to 36 hole days and not waiting around to see if they are in a playoff or not.
As John Manning told us during the week this is the first time ever a National Mens Strokeplay champion will be crowned in Navan and the field is interesting for a number of reasons not least the number of former National Strokeplay champions across various grades. National Matchplay Champion and Irish No 1 Damien Fleming will be out in the third last group on Sunday and will probably be happier to be entering a playoff soon after if he qualifies rather than waiting around. He will play with St Bridgets Ian Dillon, just over six weeks after he beat him in the National Matchplay semi-final as well as his Kerry compatriot Aidan O'Connor from Castleisland.
The defending champion, Shane Murphy of Rocklodge, tees off in the fifth last group in the first session with Lough Owel's Sean Dinnegan and Killineer's Peter Reilly. After winning over 36 in St Annes in June, Murphy will want to show he can win over the longer distance with the eyes of the crowd watching him a bit more closely. After missing out on making the Matchplay in Ryston, Murphy will be extra anxious to make an impression here. Another player happy to be here after missing out on Ryston is Loughlinstown's John Ross Crangle, the 2019 winner.
He has a former winner alongside him in his three-ball in Kilineer's Mark Millar, 2017 winner, as Cohlin Donovan of Ryston will be with them in the third last group of the first session. 2020 runner-up at his native track and winner of the club's Scratch Cup last weekend, Frank Dineen will follow them in the next group as he has last week's Lucan Scratch Cup winner Damian Creevy of the Dublin club and Tralee's Jason Cregan as playing partners. National Matchplay runner-up Ray Murphy begins the second session at 12pm with former winner Anthony Malone of Lucan along with Anthony Gibney from the host club. Murphy will feel he is due a good run at a Strokeplay for the first time since his last win back in Rocklodge in 2013. The third place finisher from St Annes back in June, Fermoy's Daniel Keohane, will have another player who caused a bit of a surprise in reaching the National Matchplay quarter-finals, Peter O'Donovan as one of his playing partners alongside Liam McMahon of Cloghogue.
The first three-ball of the day at 9am consists of two interesting names at various ends of the spectrum. John Walsh has won it all in the game and his form in the Scratch Cup circuit this summer suggests he could challenge this weekend while three-time National Boys Strokeplay champion Evan Carry of Castletown will feel being in his native county will give him his best chance yet of making an impression on an adult National Championship. They play with Dunshaughlin's Paul O'Rourke as the Meath challenge itself is interesting.
Paul Nolan (now of Navan) is a former National Matchplay semi-finalist as he plays with a former winner John O'Leary as well as Collinstown's John McDonald. Former Irish Open winner Eamon Gibney is out in the last group in the first session as he plays with 2003 winner William Buckley Jnr of Erry as well as Anthony Culhane of Tipperary Hills. Trim's Mark Gibney plays with a player who broke records in qualifying out of Dublin in Loughlinstown's Gary Healy as well as MacBride's David O'Brien. A Meath native follows in the next group as Listowel member Chris Gibney plays with former Irish Open runner-up Stephen Murray and Cloghogue's Conor O'Hare.
Former European Strokeplay winner Ian Farrelly of Bellewstown plays in the second session alongside a former National Intermediate Strokeplay winner in Trevor O'Donovan of Majestic and Hillview's Stephen O'Reilly as Trim's Niall Winters Jnr is a player who will want a good run at this event. He plays alongside a former National Junior Strokeplay winner in Lakeside's Brian Cahill, who won it at their playing partner, Tony Blake of Tralee's, host club. Returning to the National Matchplay and we have a repeat of a quarter-final pairing in one three-ball as 2020 National Matchplay winner Kieran Earls plays MacBride's Sean Goggin after the Louth player won their last eight meeting in Ryston. Being a bit nearer to home Sean will be hoping he can get close to the top step of the podium. Fresh from his first ever Scratch Cup win in Listowel last Saturday, John McGrath of Deerpark will want a good showing playing alongside Tralee's Jason O'Regan and Douglas' Robert O'Donoghue.
Another three-ball of note is the pairing of 1999 and 2004 winners Niall Cuffe of Kilbeggan and Darren Collins alongside Mellows' David O'Connell in the first session as St Patricks Paul Tobin, Joe McGrath Jnr of Erry and Shaun Mulryan of Trim will be the last three players to tee-off for the day around lunchtime on Sunday. One interesting thing to note is that the last three men to win a Donnelly Cup in Meath will not be amongst the 72-player field this Sunday. They were John Cahill in Stackallen in 2001, Liam O'Donovan at the same venue in 2014 along with Stackallen clubman Sean Downes at Royal Meath in 2005.
As we said at the start, 54 holes will require a small bit of getting used to again. If it's a long the day at the light starts to fade a bit then that creates another interesting dynamic as it is not the time of year traditionally associated with this competition.
Expect a few surprises on Sunday but whether it shakes up the established order any bit remains to be seen.
A safe journey to all those travelling to Navan, Stackallen and Tullamore this weekend for the various grades. Please note that due to spread of venues and amount of officers on duty, updates may be less frequent than at other Championships.
Latest National News
Latest Regional News