2021 National Matchplay Build-Up: Day Two
Declan Sheedy looks at the Ladies events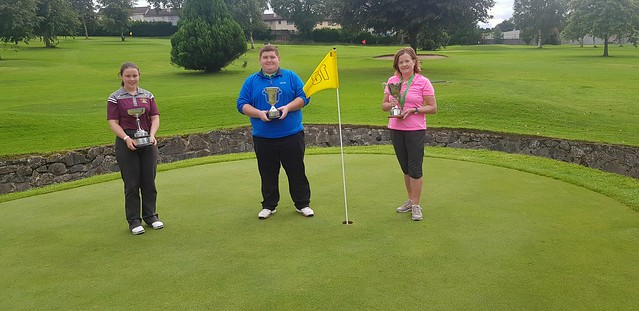 2021 National Ladies Matchplay Preview
By Declan Sheedy
The excellent Ryston course in Newbridge, Co Kildare plays host this weekend to the National Ladies Matchplay Championship commencing on Saturday with the finals scheduled to take place around lunchtime on Bank Holiday Monday. As with recent years two Nationals titles will be up for grabs with the National Ladies Gross Matchplay and National Ladies Nett Matchplay being played for. This year sees 21 ladies compete for the National Ladies Gross Matchplay title and 23 ladies challenging for the National Ladies Nett Matchplay in what promises to be two very competitive championships. With the draws announced last Saturday we preview both championships and the ladies competing for the coveted titles.
National Ladies Gross Matchplay Championship.
With 21 ladies entered, the championship will kick off on Saturday morning with five preliminary matches with the winners progressing into the first round of 16. Preliminary match 1 is an all-Kildare affair as 3-time champion Marian Courtney of the host club Ryston takes on her intercounty teammate and two-time National Seniors Strokeplay Champion Mairead O'Toole from St Bridgets. Awaiting the winner of this first preliminary match is defending champion and Irelands number 1 ranked player Martha O'Brien from the Lakeside club in Templemore.
Preliminary Match 2 sees 5-time champion Chrissie Byrne also from the host club Ryston, kicking off her championship challenge against Meath inter-county stalwart Ann Bird of Laytown. 2012 National Junior Strokeplay Champion Ailish Sexton from Fermoy awaits the winner of Chrissie's and Ann's match in the Round of 16. Preliminary match 3 pits the popular and well known player on the P&P circuit, Theresa King of RGSC against another Fermoy competitor, former Girls National Strokeplay Champion, Sarah McGrath.
The winner here will progress to take on the Dublin intercounty star and 2020 semifinalist Maree O'Toole of Shandon. Preliminary Match 4 sees two ladies with excellent track records in this championship take up battle and will no doubt be a very close affair. Shula McCarthy of Hillview who was a beaten semifinalist in 2020 takes on Ger Holland of RGSC who was also a beaten semifinalist in 2018 & 2016. Awaiting the winner and completing the top half the draw is the 2008 champion Tara Dillon from Ryston.
Preliminary Match 5 sees 2020 National Senior Strokeplay Champion Liz Quinn of Collinstown commence her challenge of adding the National Matchplay title to her resume. Liz takes on the prolific scratch cup and open competitor, Louise Grace of RGSC. The winner of this match will face the 2020 National Intermediate Strokeplay and Irish Open Champion Sarah O'Neill from the Collins club in Cork. In the round of 16 proper, Dublin duo and inter-county teammates Helen Greagsbey of Ierne and Pauline Balfe of Old County go head-to-head in what is sure to be a tight and competitive encounter.
The next match sees the 2019 National Matchplay Champion Mary Murray of Rocklodge take on current Intermediate Dublin Strokeplay Champion Marie Dooley of RGSC. The final match in the bottom half sees 2014 National Matchplay Champion and last year's beaten finalist Breda White of Tipperary Hills take on Kildare inter-county player and 2017 Leinster Intermediate Matchplay Champion Margaret Keogh of Ryston.
National Ladies Nett Matchplay Championship.
Like the Gross Championship given the numbers entered, Saturday will see seven preliminary matches take place with the winners all advancing to the Round of 16 on Sunday. With handicaps being used and as we have seen since the introduction of this Championship, we are in store for a very open and competitive event. Kicking off the championship in Preliminary Match 1 is Audrey Donnelly of McBride who takes on Hillview's Gemma Martin in a repeat of last year first round match when Audrey came out on top on that occasion.
Winner of this match will face the first of seven Glenville entrants in this championship in the form of Doris Weldon. It is great to see such a strong contingent from one club in a ladies national championship. Preliminary Match 2 is an all Dublin affair with Charlotte Finnegan of Loughlinstown facing 2006 National Junior Strokeplay Champion Mary Fulham from Shandon with the winner progressing to face multiple National Girls Strokeplay Champion Sophie Farnan of Skryne.
Preliminary Match 3 is the 2017 Munster Junior Strokeplay Champion Margaret Forde of Riverdale against Teresa Cooney of Glenville, with another Glenville lady in the form of 2015 National Seniors Junior Strokeplay Champion Catherine Fox awaiting the winner in the next round. Preliminary Match 4 is another Riverdale v Glenville encounter with defending champion Margaret Hennessy taking on Gemma Coyle. Awaiting the winner of this is 2014 National Seniors Intermediate Strokeplay Champion Betty Cody of Loughlinstown to complete the top half of the draw.
Preliminary match 5 is between Trim stalwart Margaret Conneely and the next Glenville contender, Dolores Mullen. The victor will face the sole Cork challenger Ann O'Herlihy from Lakewood. The Oldcastle club in Meath has seen a resurgence of ladies players in recent years and this weekend in Preliminary Match 6 Suzanne Reilly will take on Nora O'Meara from Glenville. Another Glenville lady, Marie Campbell sits waiting on the winner of this match.
The final preliminary match sees the lone Kildare entrant Abby Whelan of St. Bridgets take on the experienced Susan Richie from RGSC with last year's beaten semi finalist Veronica Anglim of Hillview awaiting the winner in the Round of 16. The last match in the round of 16 proper sees 2019 National Seniors Junior Strokeplay Champion Margaret O'Donovan of Bruff play the final of the Glenville challengers, Eileen Cousins.
There are two fantastic championships in store for the weekend and Ryston are sure to be exceptional hosts. We wish all competitors and supporters a safe journey to the Shortgrass County and a sporting and enjoyable weekend for all.
Tomorrow: We look ahead to the Mens event this weekend.
Latest National News
Latest Regional News