2021 National Matchplay Build-Up: Day Three
The battle for the Day Cup assessed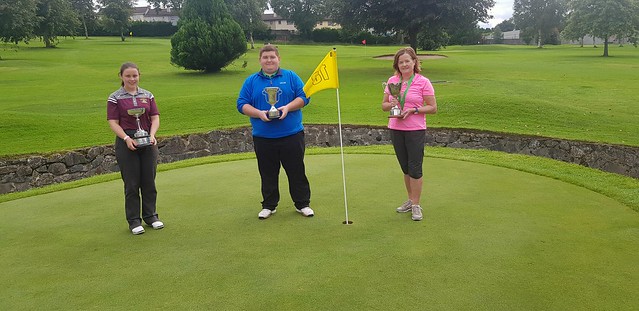 While the competition reverts to its traditional format and returns to a Bank Holiday weekend setting, the 2021 National Gents Matchplay will be noticeable for the absence of a few big names from the 64-strong field. Communications & Press Officer Jason O'Connor takes a look at the battle for the Day Cup in this piece.
For the first time since 2016, Pitch & Putt Ireland runs a national competition on the August Bank Holiday weekend. Liam O'Donovan of Bruff romped home to victory in Tullamore that Sunday as the world is a different place for a lot of different reasons now in going to back to the same weekend for a national five years later.
Regardless of the pandemic, Ryston hosts its third major national tournament in the space of five years. It's had some big ones at that in the National Inter-County (2017), the National Gents Strokeplay (2019) and now the third piece of the Pitch & Putt Ireland crown in the Matchplay. Our last two National Senior Gents Strokeplay champions have not made it through to here making this all the more unique. John Ross Crangle got the Strokeplay monkey off his back here in searing heat two years ago while Shane Murphy had similar conditions in St Annes back in June in winning the delayed 2020 competition.
Their absence makes the seeding interesting as Frank Dineen (Irish No 7) becomes the fourth seed with 2018 winner Bryan Delaney another big name not to have made it through here. Kieran Earls defends the title he won last September in Larkspur Park with a new club name attached to his name following the unfortunate closure of the Parteen course. He represents Bruff in teeing off in the first game on Saturday morning as he faces another National champion in Tralee's Michael Conway who won the 2020 Intermediate Strokeplay in St Stephens just over seven weeks ago.
It's a tricky defence for Kieran to start with and considering the defending champion last year, Damien Fleming of Deerpark fell at the first hurdle, he will know that nothing can be taken for granted prior to tee-off. Fleming is the highest ranked player amongst the field as his own first game is difficult in facing Stephen Shoer of Riverdale. He will want to avoid falling to a Tipperary player for the second year in a row after last year's loss to Anthony Culhane of Tipp Hills but he, like a lot of others, will be a lot happier that all rounds have reverted to 36 holes this year. That might reduce the likelihood of shocks from the possibility that there was with 18 holes matches in the first half of last year's event.
The top quarter of the draw has some interesting matches for those who follow things a bit more fully. Winner of the Senior Nett prize in St Annes, Martin Keohane will hope he can set up an all Bruff affair in Round 2 with Earls as he faces a returning Paudie O'Sullivan in the second match to tee-off. 20 years after his National Strokeplay win in Stackallen, John Cahill will hope he can bridge the milestone in some way this year but he faces a tough opener in 2019 semi-finalist Paul Nolan.
2010 winner Chris Scannell is in another 'Cork v Dublin' affair as he faces a player prominent at Intermediate level in recent years in Lucan's Gareth Walsh. Third place finisher at the 2019 Strokeplay here, Sean Goggin of MacBride, faces a club derby in facing Barry Thornton as the other Louth player of the same name, from Killineer, is here this weekend as well taking on Listowel's Killian O'Gorman in the first round.
After coming second on his home course at the delayed 2020 Strokeplay, Frank Dineen has a local player in his first round match as Willie Fitzgerald is one of three Ryston players amongst the field. Declan Mulpeter Snr will play Tralee's Jason O'Regan in the bottom half of the draw. We will talk about Sean Harkins' game further down. 1994 winner Derek Courtney is Kildare based nowadays and he is in the second section of the draw where Trim's Mark Gibney will be his Round 1 opponent. Multiple winner Ray Murphy's name will dominate, he will want to stay at level we all associate him with despite some new names making it to the top of the podium now.
Brian Webster will want to tap into some of the early form he showed in St Annes in facing Murphy but the meeting of 2003 National Strokeplay winner Willie Buckley Jnr and Loughlinstown's Gary Healy could be another interesting match to watch. 2011 and 2019 winner Damien Fleming will get the afternoon session going against Shoer. Castleisland's Gavin Carroll will be hoping to advance to a potential all Kerry affair in Round 2 but James Foley Jnr of St Patricks will be anxious to make progress himself this year.
Maybe the most interesting match in terms of 'youth v experience' is the meeting of former three-time winner Sean Harkins and three-time National Boys Strokeplay Champion (and former National U16 Matchplay champion as well) Evan Carry. Carry will want to do well at the senior stage pretty soon and you feel this will be an interesting test of his ability in playing one of the most well-known names in the game. Member of the 2018 Irish European Championship winning side, James Cleary of Hillview, faces Trim's Shaun Mulryan in this section too.
The bottom quarter contains some more U16 names of recent years. The runners-up in the Mens and U16 Championship Matchplays of last year will tee-off against each other in a unique final Round 1 game as Ian Dillon faces St Pats Dylan Hudson on home turf. Dillon will want to justify his No 2 seeding in the main and if he matches his fourth place finish at the 2019 Strokeplay here, then he will have done that. Returning to the U16 theme and the 2017 National U16 Matchplay winner in Seanie Bellew of Meath faces Justin Gill of Loughlinstown as a win might see him face the creator of the National U16 Matchplay itself in Round 2.
Fermoy's Noel Collins brought the competition in during his time as National Youth Officer back in 2016 as Michael McMarlow of Athgarvan will be his first round opponent. 2019 National U16 Boys Strokeplay champion Patrick Mitchell returns to National level to face John McDonald in Round 1 as returning to Liam O'Donovan he will be hoping for another memorable August Bank Holiday in taking on Aonghus Coughlan of Ferbane in this section.
Gary O'Sullivan v Daithi Sexton is an interesting Cork derby as 2016 semi-finalist Martin O'Neill also takes on Westmeath's Gerry Coyne in this section. Those are just a selection of the 32 Mens matches. As we mentioned earlier there will be a lot of happiness by some that games are gone back up to 36 holes along with the fact that there will be some spectators there to take it all in.
One interesting factor is that, bar club level, there has been no major Matchplay competition this year so it might throw up a few surprises as players readjust themselves to the up and down of the moving format.
One thing's for sure, we are looking forward to telling you how it all unfolds, in whatever way we can this weekend!
Best Wishes to everyone taking part in the three events this weekend. We intend to use a mix of score sheets, streaming and other updates to try and keep everyone abreast of how it is progressing this weekend.
Latest National News
Latest Regional News