2021 National Ladies Strokeplay Preview
Declan Sheedy looks at the field in Tullamore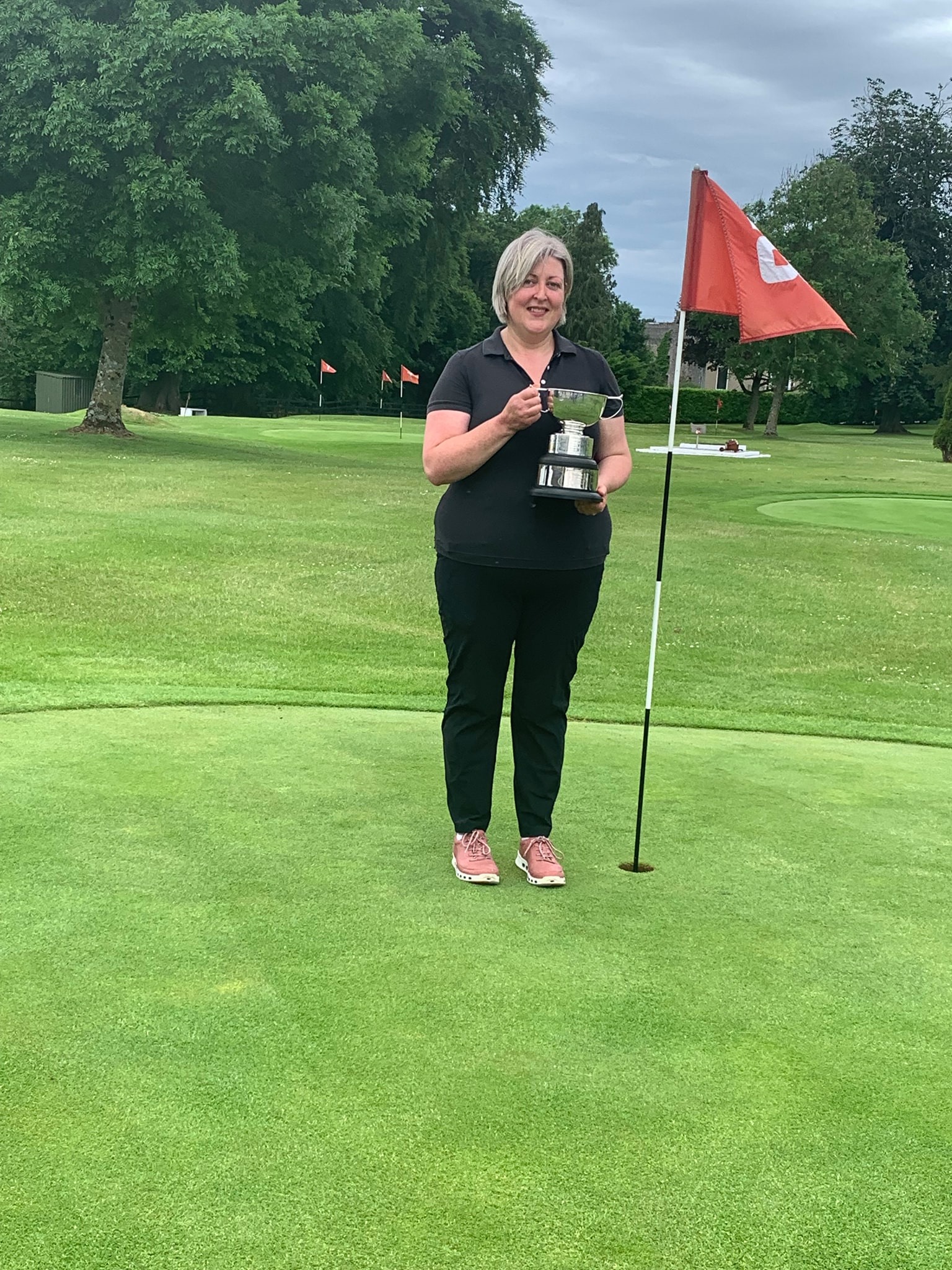 By Declan Sheedy
2021 National Ladies Strokeplay Previews
The 2021 National Ladies Strokeplay Championships takes place this Saturday Sept 11th and Sunday Sept 12thin Tullamore, Co Offaly. A unique championship given it was only three months ago where five minutes' drive from the Tullamore course that the 2020 National Ladies Strokeplay champions were crowned in Kilbeggan. Despite this a total of 96 ladies are set to compete in the 2021 Championships with the Intermediate Championship being held on Saturday September 11th and the Senior and Junior Championships being played for on Sunday Sept 12th. Ahead of what promises to be three very open and competitive championships we preview those entered this weekend in each grade.
Ladies Senior Championship
Having only won the 2020 title a mere three months ago in Kilbeggan, defending champion Liz Quinn (Collinstown) will have no intention of giving up her title that soon and can be expected to put in a very strong defense her title on Sunday. Ireland's No 1 ranked Ladies player and 2019 champion Martha O'Brien (Lakeside) sets out to reclaim the title she narrowly relinquished on a count back in Kilbeggan in June. Meanwhile 10-time champion Ger Ward (Portmarnock) returns to Tullamore where she won this title when it was last played at the Arden venue in 2007 aiming to extend her record haul of Strokeplay titles.
Seeking to complete the 2021 double of National Strokeplay and Matchplay Championship wins will be the in-form and three-time champion Chrissie Byrne (Ryston) having won the National Matchplay title last month in Ryston. A player who will be fancied by many this weekend is five-time champion and home player Margaret Hogan (Tullamore) as she challenges for another title on a course she knows better than anyone. Breda White (Tipperary Hills) is a two-time champion and off the back of strong and consistent performances all year should contend strongly yet again this weekend. It was on this course in 1999 where Marian Courtney (Ryston) claimed her sole Strokeplay title and will return with fond memories aiming to double her Strokeplay title tally.
Sheelagh Elmes (Portmarnock) will be out to end a 26 year wait for her second strokeplay title have won her one strokeplay title in 1995 in Portmarnock. Dublin's clubs are well represented this year with Maree O'Toole (Shandon), Pauline Balfe (Old County), Phil Condron (Lucan), Barbara Furlong (Lucan), Helen Greagsby (Ierne) and the RSGC trio of Glenda Hoey, Siobhan Keely and Louise Grace taking to the tee. In addition to Chrissie and Marian, the Ryston club in Newbridge has three more competitors in the field in the form of Margaret Keogh, Tara Dillon, and Mary Donnelly each seeking their maiden title.
Sarah O'Neill (Collins) sets out in her quest to add the senior strokeplay title to her Intermediate and Junior titles she won in 2020 and 2014 respectively and she will be joined by her club-mate on Sunday Vera McCarthy. Following a third-place finish in the 2020 Championship in June, Mary Murray (Rocklodge) will be hoping to capitalize on good 2021 form and better that bronze, while Fermoy's Sarah McGrath completes the challengers coming from the Rebel County and can be expected to perform well. Last but by no means least and completing the senior line up is the experienced Mary Agnew (Collon) who like all other will have ambitions to lifting the title coming Sunday evening.
Ladies Intermediate Championship
A truly wide-open championship in store on Saturday in this grade with a new champion to be crowned as defending champion Sarah O'Neill steps up to senior grade. Home advantage has regularly proven a key factor in the destiny of such titles and thus one cannot overlook any of the three Tullamore players entered, Denise Pyke, Annie Galvin, or Deirdre Byrne on Saturday, with Denise showing excellent form in the recent Joe Pyke Masters held in Tullamore.
One of the great players of the Ladies game and senior strokeplay champion from 1996 Rose Kelly (Ryston) will challenge along with previous winners of this Intermediate title Mairead O'Toole (St.Bridget's) in 2001 and Bernie Dunne (McDonagh) in 2000, plus a number of previous Junior champions take to the tee in the form of Adeline Revins (Kilbeggan) in 2019, Margaret Forde (Riverdale) in 2017, Ailish Sexton (Fermoy) in 2012 and Mary Fulham (Shandon) in 2006, all with ambitions for the more title success. Two other players from the Shortgrass County in the form of Catherine Smith (McDonagh) and Marian McCormack (Prosperous) will be out to stake their claims for a medal.
Joanne Cooney (Seapoint) is another player showing strong form coming into the championship and will be hoping to bring another national title back home following the success of her daughter Sarah winning the girls national strokeplay championship only a few week ago. Joanne's club-mates Marlo Everitt and Barbara Murphy are also entered along with McBride's Audrey Donnelly, all hoping to bring medals back to the Wee County. Una Brosnan (Claycastle), Patsy Donovan (Collins) and Paula Nolan (Rocklodge) along with Ailish Sexton are the quartet of players from Cork clubs this year and all should bring very strong challenges this weekend where it would be no surprise if at least one medal were to be heading southbound Saturday evening.
Dublin clubs are well represented year with all players hoping to bring this title back to the capital for the first time since 2011 when it was last won by Paul Balfe of Old County. This weekend's challenges sees Julianne Hoey (Glenville), club-mates Vera Glennon and Dolores Mason (Old County), RGSC's Susan Ritchie, Theresa King and Marie Dooley and Ringcommons duo Patsy Quinlan and Marie Shiels joining Mary Fulham in the championship. Tullamore will be a familiar venue for many of the Dublin ladies and we should expect to see a number of these names at the top of end of the final leaderboard.
Elaine Quinn (Lakeside) will have fond memories of Tullamore having won the inaugural Nett Matchplay Championship here in 2018 and thus a proven winner around the Arden venue and could feature again in the medals. Liz Forde and Margaret Courtney (both Riverdale) plus Lorraine Creed (Hillview) travel from the Premier County to challenge while the lone competitor from Limerick again this year is Bruff's Margaret O'Donovan. Great to see the Ashgrove club represented again on a national championship weekend with June Vereker flying the club flag as she takes to the tee in her challenge for the title.
Meath clubs are heavily represented in this championship and due to proximity Tullamore; this championship venue will be well known to the Meath ladies and what it will take to navigate the challenges posed by the Tullamore course. Ann Bird (Laytown), Suzanne Reilly (Oldcastle), Paula Lynch (Oldcastle), Margaret Reilly (Oldcastle), Teresa Fagan (Royal Meath), Rachael Crawley (Royal Meath), Sophie Farnan (Skryne), Margaret Conneely (Trim), Mary Nally (Ferbane) and Eileen Guerin (Ferbane) tee up on Saturday all with their sights on the title.
In addition to Adeline Revins, Westmeath clubs are represented by Kathleen Carton (Kilbeggan) who finish third in the 2020 championship and with Tullamore only a couple of kilometers down the road will be hoping to improve on her third place finish this weekend alongside Veronica Clarke (Kilbeggan) and Mary McKenna (Custume),
Ladies Junior Championship
We are set to crown a new first-time champion in the Junior grade this Sunday with 26 players setting out to claim the title. Like both the Senior and Intermediate Championships it is very difficult to pick a clear favourite in the grade in what promises to be a very open Championship.
On paper Margaret Hennessy (Riverdale) may be many peoples pick having won the 2020 National Nett Matchplay Championship last year in Hillview and Larkspur and knows what it takes at national championship level to win gold. The home club of Tullamore is represented by Lynda Carton where local knowledge for the tricky venue could prove invaluable in her challenge. St Bridgets duo Ann Sweeney, Runner-Up in this championship in 2019 and her club-mate Catherine Dillon are no strangers to championship days and this experience will no doubt stand to them on Saturday in their quest for medals. Ann Williams (Ryston) completes the competitors from the Shortgrass County in this year's championship. The Gowran club in Kilkenny have five Ladies travelling to play in the hope of bringing this title back to the Marble County for the first time.
The challenge will come in the form of Stasia Heaphy, Ina O'Donnell, Marie Power, Chrissie Keating and Ann Hanrahan. Joining the Gowran ladies from the CKW region is Ann Hickey (Bagenalstown).The Glenville club will be hoping the cup stays within the club for a further year following the success of Dolores Mullen in this Championship in Kilbeggan in June. Seeking to complete a back-to-back for Glenvillewill be clubmates Nora O'Meara, Doris Weldon, Licia Doyle, Catherine Fox and Caroline Jordan. With the Glenville ladies no strangers to championship days, a strong challenge can be expected for medals to end up in the Tallaght clubs come Sunday evening.
Charlotte Finnegan (Loughlinstown) and Linda McGee (Dunshaughlin) too will be hoping to bring a medal back to the capital and to their respective clubs this weekend. Tipperary clubs are well represented this year again as joining Margaret Hennessey will be Hillview's Veronica Anglim and Gemma Martin, Larkspur Parks' Grainne Shelley and Lakeside's Josephine Tobin, each hoping to continue the strong success of Tipperary players and clubs in National Ladies Championships in recent years. The other Munster based players making the trip to the midlands this weekend with their sights on the title will be Mary Ann Byrne (Fermoy), Ann O'Herlihy (Lakewood) and Hilary Walsh (Tramore)and their challenge cannot be overlooked.
With the Ladies' Championship reverting to a 36-hole format again this year, the shorter format will mean all the players will be hoping for quick starts and avoid ruling their challenge out in the early stage of the championship. The challenging but excellent Tullamore venue can again be expected to present the course in championship condition this weekend and we can look forward to three very competitive championships and the quest to crown our three 2021 National Strokeplay Champions.
Best of luck to all competitors taking part.
Tomorrow: We preview the National Senior Mens Finals in Navan
Latest National News
Latest Regional News