2021 Convention Presidential Address
Mervyn's speech to Convention last Saturday morning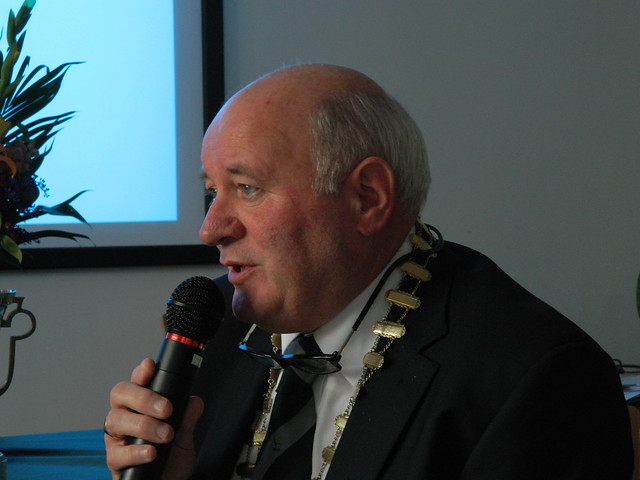 Ladies and Gentlemen,

It is once again a great privilege to address Convention as your President, albeit in a totally different way to what we are used to. The idea of having a virtual meeting is a very strange one indeed, I don't believe any of us would have ever considered it as a remote possibility but Covid-19 has turned many things upside down since it arrived in this Country in early 2020. Prior to its arrival we had been getting on with task of getting the 2020 season underway, planning for our Provincial and National Championships and a full list of open and Scratch cup events. This was all to come to sudden halt with the Country going into lockdown.

I know this decision divided opinion and the NEC was heavily criticised by some for following Public Health Guidelines, but I think we had no option but to adhere to the guidelines laid down by Government and conveyed to us by Sport Ireland. I do understand the frustration felt by many given the fact that we are a non-contact outdoor sport, but the health and well being of our members must always be to the forefront of our thinking.

I want to thank our County and Regional Boards for their cooperation in holding the Annual Conventions, confirming their officers and adopting their accounts for 2020. I know early in the year we made a decision to hold off on Conventions as perhaps not everyone would have access to virtual meetings, but in March of this year it was apparent that we would have to go down the road of a virtual convention and I stated this in an article on our website during March. It is vitally important that Pitch & Putt Ireland continues to receive funding from the Government through Sport Ireland. To qualify for payment of the balance of our 2020 grant and to receive the application form for the 2022 grant we need our accounts approved and our mid-year review completed before early July, hence the need for this virtual convention.

The 2020 season was so stop start that it is difficult to review in any great detail, but it is heartening to see our sport regained some of its lost popularity with a surge in membership in a large number of clubs, giving us our highest registration numbers in quite a few years, this in turn was very beneficial to our County and Regional Boards giving them additional income in the form of increased rebates and helping make up for the loss of Competitions. The NEC were very pleased to receive €49,000 in grants from Sport Ireland following our application to them under Covid related funding. This money was distributed to clubs under two headings, one based on registration numbers and secondly if clubs had not been able to hold their Open or Scratch Cup, in general this was well received by clubs and provided some additional income in what was a most difficult year. This year the NEC decided to reduce the annual registration fee by €5 this again will be of significant benefit to clubs and could see as much as €40,000 retained by clubs, again this will help clubs who for whatever reason are unable to hold their usual fundraising events.

We commenced the 2021 competitive season with the playing of the postponed 2020 Strokeplay, I know opinion on playing this was divided but by and large I think it was well received and proved a perfect opener to this season which is again greatly curtailed due to ongoing pandemic measures. I want to commiserate with our host clubs who didn't have the opportunity to play host to our scheduled events for 2020, I really understand the frustration you must have endured, you must be congratulated and thanked for all your hard work and effort put in to preparing your courses. I think especially of the Collins club whom I know had put in amazing work to have their course in top class condition and unfortunately the Strokeplay had to be cancelled. I would also like to record my appreciation to the St Annes and St Stephens clubs for stepping in to host the delayed 2020 Strokeplay, and my thanks also to the Kilbeggan club for their hosting of the 2020 Ladies Strokeplay.

Like many sports we are encountering difficulties getting administrators into our sport especially at Board level, and at present we have two counties without elected Boards. The NEC will of course support the clubs in those counties helping to organise championships etc and will invite clubs to meet under the chairmanship of an NEC officer to elect a board. I know people may be reluctant to come forward to serve as administrators as it is very time consuming in such a fast paced world, and of course the inevitable criticism that you may be subject to. It is fair to say that our sport needs the next generation to get involved in administration, on a personal level I am in the twilight of my volunteering life so if we are to continue to hold our prominent place in Irish sport we need people to answer the call.

At times we are criticised for not doing enough to promote our sport and perhaps this may be justified. The NEC this year agreed to seek the assistance of a digital marketing expert and they reached an agreement with Sean Tackaberry to carry out a marketing strategy on behalf of Pitch & Putt Ireland, I know Sean has been in contact with lots of people around the country and is currently preparing to launch a marketing programme in the near future. We all look forward to seeing Pitch & Putt increase its exposure and I have no doubt Sean will succeed with his task.

At last year's convention I spoke of the need to explore the possibility of a fourth grade to help some players who it would seem are caught between grades. It was my intention to review the input into the new handicap system for 2020 and come to a conclusion based on that information, but this was so limited that I decided to wait and combine the information from both 2020 and 21 seasons and see what way to progress for the benefit of our players. The big decision is where would a fourth grade be most beneficial, at the lower end of the handicap scale, or the top end, this is something which will need considerable thought.

I would appeal to clubs to become more involved with the handicap system; the new improved system is as fair as a handicap system can be. I think everyone will agree that there is no such thing as the perfect handicap system. If all clubs interacted with the system and entered the required number of stroke play competitions which is set at a very modest five for a season we would get a much more level system and a better picture of how it is working in all clubs. The other major issue is the persistent one of non score returns, this results in cuts being greater than they would have been if all players returned scores.
It appears there are different reasons for this, some players are embarrassed to return very high scores, some won't return if they think they may be inside the buffer and don't want to be cut, and at the other end low handicap players who know their score is outside the buffer and they don't want .1 back as it might take them out of the senior grade. All of this behavior is very unsportsmanlike and we have to try to find ways to stamp it out.

Our office closed in March 2020 and we have operated since from our Secretaries house which is a huge imposition on any home, I want to publicly thank Michael and his wife Joan for allowing this to happen.

I know some people are not happy that we are having a virtual convention as it is not provided for in our Constitution. I respect their views, but nearly all sports bodies have had to do things in a way that is different to the norm, 18 months ago I had never heard of zoom let alone take part in a meeting held via this medium, but it has turned out very beneficial.
We have had a number of excellent NEC meetings conducted via zoom, and I have no doubt it will have a role to play in the months and years ahead.

Thank you for listening,
Mervyn Cooney
Pitch & Putt Ireland President
Latest National News
Latest Regional News