2020 National Strokeplay Scoreboards
Updates from our three venues today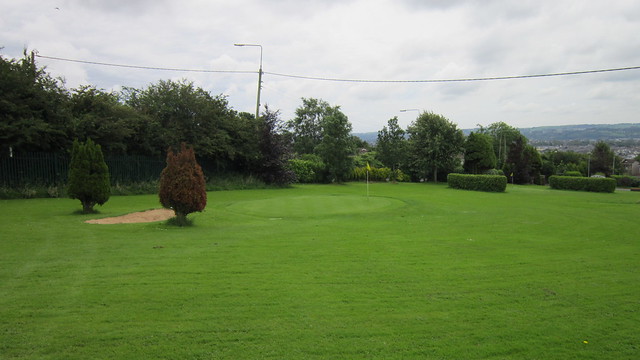 2020 National Ladies Strokeplay Scoreboard
2020 National Gents Strokeplay Scoreboard
Updates from St Annes, St Stephens and Kilbeggan can be found from the links above.
In an extraordinarily tight finish to the National Gents' Strokeplay championship at St. Anne's, Shane Murphy (Rocklodge) is the new champion. Murphy posted rounds of 48 and 45 to set the clubhouse target of fifteen under par 93. Shane's score was later matched by 2008 champion Frank Dineen of the host club but Frank's eighteen splits of 46+47 saw him denied on the tiebreaker, which applies this year due to the pandemic. Following his 2016 success at Seapoint in the Matchplay, Shane Murphy becomes the sixteenth player in history to lift All Ireland Gents' Matchplay and Strokeplay titles. Daniel Keohane (Fermoy) blitzed the course for the best single round of the championship – a second eighteen 44 – to claim third position on 95. Martin Keohane (Bruff) captured the Nett prize with 94, again via the tiebreak route, from David Sexton (Fermoy).
One of the most successful players in international Pitch and Putt ladies open history finally struck gold on domestic soil today. Liz Quinn (Collinstown) fired rounds of 52 and 51 at Kilbeggan for a 36-hole aggregate of five under par 103. That gave Westmeath Inter-County player Liz (a national Mixed Foursomes winner in 2001) victory on the back nine countback from holder Martha O'Brien (Lakeside), who also scored 52+51. 2019 National Matchplay champion Mary Murray (Rocklodge) was just a single stroke back in third place, also benefiting from a back nine tiebreaker with Helen Greagsbey (Ierne). Helen's consolation was to secure Best Nett honours with her 90 return off seven.
Dolores Mullen became the first Glenville player to win the National Junior Strokeplay championship following her fine performance at Kilbeggan. The Dublin lady spread-eagled the field with her opening round of 56. That gave the reigning Dublin Strokeplay champion a four shot halfway cushion and a carefully-played second eighteen of 62 ensured a two stroke victory. Dolores, who picked-up the Best Nett award at the 2019 Leinster Strokeplay championship (also in Kilbeggan), signed for a 36-hole tally of 118, which left her two shots clear of runner-up Catherine Dunne (Riverdale), whose 57 final round gave her the silver medal on the countback. Seapoint's Barbara Murphy (the 2019 Leinster Matchplay champion) finished in third place, also on 120, while Nora O'Meara (Glenville) scooped Best Nett laurels with an impressive 81 off a handicap mark of 20.
Three Kerry players dominated the junior championship at St. Anne's. Young Jake Shine from Listowel became the first player representing a Kerry club to win the National Gents Junior Strokeplay since 2013. A 2019 National Juvenile Inter-County winner with Kerry, Shine signed for a 7 under par 101 after eighteens of 50 and 51. Brian Moynihan (Tralee) fired 53+49=102 to take second place on 102, just a shot clear of Castleisland man Paudie Looney who carded five back nine birdies in his second round of 51. Douwe Van Sinderen (Rocklodge) took 36 nett on 81 off a handicap of 12.
The Kerry double was complete when Tralee's Michael Conway emerged victorious in the intermediate championship at St. Stephen's. Former leading Kerry juvenile Michael Conway fired rounds of 50 and 47 for an eleven under par aggregate of 97. That 47 second eighteen gave Conway the tiebreaker advantage over 1995 champion Michael Herlihy (E.S.B.) who carded 47 and 50. Gerard Twohig (Ryston) posted 98 late in the afternoon to claim third place while Stephen Knight (Royal Meath) was Best Nett winner with 85.
2014 National Junior Strokeplay winner Sarah O'Neill (Collins) captured today's intermediate ladies title at Kilbeggan. Sarah O'Neill fashioned rounds of 55 and 54 for 109 to prevail by the narrowest of margins from Barbara Furlong (Lucan) and home club representative Kathleen Carton. Barbara's ultra consistent 55+55 = 110 performance gave the 1986/87 All Ireland Girls champion the runners-up slot on the countback from 1999 runner-up Kathleen Carton who scored one under par to hold the halfway lead.
Joining her Kilbeggan clubmate on the podium was Veronica Clarke who returned 91 off 14 handicap to capture Best Nett honours.
Sarah O'Neill becomes the sixth different player in history to win both the National Ladies Junior and National Ladies Intermediate Strokeplay championship.