2020 National Ladies Strokeplay Winners in Profile
John Manning speaks to the three winners from Kilbeggan last weekend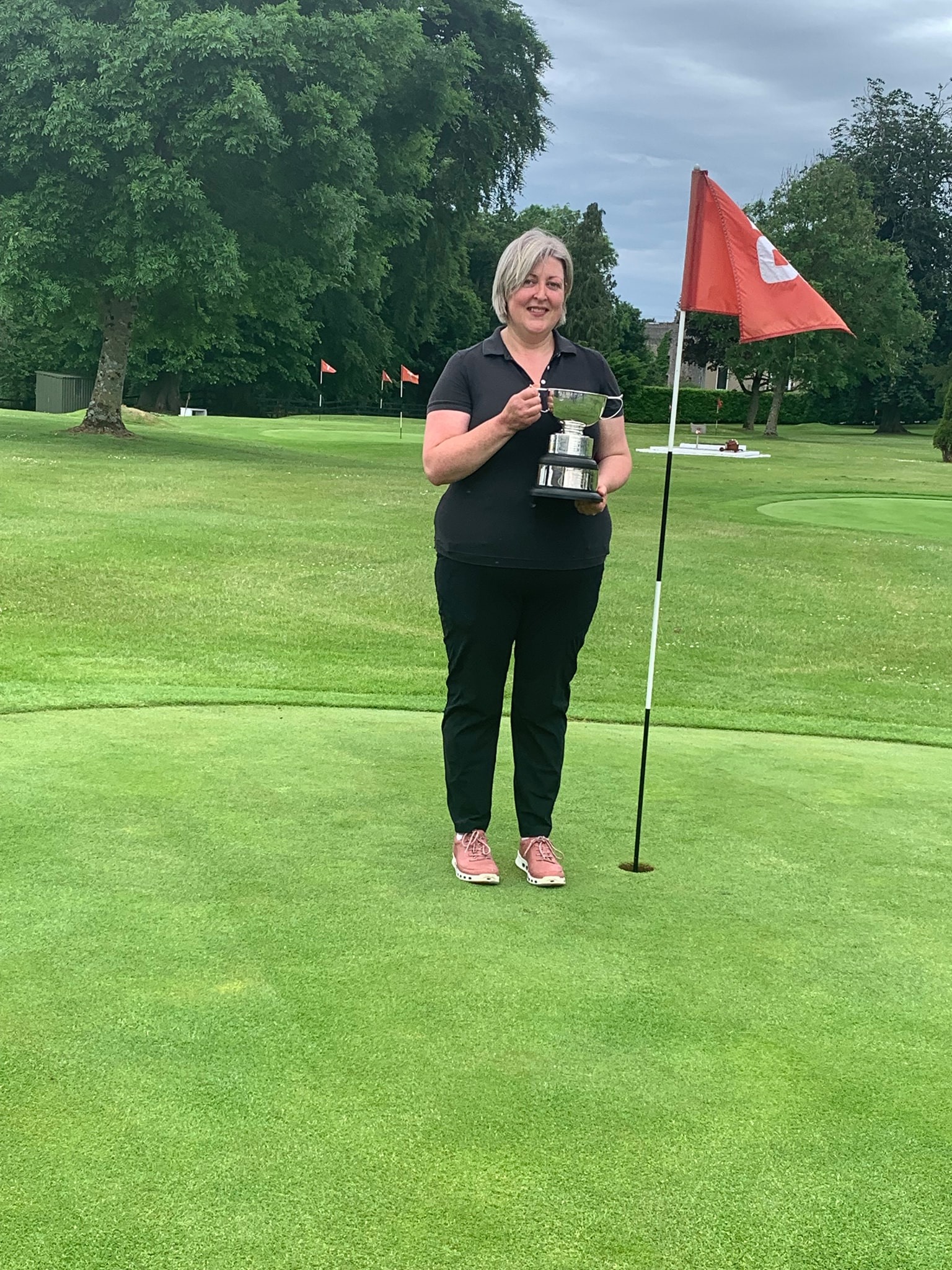 Following their victories last weekend in Kilbeggan, John Manning spoke to our three National Ladies Strokeplay Champions for 2020.
Liz Quinn (Collinstown) Senior Winner
Liz Quinn's name adorns the Roll of Honour at the San Marino (three times), French (twice) and Dutch Opens along with two 2007 wins in Australia, making the Collinstown lady one of the most successful ladies in international Pitch & Putt history.
Domestically, Liz has tasted a National Mixed Foursomes victory, won inter-county medals with Westmeath, delivered provincial and All Ireland Mixed Foursomes Best Gross awards and accumulated many Scratch Cup wins across the country.
But her career resumé lacked a deserved individual national title. Until now, that is!
How does Liz describe her emotions after her victory in the delayed 2020 National Strokeplay championship at Kilbeggan?
"John Browne called it the 'Holy Grail' on the Collinstown Facebook page. I always live for today. I never really set down huge ambitions. I always enjoyed playing and I knew I was a good player, but I'd never managed to get across the line in Ireland. I always wanted to win one but I probably never thought I could. It hasn't sunk in yet."
Liz pays tribute to Rene Jan Bloem, John Browne and Alan Hanlon for their encouragement and support. "I didn't have the confidence and I've always managed to lose it. I'd have played well but I just wouldn't have come in with the score that I should have. I always managed to do something stupid and wreck it."
It's all relative of course. A former County Board Secretary and Competitions Officer, Liz was Westmeath Strokeplay champion 10 years in-a-row from 2002 and seven times the County Matchplay victor. But the lack of a national individual trophy rankled.
Liz follows her own unique preparation method. "I don't put in an awful lot of practice. I'm lucky in that I think I'm a natural player. If I go out and practice on my own I lose interest and I play worse. It's all about on the day and how my head is on the day. I'm better if I manage to leave my brain in the boot! For some reason on Sunday I was able to do that and win."
Although Liz has built up a huge store of know-how on the international circuit, she reckons there was a fundamental key to her landmark success over the weekend. "I'm sure the experience of all the years helped but one of the bigger things that helped me on Sunday was that I have managed to sort out my putting. Over the years, I'd stand up on a green and I'd have no idea whether the ball would go into the hole. I think women are naturally good putters but I would never count myself as a naturally good putter. With excitement and adrenalin I was liable to do anything with aputter in my hand!"
An equipment switch to the Odyssey 9 Works has helped. "But last year, I changed my putter and managed to get more confidence in my putting stroke. It was a mental change and on Sunday I managed to hole some very good putts that I normally wouldn't. It was never normally the pitching that was the trouble. I'd normally lose more on the green."
An ace on the 30 metre 16th second time round at Kilbeggan was a huge boost to Liz. "I was delighted! I don't normally get holes-in-one! I have only had five (aces) in my life! I was third in Leinster (Strokeplay 2010) up in RGSC and I had a hole-in-one on the 18th that day."
Perhaps a bit of good fortune was due at Kilbeggan. "I don't consider myself a lucky player. Several putts had lipped out. Margaret (playing partner Margaret Hogan) said. 'I've never seen as many putts not go in and unlucky.'I knew when I struck the ball on 16, I had pitched it well. I watched it from the tee and thought, 'That's going to go in' and it duly did! I love the last three holes. I had been pitching well all day. Chrissie saw it going in as well. I didn't react. I just took it in my stride."
Margaret Hogan (who knows one or two things about winning nationals) stressed the importance of that ace but Liz was unsure. "I had no idea of scores. I obviously knew what Margaret was doing. I went to five with the hole in one. I was better off (not knowing). I had decided I was enjoying it. I was very relaxed with Margaret on Sunday. Even afterwards, I went to the car and didn't watch the scores."
"Paul Bray sent me a text afterwards. When I won the foursomes with him, I was a high handicapper and I had no idea of the scores then either. He didn't tell me when I had the last putt (which Liz holed for victory)."
The indications were there that a breakthrough was close. Liz slid quietly into sixth place at the 2019 National Strokeplay championship at St. Bridget's, her first appearance in the final round since 2006. After reaching the 2019 Leinster Matchplay semi-finals, she claimed second place in the 2020 Lough Owel Irish Open.
National Matchplay quarter-finalist in 2011 and 2020, Liz bemoans another missed opportunity in her last eight Larkspur Park encounter last September with ultimate champion Martha O'Brien. "I outpitched her. I was well ahead but I gave away the match. This is my brain! Anybody else would have not have lost that match. For some reason, I said to myself, 'You're not going to beat her.' I put people on pedestals. I grew up with Rose McCormack and Margaret Hogan and they were always way better in my eyes."
But Liz obviously sensed a date with destiny was near. "On Sunday morning I was nervous. I like Kilbeggan. I was disappointed when it was postponed last year – I was playing really well."
There may be more to come. "Now that I know that I can win… I work full-time and I have two kids…but if I watch my chipping and putting, who knows?!"
Sarah O'Neill (Collins)- Intermediate Winner
The portents were there from early on that Sarah O'Neill's Pitch and Putt career would be something special. Her father Finbarr and late mother Mary were steeped in Collins Pitch and Putt club and both were National (0-55s) Champions. Sarah's first major success was to be crowned Cork Juvenile Girls Strokeplay champion at Rocklodge in 1995.
Sarah and Finbarr fired +17 at Dunshaughlin to finish second in the 1996 National Mixed Foursomes. Sarah then clinched the Munster Junior Strokeplay Championship at Lakeside in 1997, scoring 116 to beat runner-up Lily O'Brien (Lakeside) by five strokes.
Having shared the 36-hole lead in the 1999 National Ladies Junior Strokeplay at Tullamore, Sarah posted a disappointing final round to finish fifth.
Sarah linked with Mary (RIP), Finbarr and Michael O'Donovan to win the 2000 Munster Mixed Team Event at Cunnigar. The Collins quartet beat runners-up Lakewood on the tiebreaker after a tie on 164.
After a lengthy break, Sarah returned to the sport and lost no time in winning the 2014 Cork Ladies' Strokeplay Championships, at Collins. Sarah's 124 proved six better than runner-up Karen Aherne (Ballinlough).
Even better was to come at the 2014 National Ladies Strokeplay Championships
in Fermoy. Banishing any lingering 15-year-old demons, Sarah compiled rounds of 57, 56 and 56 for a comprehensive victory over Lily O'Brien (Lakeside).
After successive third places in the 2017 and 2018 Munster Ladies Intermediate Strokeplay Championships and a loss in the 2017 Cork Matchplay Championship final at Rocklodge, the Sarah O'Neill success story took off in earnest.
Sarah was crowned National Ladies Matchplay Nett Cup champion at Rocklodge in 2019. After a semi-final victory over Dubliner Christine Mulvey (Glenville), Sarah won the final by 4&3 over Collins club-mate Patsy O'Donovan.
After a couple of runner-up slots in the 2019 provincial championships, Sarah O'Neill delivered a superb display at Lough Owel in the 2020 Irish Ladies Open. Having scored 57 on Saturday to trail Liz Quinn by a single stroke overnight, Sarah fashioned a fine final round of 53 for a 36-hole aggregate of 110 and a two stroke winning margin over Liz.
And so to her latest triumph– a two-round 109 at Kilbeggan to capture the 2020 National Intermediate Strokeplay.
How does Sarah feel to be the sixth player in history to win both the National Ladies Junior and Intermediate Strokeplay championships? "I didn't know that stat," laughs the Collins lady, "But I'm delighted now to be added to the list. I've been trying to win the Intermediate title every year since my National Junior win in 2014 and I'm just thrilled now to have both titles to my name."
Nobody yet has won all three. Does Sarah think it's a possibility? "Never say never! That would certainly be some achievement!"
Sarah had it going early at Kilbeggan. "I got off to a great start, being three under after six but, all of a sudden, the nerves kicked in and I dropped a few shots over the next few holes, which was disappointing, reflects Sarah. "After that I just tried to keep steady and thankfully it was just enough on the day."
Sarah's practice opportunities were somewhat limited. "I played the course last year before the postponed championships. I got the opportunity to play it again a few weeks ago but just on the one occasion this year, as it is a bit of a trip from Cork. The 2020 Championships came around very quickly with us all just getting back to the game in late April after months away from the course. "
Not surprisingly, the host course earns an unequivocally positive assessment. "Kilbeggan is a stunning course - in immaculate condition. It's an absolute credit to the club and it was a treat to play it on Championship day. It's deceptive. On first impression you'd think it's a nice flat, easy course. There isn't a bunker to be seen but there are tricky positioned mounds around the greens that can cause problems as well as plenty of slopes, which make the putting very difficult."
Sarah has enjoyed considerable success in the Rebel red in the provincial and national inter-county arena. A familiar face from those successes provided an unexpected National Strokeplay boost. "I had the pleasure of playing with fellow Cork player, Ailish Sexton of Fermoy. "We know each other well having played on Cork teams together over the last number of years and it was a lovely surprise (due to a non-runner) to play with her on Saturday."
Rather like Liz Quinn, Sarah focused very much on her own game – a tactic that proved fruitful. "I was out first and I had no idea of what scores had come in after me. It was only when I finished my 36 holes that I saw that there were a few of us very closely bunched at the top. I had a bit of a sweat waiting for the final scores to come in!"
Two behind after 18 following her 55 opener, Sarah's 54 second round saw her sign for 109 overall, which was good enough for her one stroke victory.
Dolores Mullen (Glenville) - Junior Winner
An ultra-impressive first round of 56 was central to Dolores Mullen's eventual two stroke triumph (the first ever by a member of Glenville) in the National Ladies Junior Strokeplay championship at Kilbeggan.
"I just tried to get the pars. I didn't bother going for the twos," was the Glenville lady's formula for that superb round. "I was on 27 after nine and only took two fours on the back nine. Somebody told me it was as good as the intermediates the day before, so I was delighted with that!" beams Dolores.
Dolores Mullen's fellow competitor on the day was Barbara Murphy (Seapoint), who won the 2019 Leinster Matchplay in Trim. The Dublin lady's second round 62 saw her complete the 36 holes in 118, which was sufficient to see her over the line by two strokes from her playing partner (who was ultimately placed third on the tiebreaker) and runner-up Catherine Dunne (Riverdale).
"I just kept going," says Dolores of her efforts to capitalise on her four shot halfway advantage. "She (Barbara) was a gem to play with. She was a lovely, lovely girl. We didn't overdo it on the chat. We were both competitive enough."
Kilbeggan is a happy hunting ground for Dolores who came home from Co. Westmeath with the Best Nett award (after shooting 88) in the 2019 Leinster Strokeplay Championship on "The Lawn. "I love Kilbeggan," enthuses Dolores. "The people down there are so, so nice – each and every one of them. When I walk in there I get a lovely feeling and I really immensely enjoy it down there."
Dolores wishes she took up Pitch & Putt earlier. "I started playing competitively about five and a half years ago. I always loved it. The years are catching up on me now!" Not so much as you'd notice given her recent record!
A Glenville coaching guru is singled out for performing a significant role in the development of the new champion as a player. "When I did join Glenville there was a man called Emmet Donnelly. He's a super, super player. He took myself and another lady (Anne O'Flynn), who started at the same time, under his wing.I try to keep to his advice, 'Slowly in. Don't attack it. It's all about the timing!' I can hear him every time I stand on the tee-box!" Dolores' timing is clearly in sync at present!
Dolores waxes lyrical about club colleague Nora O'Meara who garnered Best Nett laurels at Kilbeggan with a fine 81 off a handicap mark of 20. "We were thrilled for Nora," says Dolores. "She's absolutely brilliant. She's like the 'Mammy' of the club! She's so nice. She forgets nothing and helps everybody. She adores the game. She was thrilled to get the Nett."
"That was another surprise, a shock actually. We were coming in and the girls were asking – what did you have, what did you have," laughs Dolores of her 2020 Dublin Junior Strokeplay win at Shandon. Dolores scored 129 to beat Kathleen Condron (Old County) on the second 18. Nora O'Meara finished third. "I shot 118 on Sunday, so I'm getting better by the year!"
Completing a superb June weekend for Dolores, she was also victorious around the Kiltipper Road track in the latest club competition. "We played a game called the flag – which I have never played before. They were just trying to have fun and try something different. I came in with 11 under so that was brilliant." With its 50 plus lady members, winning a club competition at the Old Bawn situated club is quite an achievement in itself.
"It was a lovely day. It's good to win! It was my lucky week" sums up Dolores, who professes to "want to keep playing and enjoying it. I love the game and I love Glenville."
Latest National News
Latest Regional News