2020 National Ladies Strokeplay Championships Preview
A lot ahead to the delayed staging in Kilbeggan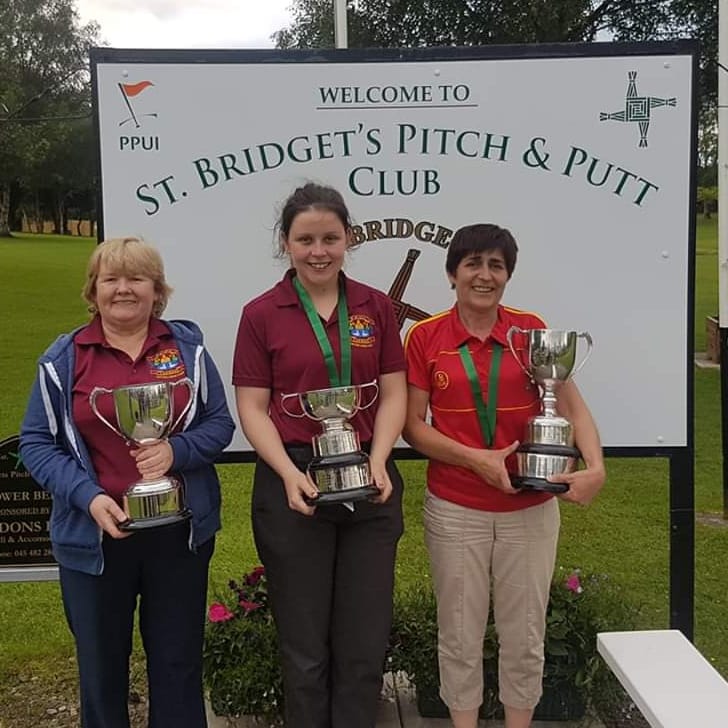 Preview by Declan Sheedy
The beautiful Kilbeggan course in County Westmeath will be the host for the first time in the club's historyof the rescheduled 2020 National Ladies Strokeplay Championships this weekend. Known as 'The Lawn' the Kilbeggan venue promises to deliver an excellent course and championship with the Intermediate Championship being contested on Saturday while the Senior and Junior Championships will be played on Sunday.
A total of 67 ladies are expected to take to the tee over the weekend all with aspirations of etching their name on the National Championship cups, some for the first time while others aiming to do so again, in what promises to be three very competitive championships. With clubs only reopening in 2021 a few weeks ago and no open competitions having been played in 2021 so far, it is very difficult to know what kind of form any player has coming into the championship or how much they have even played over the last 12 months.
This along with the fact this year's championship is over the shorter 36-hole format adds a level of unpredictability and intrigue coming into championship weekend which could well deliver a few surprise results. Ahead of the weekends play we take a quick look at each of the grades and the ladies competing this year.
Senior Championship (Sunday June 13th)
A field of 13 players take to the tee on Sunday all with ambitions of lifting the title and becoming a National Champion. While some players will be hoping to lift their first National Senior Strokeplay title, the field sees four previous champions challenge for more gold.
Martha O'Brien (Lakeside), who won this title in dramatic style inSt. Bridget's in 2019, sets out to defend her title on Sunday and having added the National Matchplay title last year will be expected to put up a very strong defence of her title this weekend. The most decorated National Senior Strokeplay Champion in the field is Margaret Hogan (Tullamore) who seeks a sixth title, last won in 2012, on a course she will know better than anyone. Margaret may be many people's pick for the title over the Kilbeggan course and would be no surprise to see her name at the top end of the leaderboard at the end of play.
Three-time National Senior Strokeplay Champion Chrissie Byrne (Ryston) is Kildare's sole challenger in the senior grade and is another lady expected to put in a strong challenge for the title, a title she last won in 2013, having been runner up in this championship by a single shot on the last three occasions. Two-time National Senior Strokeplay Champion and runner up in the 2020 National Matchplay Breda White (Tipperary Hills) will also be expected to put in yet another serious challenge this weekendin her bid for a third National Senior Strokeplay title which she last won in 2016.
Two-time runner up in this senior championship, Maree O'Toole (Shandon) will be out to go one better on Sunday. Runner up in the Leinster Senior Strokeplay in Kilbeggan in 2019and semi-finalist at the National Matchplay in 2020, Maree has proven she knows how to play Kilbeggan well and will be one to watch out for. There are two previous National Intermediate Champions in the field both looking to add the Senior title this Sunday in the form of Mary Murray (Rocklodge) and Pauline Balfe (Old County) who won the Intermediate titles in 2016 and 2011 respectively. Mary will be seeking to join the illustrious list of players who have won both National Senior Championships having won the National Matchplay in 2019.
Dublin has six entrants in the grade this year, Ger Holland (RGSC), Louise Grace (RGSC), Helen Greagsbey (Irene) and Vera Glennon (Old County) join Maree and Pauline all aiming to bring the title back to the capital. All the Dublin ladies are experienced championship players and over the 36-hole format it would be no surprise to see at least one medal end up in Dublin come Sunday evening. Meath is represented by the experienced Bridie Cummins (Trim). Bridie will be familiar with Kilbeggan from Leinster championships and opens thus can be expected to play well this weekend. Last but not least is Westmeath's challenge in the form of Liz Quinn (Collinstown).
Liz will hope home county knowledge can play to her advantage this weekend as she seeks to claim her first National Senior title to add to her many international open wins. Liz's knowledge and experience around the tricky Kilbeggan could prove vital and she can be expected to have a big say in the destiny of this year's championship.
Intermediate Championship (Saturday June 12th)
The Intermediate Championship sees a strong field of 32 ladies compete for the title. With the 2019 champion Bridget Shelley from Lakeside not taking part we will be guaranteed a new champion this Saturday. This is a quality field and a very open championship is in prospect. Taking to the tee is a former National Intermediate Strokeplay Champion in the form of Mairead O'Toole (St. Bridget's) who won this title in 2002 and will be hoping to add a second Intermediate title to her CV.
Five former National Junior Strokeplay Champions will be out to add the Intermediate title this year. These include the 2019 National Junior Championship and home player Adeline Revins (Kilbeggan), 2017 champion Margaret Forde (Riverdale), 2014 champion Sarah O'Neill (Collins), 2012 champion Ailish Sexton (Fermoy) and 2006 champion Mary Fulham (Shandon). Each are proven champions and would be no surprise to see a number of these players medal again this weekend.
With home advantage, Adeline will be many peoples pick to feature at the top end of the leader board while Sarah O'Neill winner of the 2020 Irish Open too will be considered one of the favourites as she continues to rise through the ranks of the ladies game in recent years. A ten strong contingent of players from Dublin clubs compete on Saturday. Joining Mary Fulham in challenging for the title will be the runner up in the 2009 National Senior Strokeplay Championship Barbara Furlong (Lucan) who can be expected to contend strongly, along with Betty Cody (Loughlinstown), Christine Morgan (Dunshaughlin), Susan Ritchie (RGSC), Marie Dooley (RGSC), Theresa King (RGSC), Dolores Mason (Old County), Laura Whelan (Old County) and Madeline Nugent (Old County) all hoping to bring the title back to Dublin for the first time in nine years since Pauline Balfe (Old County) last won in 2011.
Meath clubs have seven players take to the tee on Saturday including Sophie Farnan (Skryne) who competes in her first National Ladies Championship in Kilbeggan having won the National Girls Strokeplay in 2018 & 2019. Fantastic to see players such as Sophie progress from juvenile girls into the ladies championship where she will no doubt challenge for many national ladies' titles in the future, could she claim her first this weekend? In the field alongside Sophie are Ann Bird (Laytown), Margaret Conneely (Trim), Anette Dooner (Oldcastle), Suzanne Reilly (Oldcastle), Margaret Reilly (Oldcastle) and Teresa Fagan (Royal Meath). Kilbeggan will be a familiar venue to the Meath ladies where knowledge of the tricky Kilbeggan venue will be important, thus would be no surprise to see a medal of some colour end up in the Royal county.
Tullamore are represented by four players who bring a lot of experience to the championship and due to the very close proximity between Tullamore and Kilbeggan it will feel like a home championship which could prove a key factor. Challenging will be Annie Galvin, Denise Pyke, Christine McCarthy and Deidre Byrne (all Tullamore). Could we see the cup travel a few miles down the road only? In addition to Adeline, Kathleen Carton and Veronica Clarke (both Kilbeggan) will be aiming to stop the cup traveling anywhere and keep it in the club. Home course advantage around Kilbeggan cannot be under estimated and both ladies will be very comfortable with their surroundings and players to watch out for in this championship on Saturday.
Completing the line-up are Catherine Smith (McDonagh), Audrey Donnelly (MacBride), Wendy Mary Mooney (Seapoint), and Margaret O'Donovan (Bruff). Fourvery good players with plenty of championship experience and appearances in the winner circles betweenthem and all will enter this weekend quietly confident of making their mark on this championship.
Junior Championship (Sunday June 13th)
With the 2019 Junior Champion Adeline Revins stepping up to the Intermediate grade this year, a new Junior Champion will be crowned on Sunday. A field of 22 players will all set out to claim their first National Strokeplay title, and like both the Senior and Intermediate championships, this year's Junior Championship promises to be anothervery open and interesting affair.
Maureen Clarke and Anne Clarke (both Kilbeggan) will lead the home charge in the Junior grade and seek to retain the cup in the club. As previously mentioned, the advantage of playing on your home course cannot be overlooked in such championships and both ladies will know how to navigate the tricky venue very well thus will be hopeful of putting in big performances this Sunday. The Glenville club in Dublin come in force to the championship with ten challengers for the title, all aiming to be the first player to bring this junior title back to the Tallaght club for the first time in the championship's history. Taking to the tee will be Linda Kavanagh, Dolores Mullen, Eileen Cousins, Catherine Fox, Ann Flynn, Catherine Foster, Catherine Keane, Nora O'Meara, Marie Campbell and Gemma Coyle.
Riverdale duo Liz Forde and Catherine Dunne will be hoping to add more National title success to the club following Margaret Hennessey's nett national matchplay win in 2020 and both ladies are experienced players in championships with Liz picking up the final 18 prize in this grade in 2019 when played over 54 holes. Gemma Martin (Hillview) is the third player from Tipperary this weekend and she will be looking to build on her championship experiences in recent years and bring another title back to the Premier County.
Ann O'Herlihy (Lakewood) is the only Cork competitor is this grade this year and can be expected to bring a determined challenge while Abby Whelan and Catherine Dillon (both St. Bridget's) set out to become the first players from the St. Bridget's club to win this championship. We can expect strong performances for the St. Bridget duo this weekend in their efforts for gold. 2019 Leinster Junior Matchplay Champion Barbara Murphy (Seapoint) is joined by her clubmate Jan Mooney (Seapoint), both consistent players and will look forward to the challenge ahead this Sunday.
Meath's sole challenger in this grade is Rachael Crowley (Royal Meath) hoping she can etch her name on the cup while Lynda Carton (Tullamore) makes the short journey up the road on Sunday for her title shot on a course she will be very familiar with.
Saturday's play commences at 11.30am with the Intermediate title up for grabs while Sunday sees the Junior Championship begin at 10am followed by the ladies in the Senior grade scheduled to tee off from 12.30pm. This weekend promises to deliver three very competitive Championship over the Kilbeggan venue and with it being played over the shorter 36-hole formats all players will be keen for fast starts in their challenges for the titles.
We wish the very best of luck to all the ladies competing this weekend.
Enjoy!
Tomorrow: We look ahead to the Mens events in Cork.