2020 National Gents Strokeplay Championship Previews
John Manning looks at proceedings in both St Annes and St Stephens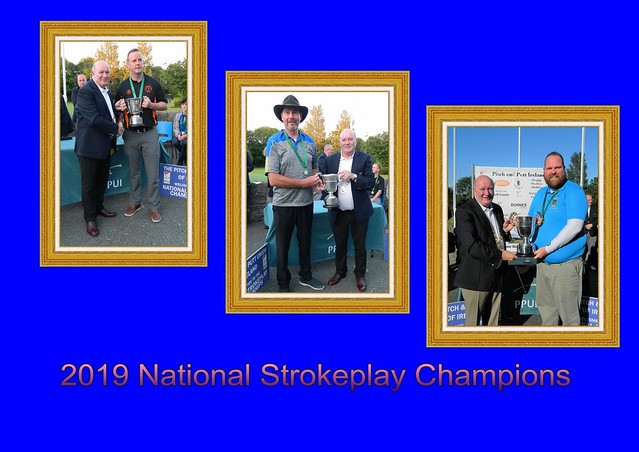 2020 National Gents Strokeplay Championship Previews
By John Manning
In some ways it will be a Championship weekend like no other. For the first time ever in the history of Pitch & Putt Ireland, the event will be played other than in its designated year. With the championship being decided nearly 12 months after it should have been, it has been the longest wait for a champion to make a first title defence. It'll be the first 36 holes championship since 1994 (albeit the Intermediate and Junior were weather-curtailed in 2013) and one of the grades will be contested on a different course to the other two grades for the first time. There is little real recent form as no tournaments have been played for months.
The Championships will, however, return to familiar courses as St. Anne's has hosted the championships on three previous occasions (1976, 1984 and 1988). On June 12th/13th, it will become the joint second most often used venue for the event (Senior and Junior), alongside Tullamore and Ierne. St. Stephen's has welcomed the Intermediate Strokeplay once previously. That was in 2004.
Senior
Defending champion John Ross Crangle, Ireland's No. 4-ranked player, heads nine past National Strokeplay kingpins in the field. Crangle, the 2017 National Matchplay champion, boasts a phenomenal National Strokeplay record. In addition to his memorable success at Ryston in 2019, the Loughlinstown luminary has been runner-up three times and third once.
Frank Dineen should have won this championship at St. Stephen's (where he lost a play-off) in 2004. He could have won at Tullamore in 2003 (also losing in extra holes) before finally claiming the title at the Co. Offaly venue in 2008. Now he is presented with a superb opportunity to become the 10th ever two-time champion on a course he knows and loves so well.
Ireland's No. 1Damien Fleming was 2018 National Strokeplay champion as well as claiming a couple of National Matchplay titles (2011 and 2019). The Killarney native is another with an impressive National Strokeplay record. A silver medal in 2012 was followed by two successive bronze (2016 and 2017).
Liam O'Donovan is a three-time (2002, 2014 and 2016) champion at the National Gents' Strokeplay. The Limerick legend is a former World Strokeplay and European Strokeplay champion and is the holder of the all-time record 54-hole winning aggregate (130) in the National Gents' Strokeplay.
Reigning European Open champion John Cahill captured his National Strokeplay championship at Stackallen in 2001 and finished third in 2008 and 2009.
Ray Murphy is now on his longest winless streak in the National Strokeplay championship since first triumphing at Lakeside in Millennium year. But few know his adopted home course better than Ray (he has been hugely involved in the preparation of St Annes for this championship) and not many would bet against his chances of extending his all-time record of four wins. A victory for Ray would break the record (held by John Walsh) for the longest span between first and most recent winning appearance.
2003 National Strokeplay champion William Buckley Junior is a three-time Leinster Strokeplay champion and a triple provincial Matchplay victor.
Bryan Delaney is a former National Matchplay and Strokeplay champion. A winner of the Liam Houlihan Memorial St. Anne's Scratch Cup on three separate occasions, Delaney will be the choice of many observers to improve on his runners-up slot in the 2019 Championship.
Anthony Malone won the 1989 and 1991 National Strokeplay Championships. However, he might have captured the title twice more – both times at St. Anne's. Anthony played in the 1984 championship at St. Anne's and shot 93 to finish fourth (denied second place on the tiebreaker). Holder of two Nation Over 55 Strokeplay titles, "Skinner" tied second again in 1988 at St. Annes, taking third position on the second 18.
Eight current and former National Matchplay champions will also tee it up at St. Anne's.
2016 National Matchplay champion Shane Murphy won the Munster Matchplay championship in 2019. Shane was National Intermediate Strokeplay Champion at Douglas 10 years ago.
1983 National Matchplay Champion John O'Leary played in the 1984 championship at St. Annes, shooting 100.
Reigning National Matchplay Champion Kieran Earls finished as runner-up to Stephen Shoer in Intermediate Championship of 2008. Kieran is a former Munster Matchplay champion. He finished fourth in the All Ireland Strokeplay senior grade at Stackallen in 2014 and again at Cunnigar a year later.
Eamon Gibney won the 2014 Irish Open at Glenville. A European Championship and World Cup winner with Ireland, Eamon reached the National Matchplay quarter-finals in 2016 and placed fifth in the 2019 Strokeplay at Ryston.
The most decorated juvenile player in Pitch and Putt history, Evan Carry won three National U16 Strokeplay Championships and one Boys' Matchplay Championship.
Christopher Gallagher is the reigning Dublin Strokeplay champion (and has been champion four times in all). A National Matchplay quarter-finalist in 2013 and 2014, Chris helped Dublin to win the 2019 Inter-County. He was fifth at Cunnigar in 2015.
2012 National Matchplay runner-up at Claycastle, Eoin Walsh also reached the last four in 2015.Eoin was joint second after 36 holes in the 2003 intermediate championship at St. Stephen's
Seanie Bellew was National Boys' Matchplay Champion in 2017 and captured the Meath County Intermediate Matchplay title in 2019.
2010 Leinster Strokeplay Champion George McGreal is a former Dublin Matchplay and Strokeplay champion. 1997 National Juvenile Strokeplay Runner-Up, McGreal won the 2019 National Inter-County with Dublin.
Damian Creevy was crowned National Intermediate Strokeplay champion at Cunnigar in 2015 and won the Dublin Senior Matchplay in 2017.
1999 Leinster Matchplay Champion and 1996 provincial Mixed Foursomes winner Conor O'Hare is an Irish international and a former Leinster Inter-County winner with Down.
Another Irish international, Paudie O'Sullivan is a four-time National Inter-County winner with Cork. Paudie filled fourth place in the 2013 National Strokeplay at Rocklodge and took Cork Strokeplay honours in 2005.
1994 National Boys' Strokeplay champion Brian Webster helped Ireland to European Team championship success in 2005.
Darren O'Connell was runner-up in this Championship in 2016 at Tullamore having captured Best Gross laurels at the 2010 National Mixed Foursomes.
A past Leinster Matchplay and Strokeplay champion, Frank Ryan won the 2018 National Over 55 senior grade Strokeplay Championship.
An Inter-County winner with Louth in 2002, George Beardsley took second place in the National Intermediate Strokeplay Championship of 1986. George reached the 2005 National Matchplay semi-finals.
National Mixed Foursomes winner in 2011, David Sexton has helped himself to four National Inter-Club winners' medals with Fermoy.
Stephen O'Reilly won the Munster Inter-County with Tipperary in 2019 and reached the 2020 National Matchplay semi-finals.
John Farrell was 2019 National Intermediate Strokeplay runner-up at Ryston while he won that year's Munster Intermediate Matchplay along with the Limerick Intermediate Strokeplay.
Another evergreen performer on view will be Barry Morrissey, the 1986 National Strokeplay runner-up. 2020 Irish Senior (Over 55) Open champion at Lough Owel, Morrissey is another to have played in the 1984 Championship at St. Annes. Morrissey has won Munster Strokeplay and National Inter-Club honours in a storied career, which also includes an all-time record haul of Cork County league titles.
Pat Malone is the reigning Irish Open champion, after his tour-de-force around Lough Owel last August.
2009 National Matchplay quarter-finalist Stephen Murray was Irish Open runner-up in 2010. Leinster Juvenile Strokeplay Champion in 1996, Stephen was a National Inter-County winner with Dublin in 2016 and is a former Dublin Strokeplay champion.
2017 National Strokeplay runner-up Stephen Shoer won the 2008 National Intermediate Strokeplay Championship with the all-time record low 54-hole winning total. Stephen bids to become the fifth former Intermediate Strokeplay Champion to later lift the Donnelly Cup.
In another cross generational twist, Michael Ahern finished third in the 1980 National Juvenile Strokeplay at Mellows while he took the 2016 Leinster Intermediate Strokeplay title at Collinstown.
Third at Ryston in 2019 behind JR Crangle, Sean Goggin was National Matchplay Runner-Up in 2013.
2020 National Matchplay runner-up Ian Dillon finished fourth in the 2019 National Strokeplay championship at Ryston.
2005 National Intermediate Strokeplay Champion Thomas Lynch won the Cork Senior Matchplay championship in 2010, the same year that he reached the National Matchplay semi-finals.
2016 Leinster Matchplay champion Ian Donnelly claimed runners-up spot in this championship at Seapoint in 1997.
2004 Munster Matchplay champion James Cleary was a European Team Championship winner with Ireland in 2018. So was Thomas Hanley – 2015 Munster Matchplay champion kingpin at Rosscarbery.
Four-time National Inter-Club winner with Fermoy, Declan Freeman won the 2018 Munster Matchplay championship.
Jerry O'Donovan was a two-time National Juvenile Inter-County winner with Cork - in 1999 and 2000.
1997 Leinster Intermediate Strokeplay Champion Darren Fagan finished fifth in the 2018 Irish Open at Seapoint.
A Munster Inter-County winner with Cork in 2012, Noel Collins reached the Cork Matchplay final the same year.
Examining the previous winning scores at St. Anne's over the years would suggest a target of approximately 90 for the two rounds. However, Damien Fleming stormed round in 87 to win last year's Scratch Cup! A repeat of that would suit very well in a championship for which the all-time 36-hole format low winning score aggregate is 88.
Junior
Alan Duggan and Gordon O'Brien are the host club representatives who will bid to join Roy Sisk (1988) and Tony Wall (1984) as winners of the National Gents' Junior Strokeplay Championship over their home course of St. Annes.
Only player not representing a Munster club (although he was a native of Millstreet, Co. Cork) to win any National graded Strokeplay championship at St. Anne's was Pat Breen (Lucan) who captured junior honours with 102 in 1976. Bidding to emulate that feat by a Lucan club colleague will be 2018 Dublin Strokeplay champion Stephen Needham; Fergal Power - 2020 Dublin Junior Strokeplay runner-up and 2019 Dublin Junior Gents Matchplay Runner-Up Alan Doyle.
Robert Middleton has picked-up a National Handicap Inter-Club winners' medal with Gowran in addition to recent success with Kilkenny in Leinster Junior Inter-County championships.
Paddy Browne was Ireland's European Team championship winning non-playing captain in 2005 and 2007.
Michael Cahill has been hoovering up prizes since clinching the Munster Golden Vale Team Event at Gleneagle with St. Stephens in 1974. Mick finished second in the 2010 National Over 55 senior grade Strokeplay championship. Douwe Van Sinderen was the leading Cork qualifier.
Former Leinster and Meath PRO Liam Nelis now represents the Ringcommons club in North County Dublin.
Callum O'Donovan captured the 2019 Cork Junior Strokeplay championship while the ultra-experienced John O'Keeffe has been campaigning across the grades since the mid-1970s. John was Dublin Gents Junior Matchplay Runner-Up in 2018.
Cork Matchplay winner in 2019, Colm O'Connor was Cork Junior Strokeplay runner-up in 2020 while Jake Shine secured 2019 National Juvenile Inter-County honours with Kerry.
Joe O'Connor won the 2019 Dublin Strokeplay while Paraic McNally captured the C/K/W Strokeplay equivalent.
Average junior winning score at St. Anne's has been 101 with the standout performance being Tony Wall's 97 (the all-time low 36 hole winning aggregate) in 1984.
Intermediate
Eddie Hogan, the 2009 Cork Strokeplay Champion and the 2019 County Matchplay Runner-Up, has a home player's chance in the Intermediate Championship at St. Stephens.
JJ O'Connor won the 2001 Cork Intermediate Strokeplay championship while club-mate Robbie Donovan claimed the 2020 equivalent.
A former Cork Inter Matchplay and Munster Inter Strokeplay Champion, Donal Duggan finished second in the Senior Championship at Rocklodge in 2013. A past Cork Inter-County player, Duggan contested the Inter Championship at St. Stephens in 2003.
Jack Buckley was 2018 National Boys Matchplay Champion at Kilbeggan while National 2018 National U20 Strokeplay championship runner-up Dylan Seymour has been a Cork Junior and Inter Strokeplay champion in successive years.
2019 Munster Mixed Foursomes winner Morty Ahern won the National Mixed Team Event in 1998.
William O'Donovan played on the Bruff team that came second in the 1997 National Club Tournament.
A 2018 Munster Intermediate Inter-County winner with Kerry, James Fleming qualified for the final round at Glenville in 2018 while Bryan Murphy placed fifth in that Intermediate Championship.
1995 National Intermediate Strokeplay Champion Michael Herlihy provides another inter-generational connection.
National graded Strokeplay specialist Jimmy Quinn (2nd in both the 2017 Inter and 2005 Junior) won the Munster Junior Strokeplay in 2005.
Scott Coyle Garde reached the 2013 Munster Intermediate Matchplay final.
Three National Seniors (Over 55) intermediate Grade Strokeplay champions will participate in the intermediate championship - Albert Mithen (2005), Sean Minogue (2018) and John Tett (2019).
Nicholas Brennan, Patrick Robinson (Runner-up in the 2013 National Junior Strokeplay at Rocklodge) and Michael Kehoe played for Kilkenny as the Cats claimed the new Team Nett award in the 2019 Inter-County Championship twelve months after they all helped the black and amber to third in Division B.
National Juvenile Matchplay Runner-Up in 2017 (at St. Stephen's) Iain Aherne is likely to contend as is his Ballinlough club-mate - Cobh Ramblers football star David O'Leary, who was 2016 Cork Intermediate Strokeplay Champion.
Derek Delaney, the 2019 National Junior Strokeplay Champion not long after he led Gowran to a National Inter Club win. Derek bids to emulate Stephen O'Leary (Douglas) and capture Junior and Inter honours in successive years.
National U16 Strokeplay Champion at Glenville in 2019, Patrick Mitchell represented Ireland against the touring Catalans the same year.
Charlie Compton was a Munster Intermediate Inter-County Runner-Up with Tipperary in 2019 while
Michael Conway helped Kerry to the runners-up slot in the National Juvenile Inter-County in 2001.
Kevin Lambe finished fourth at Ryston in 2019 in the junior grade while Thomas Judd ended up second in the 2017 Leinster Gents Inter Strokeplay.
Former Munster Juvenile champion Shea Fennell helped St. Munchin's to victory in the 2019 All Ireland Schools' tournament and reached the successive National Boys' Matchplay finals of 2018 and 2019.
Ger Forde was 2005 Munster Intermediate Strokeplay Runner-Up (to Donal Duggan) at St. Annes.
William Clear placed second in the 2018 Leinster Junior Strokeplay while Ron Arnicar took third spot in the same championship and was then runner-up in the 2019 Regional Strokeplay.
Lorcan Martin has been a member of runner-up teams in the National Schools tournament and in the National Juvenile Inter-County while Eddie Hockey played in 2004 Junior Championship at St. Stephens.
The Intermediate championship went to a 13-hole play-off in 1988 – not something that will happen this year as ties will be decided on countback, giving us the extreme possibility of joint winners!
Latest National News
Latest Regional News